Posted by | January 28, 2015.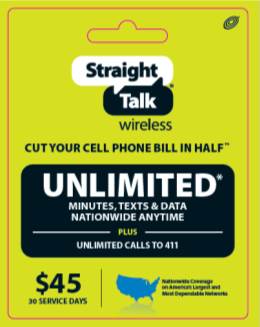 In recent months, the Federal Trade Commission has taken a significant interest in carrier throttling practices and today handed down a ruling that could have future ramifications for carriers who throttle their unlimited customers.
As reported by Re/code, the FTC has ordered prepaid wireless carrier TracFone to pay $40 million to consumers who paid for unlimited service and were then throttled after reaching certain data limits.
TracFone advertised "unlimited text, talk, and data" for $45 a month under the brands Straight Talk, Net10, Simple Mobile, and Telcel America, and until September 2013, did not clearly disclose its throttling policies that saw customers experiencing data speeds that were cut by up to 90 percent, thereby violating the FTC Act.
While this ruling only affects TracFone at the current time, there are several other carriers that have similar practices for their unlimited customers. AT&T and Verizon no longer offer unlimited data plans, but continue to provide unlimited data for many people who remain on grandfathered plans. AT&T has engaged in throttling practices for years, often cutting off customers who exceed 5GB of LTE data usage.

"The issue here is simple: when you promise consumers 'unlimited,' that Continue Reading

Posted by | January 28, 2015.

Sony announced on Wednesday that it will be shutting down its Music Unlimited on-demand streaming music service ahead of launching Spotify on PlayStation Music. Music Unlimited will shut down in all 19 countries it operated on March 29, 2015, with nearly all of the countries among the 41 regions that Spotify for PlayStation Music will be available upon launch, including the United States, Canada, Mexico and Brazil.

Music Unlimited launched in December 2010 on PlayStation Network in several countries worldwide, and the service was later extended to iPhone [Direct Link], Android, PlayStation Vita and other devices and platforms. In February 2011, it was reported that Sony viewed Music Unlimited as a potential iTunes Store alternative and that it was considering pulling music from Apple's platform if its own service became successful.


"If we do [get mass take up] then does Sony Music need to provide content to iTunes?" Mr Ephraim asked. "Currently we do. We have to provide it to iTunes as that's the format right now."

"Publishers are being held to ransom by Apple and they are looking for other delivery systems, and we are waiting to see what the next three to five Continue Reading

Posted by | January 28, 2015.

Yahoo chief executive Marissa Mayer, during the company's quarterly earnings call on Tuesday, expressed interest in Yahoo becoming the default search engine in Safari. Mayer recognized the significance that getting Yahoo in front of Mac, iPhone and iPad could have for the search engine, referring to Apple's default web browser as "one of the premier search deals in the world if not the premier search deal in the world."


"The Safari platform is basically one of the premier search deals in the world if not the premier search deal in the world," Mayer told RBC Capital Markets analyst Mark Mahaney. "We're definitely in the search distribution business. I think that we've stated that really clearly in the past and I think with Mozilla and also in addition we brought Amazon eBay on board with smaller distribution partnerships in Q4."

Google renewed its search partnership with Apple in 2010, although the contract is reportedly set to expire in 2015 and, supported by the fact that Google Maps and YouTube are no longer stock iOS apps, Apple is speculated to be considering a number of options. Back in November, it was reported that both <a target="_blank" rel="nofollow" href="http://www.front.macrumors.com/2014/11/25/yahoo-microsoft-apple-search-engine/" title="Yahoo and Microsoft Court Apple as Continue Reading

Posted by | January 28, 2015.

YouTube yesterday announced it has begun using HTML5 video by default for all playback on its website, marking a substantial step in its gradual move away from Flash. The company states the new default will work in most popular web browsers including Safari.

Richard Leider, Engineering Manager for YouTube, reiterated on the adaptability of HTML5 over Flash and the use of the former's capabilities beyond a simple web browser. With YouTube's extension to devices like gaming consoles, and even the Apple TV, the benefits of dropping Flash became far more apparent over the years.


Over the last four years, we've worked with browser vendors and the broader community to close those gaps, and now, YouTube uses HTML5 by default in Chrome, IE 11, Safari 8 and in beta versions of Firefox.

The benefits of HTML5 extend beyond web browsers, and it's now also used in smart TVs and other streaming devices.

The new shift to HTML5 will allow better video streaming in adjustment to shifting network conditions, quicker video playback, easier access to 60 FPS HD and 4K content, with updates to encrypted media extensions that will allow the service to overall be "faster and smoother." Continue Reading

Posted by | January 28, 2015.

The U.S. Federal Communications Commission on Tuesday issued a public enforcement advisory that warns hotel chains and other commercial establishments about intentionally blocking or interfering with Wi-Fi hotspots. The FCC's Enforcement Bureau claims that interfering with Wi-Fi hotspots is illegal and that it will take appropriate action against violators by imposing substantial fines.

The warning follows an FCC investigation in which the government agency discovered a so-called "disturbing trend" where hotels and other commercial establishments were purposefully blocking wireless customers from connecting to their Wi-Fi hotspots. Marriott Hotels was found to have "deployed a Wi-Fi deauthentication protocol" to block customers from accessing Wi-Fi and agreed to pay a $600,000 fine.

iPhone users have long resorted to Personal Hotspot to turn their cellular data connection into a Wi-Fi network for the purpose of tethering a Mac or other connected device. Apple made Personal Hotspot more convenient in iOS 8 with Instant Hotspot, a new feature that automatically detects when an iPhone is within close range of an iPad or Mac and displays the device in the list of available Wi-Fi networks.

Posted by | January 28, 2015.

Earlier this month, the iPod shuffle's shipping estimates slipped to 7-10 days in the United States, Europe and other regions, leading to speculation as to whether the portable media player would soon be discontinued or was going through reported supplier changes. Today, we are beginning to see a clearer picture.

For now, it appears that the iPod shuffle will continue to live on. iGen.fr was first to notice today that shipping times for the iPod shuffle have improved to 5-7 days on the Apple Online Store in the United Kingdom, France, Germany and some other European countries. The improved shipping times are not reflected in the United States or Canada storefronts yet, which still display shipping estimates of 7-10 days.

While demand for the iPod shuffle has been overshadowed by devices such as the iPhone and iPod touch, the portable media player remains a convenient and affordable option for incorporating into a daily workout routine or similar. The current fourth-generation iPod shuffle with front-facing media controls was introduced in 2010 and has not been updated since outside of a few color changes.

Posted by | January 27, 2015.

Apple today has mysteriously added back a 2012 model Mac mini to the Apple Online Store for $699. The over two-year-old machine still has the same hardware specifications as it did in 2012, including a 2.3GHz quad-core Intel Core i7 processor, 4GB of RAM and Intel HD Graphics 4000. The listing also shows that the computer ships with OS X Mavericks installed.

It is unknown if the outdated Mac mini has mistakenly resurfaced on the Apple Online Store, or if Apple intentionally reintroduced the model on its website. One plausible reason that Apple may be making this older Mac mini available for purchase again is to provide customers with a quad-core option, as the existing 2014 models are each powered by dual-core Intel Core i5 processors.

The entry-level Mac is listed as out of stock in the United States, and MacRumors could not find the model listed for sale elsewhere after spot checks of the Apple Online Store in Canada, United Kingdom, Australia, Japan and several other countries. Apple still offers a refurbished version of the same 2012 Mac mini for $589 on its website, although that model is also currently out of stock.