Posted by | May 25, 2015.
Apple Watch tracks your movement and heart rate. It uses that information in conjunction with your gender, height, age, and weight to estimate how many calories you burn during daily movement, including light strolls and dedicated workouts.
However, Apple Watch needs proper calibration to get the most accurate reading of your movement and heart rate, which is used to help determine distance and pace measurements when you are walking or running without your iPhone, or while using a treadmill.
Calibration is fairly easy and takes about 20 minutes of exercise. For this purpose, you will need both your iPhone and your Apple Watch. After calibrating, you won't need to bring your iPhone on walks or runs anymore.
…CONTINUE READING =>
Posted by | May 24, 2015.
Apple Watch includes 6.2 GB of storage space for adding content like apps, photos, and music, with up to 2GB of that space dedicated to storing songs. When you add a playlist, you can listen to music on it, even when your iPhone is not in range. While the process is fairly self-explanatory, there are a few steps you don't want to forget in order to play music from Apple Watch to your Bluetooth connected headphones
Adding Music to Apple Watch
In order to listen to music on Apple Watch without an iPhone in range, you must sync a playlist to it first.
Open the Apple Watch app on your iPhone and tap My Watch.

Select Music from the list.

Tap "Synced Playlist" to access your iPhone's playlist.

Select a playlist from the list (if there is no playlist visible in this list, you will need to create one on your iPhone).

Place your Apple Watch on its charger to initiate the sync. This step is important. Apple Watch will not sync a playlist if it has not been connected to the charger.
You can customize your playlist limit here. Switch between the amount of storage or number Continue Reading
Posted by | May 23, 2015.
Apple restricted Apple Pay to the iPhone 6 and 6 Plus due to the need for an NFC chip that's not included in older phones, which means Apple Pay has been limited to those with newer iPhones since it debuted in October of 2014.
One of the major perks of the Apple Watch is that it enables Apple Pay for some older iPhones because it has the same NFC chip that's in the iPhone 6 and 6 Plus. If you have an Apple Watch and an iPhone 5, 5c, or 5s, you can now use Apple Pay and the watch to make secure purchases in retail locations.
For those of you who haven't had a chance to use Apple Pay, we've written up a tutorial that walks through how to set it up on your watch.
Setting Up Apple Pay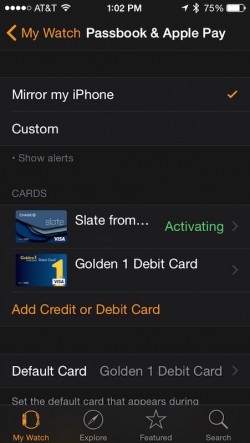 Even if you are already using Apple Pay on iPhone 6, you will need to add your credit and debit cards to Apple Pay for Apple Watch. You can add up to eight cards.
Open the Apple Watch app on your iPhone and then select My Watch.

Posted by | May 22, 2015.

The Unicode Consortium today released a list of 38 emoji characters that are candidates for inclusion in Unicode 9.0, which is set to be released in the middle of 2016. These represent emoji that could be available on iOS and Mac devices in the future.

Candidates include a range of different character emoji, from "face with cowboy hat to "drooling face" and "lying face." "Selfie," an emoji represented by a hand holding a camera, is also on the list, as is "shrug," and "handshake." As for food, emoji proposals include croissant, avocado, cucumber, bacon, potato, and carrot. There are also several proposed animal additions: fox face, eagle, duck, bat, shark, and owl.

According to the Unicode Consortium, these emoji have been chosen for several reasons. Some are proposed based on expected high frequency of use or due to requests from online communities. Others on the list fill in gaps in existing emoji sets or are compatible with emoji characters in existing systems.

Emoji candidates are not finalized so it's possible that some of the characters on the list could be removed before Unicode 9 is released in 2016, and it's also possible that additional characters could Continue Reading

Posted by | May 22, 2015.

It's nearly Memorial Day, which means there's a long three-day weekend coming up and some solid deals on Apple products from vendors who are cutting prices in the hopes of drawing customers into stores over the weekend.

Best Buy's offering a can't-miss deal on the 13-inch MacBook Air and the high-end 27-inch Retina iMac is available for the lowest price we've seen. The 2014 15-inch Retina MacBook Pro is also being sold at low prices for a complete list.

Super popular puzzle game Monument Valley is on sale for $0.99 this week, down from $3.99. Death Rally is available for free, down from $0.99. Platformer Bean Dreams is available for $1.99, down from $2.99. Cut the Rope 2 is available for $0.99, down from $2.99. Puzzle game KAMI is available for $0.99, down from $1.99.

Sketching app Procreate Pocket is available for $0.99, down from $2.99. Photography app Enlight is available for $0.99, down from $5.99. Endless runner Alto's Adventure is available for $0.99, down from $1.99.

Puzzle game Magnetized was named Apple's App of the Week, so it will be free to download until next Continue Reading

Posted by | May 22, 2015.

There are dozens if not hundreds of iPhone stands on the market, but every once in awhile, there's one that sets itself apart with a unique form or a rich set of features. The MOS Kick falls into the latter category, offering a stand, screwdriver, bottle opener and tripod connector in a portable package.

Developed by the MOS team that's created several other popular products like the MOS Reach power outlet and the MOS cable organizer, the MOS Kick is made from metal so it can withstand being carried on a backpack or in a pocket.

We went hands-on with a prototype (hence the small bit of rust) of the MOS Kick and found it to be a convenient stand. It works with any smartphone because it includes adjustable silicone pads that hold a device in place. It's able to mount on a tripod with its 1/4″ threaded hole, and it has a couple little tools for when you're in a pinch — a bottle opener and a flat head screwdriver.

Since it's all metal, it's heavy enough to hold an iPhone up on any surface, and when attached Continue Reading

Posted by | May 22, 2015.

Over the past several years, BlackBerry has gone from one of the top smartphone manufacturers to a company that's struggling to stay afloat in an increasingly competitive market. BlackBerry is hemorrhaging subscribers and losing revenue quarter after quarter as it attempts to turn the tide by focusing on marketing secure devices and software to its enterprise customers.

An upcoming book by Jacquie McNish and Sean Silcoff, Losing the Signal, explores the events that led to the rise and fall of BlackBerry, and an interesting excerpt was shared by The Wall Street Journal today, covering the iPhone's contributions towards BlackBerry's (then known as RIM) failure.

As we've previously learned from Google execs, the launch of the iPhone, which stood apart from all other smartphones on the market at the time, took everyone by surprise. Not only was the iPhone incredibly different from its competitors, it also had features that carriers had previously denied other manufacturers like an App Store and a full web browser.

Image via CIO

One of RIM co-CEO Mike Lazaridis' first comments was "These guys are really, really good," but despite that fact, RIM failed to see the iPhone Continue Reading

Posted by | May 22, 2015.

Starting on Monday of this week, Apple began preparing to ship out the first batch of gold Apple Watch Editions to customers who pre-ordered in April. MacRumors readers have begun seeing credit card charges for the devices and have received shipping notifications and courier information from Apple. Some of the first Apple Watch Edition orders will begin arriving tomorrow.

Image via MacRumors reader Calvin
The Apple Watch Edition is available in yellow gold or rose gold and is priced between $10,000 and $17,000. Given its high price tag, the Apple Watch Edition delivery process is somewhat different than the delivery process of Apple's less expensive watches, with customers receiving emails asking them to set up a delivery time.


iFixit's Kyle Wiens ordered a 38mm Apple Watch Edition with a Black Sport Band and shared his tracking information and courier emails with MacRumors. His order was initially placed on April 10 and shipped out on Thursday, May 21. His delivery date was originally set for Sunday, May 24, but was moved up to Saturday, May 23.


Wiens tells MacRumors that while he initially ordered the Apple Watch Edition to Continue Reading

Posted by | May 22, 2015.

Following the release of Watch OS 1.0.1 on Tuesday, Apple Watch users have been noticing a problem concerning the frequency with which the Apple Watch sends heart rate data to the iPhone. Prior to the update, the Apple Watch sent heart rate information to the iPhone's Health app every 10 minutes, but now some users are seeing inconsistent update times.

As highlighted by everythingiCafe on Wednesday, Apple Watch owners on the MacRumors forums and Apple's Support Communities have been complaining that their Apple Watches are sending data sporadically, with gaps up to eight hours in some cases.

Before update on left, after update on right. Image via MacRumors forum member twisted-pixel.
Many of the users are still seeing occasional updates to the Health app, but at unpredictable intervals that are not as frequent as the previous 10 minute update intervals, and some are also seeing duplicate readings. This bug is not affecting all users, as some people are still reporting regular data transfers, but for the users experiencing issues, unreported heart rate data seems to be irretrievable.


I also noticed that my heart rate data in the health app for about a week Continue Reading

Posted by | May 22, 2015.

While OS X Yosemite introduced several new high-profile features, such as Handoff, iCloud Drive and Instant Hotspot, the focus of OS X 10.11 will be on improved stability and performance, new security features and system-wide interface tweaks, according to a lengthy report by 9to5Mac.

OS X 10.11 is still expected to gain a handful of noteworthy features, including a systemwide change to Apple Watch font San Francisco and a new Control Center menu similar to iPhone and iPad. Control Center was originally found in early betas of OS X Yosemite, but was not included in the final release.


"Control Center moves many of the controls from the Mac's Menu Bar to a pane that slides out from the left side of the Mac's display, adding on-screen music controls and other iOS-influenced features," the report claims. "However, Control Center reportedly has been in flux during development, and could be pushed back again."

A possible first look at Control Center for Mac on OS X from 2014
Apple is also reportedly working on a major new kernel-level security system called "Rootless" for OS X and iOS that will help curb malware and Continue Reading

Apple's next-generation operating systems, for both mobile devices and PCs, are reportedly going to have a strong focus on zapping bugs and improving stability, reports 9to5Mac. We'd heard this about iOS before, but it appears this will be a smoothing year (but with new features, too). The more interesting news, however, is that Apple is also said to be working on improving iOS… Read More
Continue Reading

Posted by | May 22, 2015.

An estimated 2.5 million Apple Watch orders have been processed in the United States in the first five weeks of availability, according to Slice Intelligence (via Quartz). Extrapolating from the e-receipts of about 14,000 online shoppers who use Slice's services, more than half of the orders placed so far came on April 10, the first day of pre-orders, with the Apple Watch averaging 30,000 orders per day since.

Daily Apple Watch order estimates in U.S. (first-day orders of nearly 1.5 million omitted)
As Quartz points out, the Apple Watch saw a notable rise in order interest on April 24, the day most initial Apple Watch pre-orders that weren't high in demand, like the Leather Loop or Black Sport band, began arriving to customers. Social media posts and word of mouth that day no doubt helped Apple receieve a few extra orders, and it reaches back up to around 40,000 on a few days in April and May, but otherwise Apple's new wearable has seen a steady decline in order numbers since its launch date, according to the e-commerce shopping firm.

Even with the steep decline following the start of pre-orders, Apple Watch sales are easily Continue Reading

Posted by | May 22, 2015.

Apple's desire to provide customers with live programming from local broadcasting stations in the United States could delay the company's plans to launch a streaming TV service in early fall, according to Re/code. The report also cites industry executives that do not believe Apple has reached any content deals with TV programmers yet, making it unlikely that the web-based TV service is announced at WWDC next month.

"Apple's ambitions have complicated its negotiations with the broadcast TV networks, because most broadcasters don't own all their local stations, and have an affiliate, or franchise system. Clearing the rights to show local programs and commercials takes some time — ABC, for instance, spent two years getting the rights to show live programming via its Watch ABC app, and its live streams remain limited to viewers in eight cities."

The Wall Street Journal reported in March that Apple plans to unveil its streaming TV service at WWDC, anchored by popular networks such as ABC, CBS, Fox, ESPN and FX. The web-based TV service for iPhone, iPad, Apple TV and other devices is expected to deliver a lightweight package of about 25 channels for between $30 to $40 per month. The report Continue Reading

Posted by | May 21, 2015.

Apple today updated its Apple Store app for iOS to version 3.3, adding additional security and convenience features to the app. There's now a "Touch ID" option in the Account section of the app that allows users to enable Touch ID for viewing orders, accessing EasyPay receipts, and making reservations at an Apple Store.

Previously, these sections of the app required an Apple ID password to be input whenever they were accessed, but now the app will ask for Touch ID verification in lieu of a password when Touch ID is toggled on. Before the update, Touch ID usage was limited to Apple Pay for making purchases, but with the expanded Touch ID capabilities, accessing various sections of the app to get order information is much quicker.

Accessing features like EasyPay Receipts before update on left, after on right
Today's update also adds support for two-step verification within the Apple Store app.


What's New in Version 3.3
– Use Touch ID to view orders, access EasyPay receipts, and make reservations at an Apple Store.
– Support for two-step verification, giving you extra security for your Apple ID.

Apple's Apple Store app can be downloaded from the App Continue Reading

Posted by | May 21, 2015.

Apple's new 15-inch Retina MacBook Pro, unveiled on Tuesday, didn't include a processor upgrade due to Broadwell delays, but it did get a Force Touch trackpad and one other major improvement — new PCIe-based flash storage that Apple says is 2.5 times faster than the flash storage in previous-generation machines, with throughput up to 2GB/s.

In benchmark testing conducted by French site MacGeneration [Google Translate], the entry-level 2.2GHz 15-inch Retina MacBook Pro with 16GB RAM and 256GB of storage lived up to Apple's claims, demonstrating impressive read/write speeds that topped out at 2GB/s and 1.25GB/s, respectively, in QuickBench 4.0.

Those read/write speeds far exceed the read/write speeds achieved by the entry-level 13-inch MacBook Air, which also received faster flash storage that doubles the speeds available in previous-generation 13-inch MacBook Air machines. The 13-inch Retina MacBook Pro's performance is similar to the 13-inch MacBook Air.

At speeds that reach 2GB/s throughput, the 15-inch Retina MacBook Pro has the fastest storage of any of Apple's notebooks. It took 14 seconds to transfer an 8.76GB file to the machine, compared to 32 seconds for the slower Retina MacBook. With small files, read/write speeds exceed a gigabyte Continue Reading