Posted by | March 31, 2015.
EA today announced the first major expansion for The Sims 4, called "Get To Work", launching today. The expansion is aimed at introducing a handful of new interactive career options for Sims to explore alongside an update that allows users to create and run their own retail business.
The three new careers included in the expansion are Doctor, Detective, and Scientist, with each providing interactive experiences with fellow coworkers, the ability to work up the promotional hierarchy, or, of course, the choice to "wreak havoc on the workplace."
Doctors will make house calls, perform surgeries, and run diagnosis on sick patients, while Scientists will use their intellect to create cloning machines and freeze rays. The career path will even grant players the option to build the ElectroFlux Wormhole Generator to teleport them to the homeworld of the Aliens, making a return to the franchise after being absent from The Sims 4 base game.
Detectives appear to have the most work, checking in at the police station to grab cases, working crime scenes to find clues, interviewing witnesses, and eventually tracking down the prime suspect. They'll also be able to choose to patrol the streets and issue Continue Reading
Posted by | March 31, 2015.
Microsoft on Tuesday announced the Surface 3 tablet with Windows 8.1, available in May for a starting price of $499. The latest iPad competitor is designed to be a laptop replacement, running full Windows, including desktop applications, and delivering all-day battery life. Surface 3 comes with 64GB storage and 2GB of RAM for $499, while a 128GB option with 4GB of RAM costs $599. Both Wi-Fi only and 4G LTE models are available.
Surface 3 is powered by a quad-core 1.6GHz Intel Atom processor, a significant shift from ARM processors used in previous models. The tablet also features a 10.8″ full HD display at 1,920×1,280 pixels resolution, full-size USB 3.0 port, Mini DisplayPort, microSD card reader, headphone jack, cover port, micro USB charging port, Bluetooth 4.0 and three-position kickstand. The tablet will receive a free upgrade to Windows 10 when available, and includes a one-year Office 365 subscription to use Word, PowerPoint, Excel and more.
The base model Surface 3 in 64GB and 128GB options is available for pre-order now through Microsoft's website for delivery starting the first week of May, while the 4G LTE models are listed as shipping Continue Reading
Posted by | March 30, 2015.
The ongoing conflict between Apple and Ericsson escalated this afternoon as the United States International Trade Commission (ITC) agreed to launch an investigation into claims that Apple infringed on as many as 41 of Ericsson's cellular technology patents with its iPad and iPhone devices, reports PCWorld.
Apple and Ericsson first clashed in January, after the expiration of a 2008 licensing agreement between the two companies. Despite two years of negotiations, the companies failed to establish a new agreement that would let Apple use Ericsson's cellular technology patents.
Apple filed a complaint suggesting Ericsson was both demanding excessive royalties for LTE patents and wrongly claiming its patents as essential for the LTE wireless communication standard. Ericsson responded with its own complaint, asking the court to determine whether its licensing fees were fair.
Ericsson's cellular technology patents are considered essential and are subject to fair, reasonable, and non-discriminatory terms (FRAND). According to Ericsson, the licensing deal it offered Apple (estimated to be between $250 million and $750 million annually) was reasonable, but Apple disagreed.
In February, Ericsson went on to file seven new lawsuits against Apple and two complaints with U.S. ITC in Continue Reading
Posted by | March 30, 2015.
Apple updated its investor relations page today to note that it will announce its earnings for the second fiscal quarter (first calendar quarter) of 2015 on Monday, April 27. The quarterly earnings statement will be released sometime 1:30 PM Pacific/4:30 PM Eastern, with a conference call to discuss the report taking place at 2:00 PM Pacific/5:00 PM Eastern.
The earnings release will provide a look at sales of the iPhone 6 and 6 Plus during the period following Apple's record-breaking first quarter as well as iPad and Mac sales throughout the first few months of 2015. For the first quarter of 2015, Apple announced revenue of $74.6 billion and net quarterly profit of $18 billion, on 74.5 million iPhone sales, 5.5 million Mac sales, and 21.4 million iPad sales. April's earnings call will come three days after the Apple Watch release, but will not include Apple Watch sales figures.
During its first quarter earnings report, Apple provided Q2 2015 guidance of $52 to $55 billion in revenue and gross margin between 38.5 and 39.5 percent.
MacRumors will provide coverage of both the earnings release and conference call on April 27.
Posted by | March 30, 2015.
Apple today seeded a new beta of OS X Yosemite to developers and public beta testers, a week after seeding the fifth OS X Yosemite beta and almost two months after releasing the first OS X 10.10.3 beta.
The new beta, build 14D127a, is available for registered developers through the Software Update mechanism in the Mac App Store and through the Mac Developer Center.
OS X 10.10.3 includes several new features, like the Photos for OS X app. Designed to integrate with iCloud Photo Library and the Photos app on iOS, the Photos for OS X app is a replacement for both iPhoto and Aperture. Reviews have suggested that while Photos is a suitable replacement for iPhoto, with more advanced tools and performance optimizations, it may leave professional users disappointed in its initial incarnation.
Along with the new Photos for OS X app, earlier OS X 10.10.3 betas have introduced a redesigned emoji picker that consolidates emoji into a single scrollable page with clear labels, new diversified emoji and emoji skin tone modifiers, new flag emoji and updated emoji for the iPhone, iMac, and Apple Watch, and support for Google 2-step verification Continue Reading
Posted by | March 30, 2015.
For $24.99 per year, or about two dollars per month, iTunes Match keeps all of your music in iCloud so you can access any song at any time from any device instead of picking and downloading your favorite playlists every time you sync your device. Plus, Apple will provide you with high quality playback using 256 Kbps AAC DRM free versions of your music, even if your original copy was lower quality.
Some users may not be entirely familiar with hoe the service works, so we've put together this tutorial that explains the process of how to subscribe to and use iTunes Match on your computer and iOS devices.
How iTunes Match Works
In November 2011, Apple released iTunes Match in the United States, gradually expanding availability over time and now offering the subscription service in over 115 countries. The service is designed to let you store up to 25,000 songs in iCloud that can be accessed from any Apple device at any time. Music you have purchased through the iTunes Store does not count against your maximum capacity.
Every song that you've added to your music library in iTunes via CD or digital download, Continue Reading
Posted by | March 30, 2015.
After we published our review of the ClamCase Pro keyboard for the iPad Air 2, some of our readers suggested that we take a look at other iPad keyboards available on the market. We decided to take MacRumors readers up on that suggestion, and over the next few weeks, we'll be looking at several keyboards designed for Apple's newest tablet, the iPad Air 2.
We're kicking things off with a review of the BrydgeAir keyboard, which is able to work with both the original iPad Air and the iPad Air 2. Much like the ClamCase Pro we previously looked at, the all-aluminum BrydgeAir is designed to turn the iPad into a miniature MacBook.
At $169, the BrydgeAir is one of the more expensive iPad keyboards on the market, but that price point comes with some perks not found in many cheaper options — quality aluminum construction, a fluid 180 degree hinge, built-in dual stereo speakers, and backlit keys.
…CONTINUE READING =>
Posted by | March 30, 2015.
Images of what appear to be a mockup version of the upcoming larger-screened "iPad Pro" depict either a secondary Lightning port or a USB-C port on one side of the device, suggesting it could potentially have multiple methods of charging and/or the ability to support accessories like keyboards and mice. The pictures, which show the mystery port, a headphone jack/speakers, and the camera, originated on microblogging site Sina Weibo and were shared by Italian site HDBlog.
Case manufacturers and other accessory makers often create dummy models of upcoming Apple devices to get an early start on the development process, and the tablet pictured in the photos is likely one of these mockups. Most of these models are based on rumors and leaked schematics, and while they're frequently accurate, there have been errors in dummy models for past devices.
The port on the left side of the device in the images does line up with a previously leaked iPad Pro case that had an opening on the left side believed to be for a SIM card tray, but the presence of a side port was not seen in schematics shared by Japanese magazine Mac Fan Continue Reading
Posted by | March 30, 2015.
Chinese parts supplier Future Supplier (via Nowhereelse.fr) has posted leaked images of what it believes could be the rear shell for the so-called "iPhone 6c." The rear housing looks similar to the plastic iPhone 5c, with two notable differences being a pill-shaped LED flash cutout and two rows of speaker grilles on the bottom of the smartphone. The size of the rear shell indicates that the device's screen size could fall within the 4-inch range.
The pill-shaped LED flash design and two rows of speaker grilles are also found on the iPhone 5s, indicating that the iPhone 6c could have the same internals as the two-generations-old smartphone with a plastic shell. The smartphone would likely be positioned at the low end of the iPhone lineup as Apple's free smartphone, alongside the iPhone 6, iPhone 6 Plus and next-generation iPhones released later this year.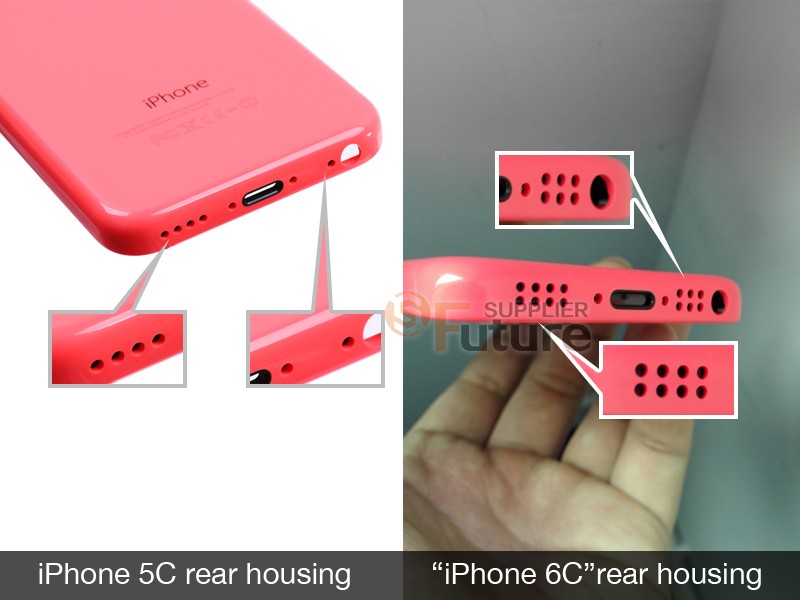 Apple did not refresh the iPhone 5c when it launched the iPhone 6 and iPhone 6 Plus last year, leading to speculation that the plastic smartphone might be discontinued from the smartphone lineup.
Posted by | March 30, 2015.
With just under a month until the April 24 launch date of the Apple Watch, internationally renowned Nanoblock artist Christopher Tan has re-created the Apple Watch in block form in anticipation of the wearable's release next month.
As Tan notes, the sculpture is a 2.6x scale model of the 42mm Apple Watch created from over 800 pieces of Nanoblock, which is a popular building block product in Japan, akin to LEGOs. Tan says he's "been a long-time Apple fan" and is "eagerly anticipating the Apple Watch."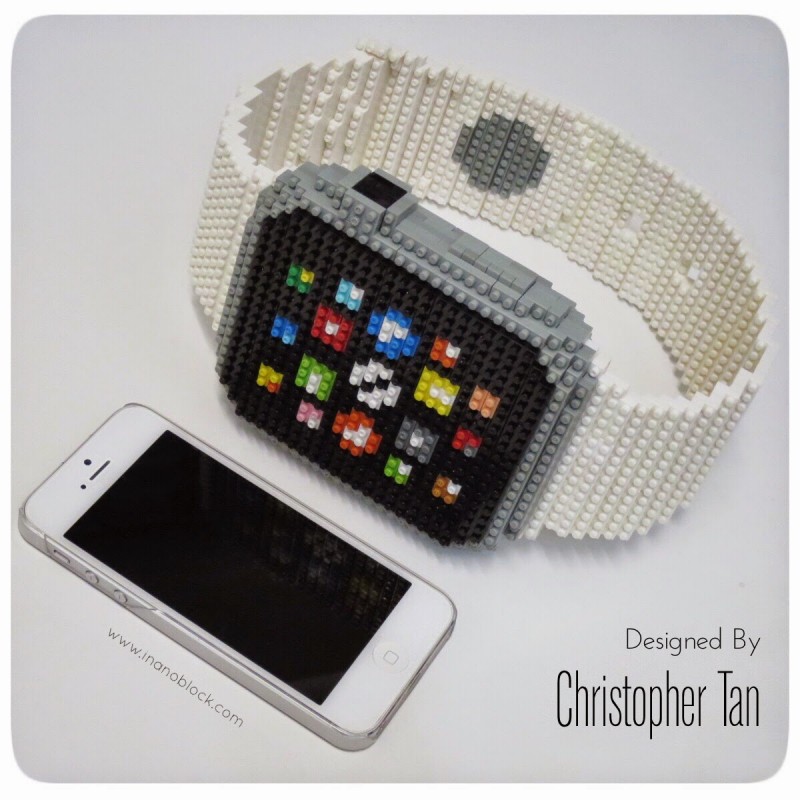 Tan has been creating Apple-related Nanoblock structures for a while now, last year debuting a 2,000-piece structure of the Fifth Avenue Apple Store, complete with the iconic glass cube entrance and descending spiral staircase. Tan's creations have earned him spreads in magazines and even award recognition in the Nanoblock company's own spotlight of the best creations and creators using the product.
Check out the rest of Tan's Nanoblock creations on his blog.
Posted by | March 30, 2015.
Apple has expanded its Reuse and Recycling Program in the United States and Europe to cover eligible Android, BlackBerry and Windows Phone smartphones. The new trade-in program provides customers with the option to mail in eligible non-Apple smartphones, including certain Samsung, HTC, LG, Nokia, Sony and BlackBerry models, for credit in the form of an Apple Store gift card or bank transfer.
The smartphone trade-in program has gone live in the United States, United Kingdom, Italy and France in partnership with third-party device buyback and trade-in company Brightstar Corporation. Apple is also accepting various PC models by certain manufactures as part of its expanded Reuse and Recycling Program, which is also being handled by a third-party vendor.
Posted by | March 30, 2015.
As Apple and other companies create products capable of providing more and more detailed health-related information, the U.S. Food and Drug Administration has decided to give the companies creating these devices breathing room to manufacture the devices free, for the most part, from the scrutiny of the agency (via Bloomberg Business).
The FDA's associate director for digital health, Bakul Patel, noted that while the agency will be more lenient on devices aimed at simply improving the lifestyle of its customers, more health-invasive features, like a glucose monitor app on the Apple Watch, will continue to be reviewed by the FDA.
"We are taking a very light touch, an almost hands-off approach," Patel, the FDA's associate director for digital health, said in an interview. "If you have technology that's going to motivate a person to stay healthy, that's not something we want to be engaged in."
The rule of thumb released in a few guidelines by the agency highlight that the FDA's focus will be on devices and software that are attempting to replicate, or mimic, the functionality of a medical service or device. Basic heart-rate and step-counting aspects of these wrist-worn devices will receive little-to-no regulation from Continue Reading
Posted by | March 30, 2015.
Apple CEO Tim Cook has called recent "religious freedom" legislation passed in Indiana and Arkansas "very dangerous" in a public op-ed letter published by The Washington Post. Cook argues that there are nearly 100 pro-discrimination bills in the United States that "go against the very principles" the country was founded on and "have the potential to undo decades of progress towards greater equality."
Cook's letter comes in response to Indiana governor Mike Pence passing the controversial Religious Freedom Restoration Act last week, following intense opposition from opponents that believe the bill supports discrimination, particularly against gays and lesbians. The bill, based on the federal Religious Freedom Restoration Act, signed by President Bill Clinton in 1993, takes effect July 1st.

"America's business community recognized a long time ago that discrimination, in all its forms, is bad for business," said Cook. "At Apple, we are in business to empower and enrich our customers' lives. We strive to do business in a way that is just and fair. That's why, on behalf of Apple, I'm standing up to oppose this new wave of legislation — wherever it emerges. I'm Continue Reading

Posted by | March 30, 2015.

Apple CEO Tim Cook has called recent "religious freedom" legislation passed in Indiana and Arkansas "very dangerous" in a public op-ed letter published by The Washington Post. Cook argues that there are nearly 100 pro-discrimination bills in the United States that "go against the very principles" the country was founded on and "have the potential to undo decades of progress towards greater equality."

Cook's letter comes in response to Indiana governor Mike Pence passing the controversial Religious Freedom Restoration Act last week, following intense opposition from opponents that believe the bill supports discrimination, particularly against gays and lesbians. The bill, based on the federal Religious Freedom Restoration Act, signed by President Bill Clinton in 1993, takes effect July 1st.


"America's business community recognized a long time ago that discrimination, in all its forms, is bad for business," said Cook. "At Apple, we are in business to empower and enrich our customers' lives. We strive to do business in a way that is just and fair. That's why, on behalf of Apple, I'm standing up to oppose this new wave of legislation — wherever it emerges. I'm Continue Reading

Posted by | March 29, 2015.

The Apple Watch will be available for in store previews and Try-On appointments starting on April 10th. The Apple Watch comes in a variety of sizes, colors, and band-types which can make the decision of how to pick a band and Apple Watch combination complicated.

Apple has a number of recommended combinations highlighted on their online store, but also sells bands separately, allowing customers to potentially mix and match between the various Apple Watches and bands. Some combinations could yield a mix of materials that readers feared may not look natural together, such as an aluminum Apple Watch Sport and a stainless steel accented band. The stainless steel Apple Watch is the most cosmetically versatile but carries a $200 premium over the aluminum Apple Watch Sport.

Apple, however, will not allow customers to try arbitrary mix and match options during their Apple Watch Try-On appointments, presumably in the interest of time and simplicity. According to retail training materials MacRumors received, Apple specifically states that they "will not size links or swap bands" at the Try-on table or Try-on cases. Try-on appointments for non-Edition Apple Watches are meant to last only 5-15 Continue Reading