Posted by | March 1, 2015.
Apple has never led market share in worldwide phone sales. Ever. And yet, the iPhone has held the (according to flickr) title of world's most popular camera for years. Today, Apple is capitalizing on that by launching a new ad campaign dedicated to images shot by iPhone users. Apple's driving point is that it has put a powerful creative tool into the hands of photographers that… Read More
Continue Reading
Posted by | March 1, 2015.
Samsung at Mobile World Congress on Sunday announced its latest flagship smartphones, the Galaxy S6 and Galaxy S6 Edge, each compatible with a new mobile payments service called Samsung Pay. The smartphones are a significant refresh to the Galaxy lineup, featuring a slimmer and lighter metal and glass curved design, all-new front and rear cameras, improved hardware specifications under the hood and more.
Samsung Galaxy S6 and Galaxy S6 Edge (via The Verge)
The Galaxy S6 Edge is notable in that it is the first smartphone to feature a curved display on both sides of the device, constructed from Gorilla Glass 4. Both smartphones have 16-megapixel rear-facing cameras and 5-megapixel front-facing cameras with f/1.9 lenses for improved low-light photos, Auto HDR, optical image stabilization, IR white balance and a "Quick Launch" feature for accessing the camera from any screen in less than one second.
Samsung Galaxy S6 and Galaxy S6 Edge have improved hardware specifications in most areas, each featuring a 5.1-inch 2560×1440 Super AMOLED display at 577 ppi, Exynos 8-core processor, 3GB of RAM up, 32GB to 128GB of internal storage, Category 6 LTE, 802.11/a/c Wi-Fi, Bluetooth LE, NFC and 2,550 mAh and 2,600 mAh batteries Continue Reading
Posted by | March 1, 2015.
This week at mobile-focused technology show Mobile World Congress, SanDisk plans to announce a several updates to its line of iXpand Flash Drives and companion app, mainly focused on expanding storage space and enabling quicker and more secure data decryption with the help of Touch ID.
The iXpand flash drive includes both USB and Lightning connectors to allow users the ability to easily transfer files, photos, and videos from an iOS device to a desktop or notebook with a traditional USB port. Currently available in 16GB, 32GB, and 64GB sizes, the company will be announcing its first addition to the iXpand line with the introduction of a 128GB model for even more file storage.
SanDisk also promises new iOS 8-inspired updates to the iXpand Sync app, notably implementing Touch ID to let users encrypt and decrypt their most sensitive files while transferring data to and from the drive. The company also notes that the update will allow users to interact and open files from the iXpand drive with various other "popular apps", as well as save content inside of the third-party apps directly onto the drive.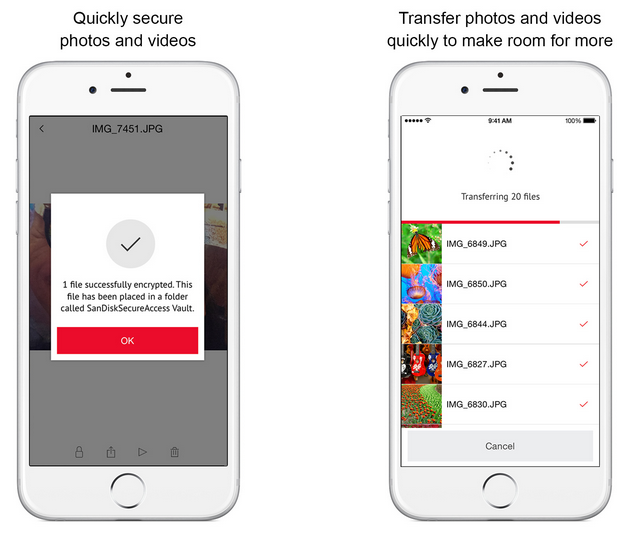 No official pricing Continue Reading
Posted by | March 1, 2015.
The worldwide magazine debut of the Apple Watch continues this week on the cover of fashion magazine Style in the United Kingdom. The cover of the Big Spring Issue for March features model Guinevere Van Seenus wearing an Apple Watch and is accompanied by a two-page spread inside the magazine that provides further details about the wrist-worn device, including an interesting hint about the pricing of space gray models.
A caption in the magazine spotted below model Guinevere Van Seenus claims that the "Apple Watch Sport with 38mm Space Grey aluminum case and black band" will cost $349. The price is notable given that Apple pundit John Gruber of Daring Fireball previously speculated that Apple may charge more for the space gray Apple Watch Sport and space black stainless steel Apple Watch.

"Note that the silver Apple Watch Sport only has four band color choices: white, blue, green, and pink," wrote Gruber. "The space gray Sport edition has only one band: black. I think Apple might charge more for both the space gray Sport model and the space black stainless steel model."
Gruber may still be correct in that the magazine may simply be referencing the $349 starting Continue Reading
Posted by | March 1, 2015.
With Apple's media event just a week away and the company expected to offer final details there on the Apple Watch ahead of its April debut, The New York Times has a new report out sharing a few new tidbits on the device.
Among the interesting details is the existence of an unannounced "Power Reserve" mode for the watch that will display only the time and cut off all other functions as the battery begins to run critically low, preserving the most basic functionality of the watch. The report also notes that while the Apple Watch has been widely tested by Apple employees, the company did work to conceal many of those prototypes by disguising them to resemble Samsung smartwatches.
Sources have also provided more context to a Wall Street Journal article from last month that discussed how many of the originally planned health features for Apple Watch were dropped due to consistency issues. According to The New York Times' sources, the decision to drop many of those features came more than 18 months ago, refuting off-target reports in recent weeks claiming the cuts have come at the last minute.

Nearly two years ago, the Continue Reading

Posted by | February 28, 2015.

Apple is planning to open a dedicated pop-up shop for the Apple Watch at high-end department store Selfridges in London, according to sources. The shop will likely be located near the entrance of the iconic Wonder Room, a 19,000-square-foot shopping hall that houses a wide selection of luxury jewelry and watch brands alongside a concept store and mezzanine wine bar.

Wonder Room at Selfridges in London houses fine jewelry and watches
A section of Selfridges located near the Wonder Room was boarded up earlier this month to allow for construction of the expected Apple Watch pop-up shop, sources say. The store-within-a-store concept will display various Apple Watch models and provide customers with a personalized shopping experience, potentially including One to One service for those interested in learning more about the wrist-worn device.

Apple is recruiting retail employees from nearby Apple Stores in London to fill Specialist vacancies at an upcoming Central London location, which is likely to be this Selfridges boutique. The pop-up shop is expected to be readied in time for the Apple Watch launch in April and will likely join Galeries Lafayette Continue Reading

Posted by | February 28, 2015.

A new image has surfaced that shows construction of an outdoor extension at the Yerba Buena Center for the Arts in San Francisco, as reported by 9to5Mac. The tented space will likely serve as an Apple Watch demo area at the upcoming "Spring Forward" media event on March 9th, where Apple is widely expected to provide further details about the Apple Watch's features, pricing and release date.

According to the tipster that submitted the photos, there are security guards wearing "Apple Security" shirts monitoring the construction site, all but confirming that the external addition belongs to Apple. The company previously built a similar structure outside of the Flint Center as a demo area for the iPhone 6, iPhone 6 Plus and Apple Watch, so an exterior demo area would not be unprecedented.

Apple sent out invites for its "Spring Forward" media event earlier this week, and will also be providing a <a target="_blank" rel="nofollow" href="http://www.macrumors.com/2015/02/26/apple-watch-event-live-stream/" title="Apple to Live Stream 'Spring Forward' Apple Watch Continue Reading

Posted by | February 27, 2015.

Case Logic is known its line of backpacks, cases, and other storage accessories, all of which are priced affordably, making it quite popular with people looking for inexpensive but quality solutions for carrying around their devices.

We met up with Case Logic at CES this year, where the company had a large booth showcasing all of its products, including the Ibira backpack, one of its newest offerings. We went hands-on with the Ibira backpack in our latest video review, so check it out to see what we thought.

The Ibira is a lightweight, slim backpack but we were impressed with what it was able to hold. We fit in a MacBook, an iPad, an Apple keyboard, an iPhone, several chargers and accessories, a water bottle, and several notebooks. Build wise, the backpack is made of a high quality material that feels like it will stand up to heavy usage, but the straps were a bit too thin and could use more padding to be comfortable.

Case Logic's Ibira Backpack is available in black and anthracite from the Case Logic website for $29.99.

Posted by | February 27, 2015.

As we head into March, deals are beginning to pick up a little bit. The iPad Air 2 is still available at discounted prices from B&H Photo, and Best Buy is offering discounts on its stock of original iPad Air tablets.

There are also deals to be had on the iMac, the MacBook Air, and the Retina MacBook Pro, plus, as always, we have a nice selection of Apple accessories that have been discounted this week.

iPad Air 2

B&H Photo is offering up to $60 off its for a complete list.

Toca Hair Salon, a popular game for children, is available for free this week, down from $2.99. NFL Quarterback 15 is available for free, down from $0.99. Duet Display is half off this week, priced at $7.99 instead of $15.99.

Twisty Hollow is priced at $0.99 this week, down from $2.99. Space Age: A Cosmic Adventure is available for $1.99, down from $3.99. Botanicula is available for $1.99, down from $4.99.

Printer Pro was named Apple's app of the week this week, and it will be available to download for free for the next six days.

Apple Accessories

Posted by | February 27, 2015.

Apple may be planning to release iOS 8.2 to the public as early as next Monday, reports BGR. iOS 8.2 has been in testing since November and notably contains support for the Apple Watch. The March release date has been rumored for several weeks now, but earlier information pointed towards a launch a bit later in the month, possibly during the second week of March.

A Monday, March 2 release date for iOS 8.2 would mean the software would be released to consumers a full week ahead of Apple's scheduled March 9 "Spring Forward" media event, where the company is expected to divulge additional details on the Apple Watch.

BGR is fairly accurate when it comes to iOS release date predictions. The site correctly determined several iOS 7 beta release dates, but it has been wrong on occasion. Because March 2 is not in line with earlier predictions, BGR could be off by a week, but we will certainly be seeing a public release of iOS 8.2 sometime during the first two weeks of March, even if the March 2 date is inaccurate.

Thus far, there have been five iOS 8.2 betas, with Continue Reading

Posted by | February 27, 2015.

Following Apple's unveiling of a March 9 media event that will most likely focus on the pricing and launch date for the Apple Watch, Swiss watchmakers Swatch, Frédérique Constant and Alpina have recently released more details regarding products that will be residing in the same smart wearable space as the Apple Watch (via Watch Insider).

Swatch yesterday announced the Swatch Touch Zero One, a new smartwatch with a dedicated touch screen and a focus on durability and outdoor activity. The sports-heavy focus comes thanks to the company's partnership with the Beach Major Company, which specializes in organizing and putting on Beach Volleyball competitions.

Besides volleyball specific functions like counting "power hits" and "power claps", the Touch Zero One will apparently compete most directly with the Apple Watch Sport, thanks to its enhanced durability, lightweight frame, and sweat-proof band.


"Beach Volleyball is a wonderful sport, a thrill for the players and very exciting for the fans," said Swatch Group CEO Nick Hayek. "We've had great fun in the past and now we want to push it further with the new Major Series in collaboration with the FIVB. With the players we share a passion for Continue Reading

Posted by | February 27, 2015.

Apple CEO Tim Cook on Friday made an unannounced visit to the iconic Apple Store in Covent Garden, a popular shopping and tourist location in London, according to The Telegraph. The chief executive also sat down for an interview with the British publication to discuss the Apple Watch, providing a few more interesting details about the device ahead of Apple's highly-anticipated "Spring Forward" media event on March 9.

Cook claimed that the Apple Watch will have several features that go beyond timekeeping and health and fitness, such as the ability to replace large car key fobs that come with most current vehicles. "This will be just like the iPhone: people wanted it and bought for a particular reason, perhaps for browsing, but then found out that they loved it for all sorts of other reasons," he said.

The chief executive told Apple retail employees at the Covent Garden store that the Apple Watch will be unlike any other product the company has ever sold before. "We've never sold anything as a company that people could try on before", said Cook. He added that "tweaking the Continue Reading

Posted by | February 27, 2015.

Mobile printing app Printer Pro, by developer Readdle, has been named by Apple as this week's App of the Week. Known for their knack at developing productivity-based apps, Readdle says Printer Pro will allow users to "print just about anything" from an iPhone or iPad.

Normally priced at $6.99, the app gives users the ability to print a wide array of documents – from pictures in the Photos app to documents found in iCloud or Mail – to any Wi-Fi or USB-enabled printer. Readdle also provides a free-to-download desktop utility for the service that helps users with USB printers through an initial set-up and allows everyone using it to "print more document types and with better quality."

The company notes that to print a Safari page, users can change "http" to "phttp" in the address bar and hit go, immediately bringing up the desired web page within the Printer Pro app. Most other apps, like Dropbox, Mail, and Readdle's own PDF Expert, allow for a more streamlined process of accessing the app from a third-party app's "Open In" list.

Once installed, Printer Pro appears in the "Open In…" Continue Reading

Posted by | February 27, 2015.

Ericsson, the pioneering wireless technology company that holds many patents related to cellular network connectivity, has filed suit against Apple both with the International Trade Commission (ITC) and the U.S. District Court for the Eastern District of Texas, claiming violation of 41 patents that apply to both the iPhone and iPad. These include essential patents related to 2G and LTE tech,… Read More
Continue Reading

Posted by | February 27, 2015.

Apple faces further legal action from Ericsson this week after refusing to accept a licensing deal for its patented LTE technologies, according to The Wall Street Journal. The Swedish networking company on Friday said it is suing Apple for infringing 41 wireless-related patents that it believes are critical to the functionality of products such as the iPhone and iPad.


"By refusing Ericsson's fair and reasonable licensing offer for patented technology used in Apple smartphones and tablets, Apple harms the entire market and reduces the incentive to share innovation," the company said in a statement.

Ericsson has filed two complaints with the U.S. International Trade Commission in an effort to secure an exclusion order against Apple, which could block the iPhone, iPad and other products involved from being sold in the United States. The company has also filed seven complaints with the U.S. District Court for the Eastern District of Texas as part of the negotiations. Apple's previous licensing deal with Ericsson expired in mid-January.

Apple originally filed suit against Ericsson on January 12, arguing that it was demanding excessive royalties for patents not essential to LTE standards. Ericsson countersued in a Texas courtroom just hours later, seeking an estimated $250 Continue Reading