Posted by | January 27, 2015.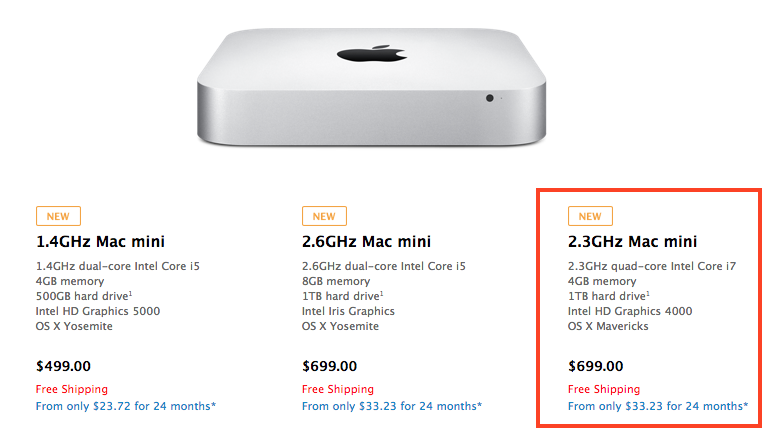 Apple today has mysteriously added back a 2012 model Mac mini to the Apple Online Store for $699. The over two-year-old machine still has the same hardware specifications as it did in 2012, including a 2.3GHz quad-core Intel Core i7 processor, 4GB of RAM and Intel HD Graphics 4000. The listing also shows that the computer ships with OS X Mavericks installed.
It is unknown if the outdated Mac mini has mistakenly resurfaced on the Apple Online Store, or if Apple intentionally reintroduced the model on its website. One plausible reason that Apple may be making this older Mac mini available for purchase again is to provide customers with a quad-core option, as the existing 2014 models are each powered by dual-core Intel Core i5 processors.
The entry-level Mac is listed as out of stock in the United States, and MacRumors could not find the model listed for sale elsewhere after spot checks of the Apple Online Store in Canada, United Kingdom, Australia, Japan and several other countries. Apple still offers a refurbished version of the same 2012 Mac mini for $589 on its website, although that model is also currently out of stock.
Continue Reading
Posted by | January 27, 2015.
It appears that today's iOS 8.1.3 update fixes many of the exploits that were used for the iOS 8 TaiG jailbreak, which worked up until iOS 8.1.2. The earlier Pangu jailbreak was disabled with the iOS 8.1.1 update that was released on November 17.
TaiG has not yet confirmed whether iOS 8.1.3 breaks its jailbreak tool, but reports on the MacRumors forums and on Twitter suggest that is indeed the case. Apple's support document detailing the security fixes in iOS 8.1.3 credits the TaiG jailbreak team for four vulnerability fixes.
At the current time, Apple is still signing iOS 8.1.2 so it's possible to downgrade from iOS 8.1.3 back to iOS 8.1.2 or upgrade to iOS 8.1.2 from an earlier version of iOS, but that could end at any time.
Released this morning, iOS 8.1.3 includes a range of bug fixes including a repair for a lingering Wi-Fi issue, and it also reduces the amount of storage space required to perform an iOS update.
Posted by | January 27, 2015.
During today's earnings call covering the first fiscal quarter of 2015, Apple CEO Tim Cook shared some new details on the prospective launch date of the Apple Watch. According to Cook, Apple Watch development is currently on schedule, and the company is planning to ship the device in April.
Development for Apple Watch is right on schedule, and we expect to begin shipping in April.
When the Apple Watch was announced, Apple gave a vague "Early 2015″ launch date for the device, making it unclear when it would actually ship. Several rumors recently pointed towards a March launch date for the device, but it appears it will actually begin shipping out to consumers a month later, in April.
Cook confirmed that the Apple Watch's April shipping date was within the expected range of early 2015, which Apple considers to be the first four years of the month. Cook also said there are some amazing apps in the works for the device, and he mentioned that he couldn't live without the Apple Watch.

My expectations are very high on it. I'm using it every day and love it and can't live without it.
Now that we know when the Apple Continue Reading
Posted by | January 27, 2015.
Apple CEO Tim Cook confirmed on Tuesday during the company's quarterly earnings call that it has sold more than 1 billion iOS devices to date since launching the original iPhone over seven years ago. According to Cook, the impressive milestone, which accounts for the iPhone, iPad and iPod touch, was reached in December and was helped along by a record-breaking 74.5 million iPhones sold in Q1 2015.
Cook emphasized that iPhone 6 and iPhone 6 Plus demand was stronger than any other iPhone it has ever released, selling at a pace of roughly 34,000 devices per hour. The success of the iPhone 6 and iPhone 6 Plus was aided by the widest international rollout of an iOS device to date, with the smartphone launching in more places than ever before and in a total of 130 countries.
1 Billion iOS devices shipped!!

— Philip Schiller (@pschiller) January 27, 2015
Posted by | January 27, 2015.
During today's earnings call covering the first fiscal quarter of 2015, Apple CEO Tim Cook was asked about the sales split between the 4.7-inch iPhone 6 and the 5.5-inch iPhone 6 Plus. He declined to provide specific numbers on the split, but he did confirm that the iPhone 6 was the most popular device.
"Obviously to sell 74.5 million devices, they were all popular," Cook said. "Both did incredibly well. We're really proud of them, along with the iPhone 5s and 5c."
According to Cook, there was some clear geographical preference for the iPhone 6 vs the iPhone 6 Plus. Some locations skewed higher to iPhone 6 Plus preference, while others preferred the iPhone 6. He didn't specify which regions preferred which devices, but data has suggested Asian countries favored the iPhone 6 Plus.
During the call, Cook also mentioned that the iPhone 6 and 6 Plus brought the highest Android switcher rate over the course of the last three years and that there's still a lot of opportunity to see growth as only a "small fraction" of existing iPhone users (in the low teens) have upgraded to a new device. The iPhone 6 and Continue Reading
Posted by | January 27, 2015.
Since its introduction in October, Apple Pay has accounted for two of every three dollars spent through contactless payments on Visa, Mastercard, and American Express, according to information Apple shared with MarketWatch after posting its earnings for the first fiscal quarter of 2015.
Though Apple did not breakout Apple Pay earnings in its results, earlier reports and prior details shared by the company suggest the payments service is seeing some early success.
Apple Pay had more than 1 million card activations during the first 72 hours Apple Pay was available, and in November, Apple Pay captured a total of 1 percent of all digital payment dollars.
Thus far, Apple Pay has proven to be most popular at Whole Foods, with the speciality grocery store responsible for 20 percent of all Apple Pay transactions and 28 percent of all Apple Pay spending. Walgreens and McDonald's were also popular with Apple Pay users.
Apple Pay is still in its infancy, limited to the United States. In the coming months, Apple plans to expand to several other locations across Europe, Canada, and Asia. In the United States, Apple Pay now supports cards Continue Reading
Posted by | January 27, 2015.
Apple today announced financial results for the first fiscal quarter of 2015, which corresponds to the fourth calendar quarter of 2014. For the quarter, Apple posted revenue of $74.6 billion and net quarterly profit of $18 billion, or $3.06 per diluted share, compared to revenue of $57.6 billion and net quarterly profit of $13.1 billion, or $1.98 per diluted share, in the year-ago quarter.
Gross margin for the quarter was 39.9 percent compared to 37.9 percent in the year-ago quarter, with international sales accounting for 65 percent of revenue. Apple also declared an upcoming dividend payment of $0.47 per share, payable on February 9 to shareholders of record as of February 12. The company currently holds $178 billion in cash and marketable securities.
Apple sold a record 74.5 million iPhones during the quarter, up from 51 million a year earlier, while Mac sales were also strong with 5.5 million units sold, up from 4.8 million units in the year-ago quarter. iPad sales were down, however, falling to 21.4 million from 26 million.

"We'd like to thank our customers for an incredible quarter, which saw demand for Apple products soar to an all-time high," said Tim Cook, Apple's Continue Reading

Posted by | January 27, 2015.

Super Bowl XLIX is airing this Sunday, with the New England Patriots facing off against the Seattle Seahawks. If you don't have a cable subscription, you might be worried about missing the game — but rest easy, there are several ways to watch if you have an iPad, computer, or Verizon iPhone.

We've outlined all of the ways you can catch the Super Bowl in the video below, and we've also got a walkthrough complete with links in this post.

iPad and iPod touch

NBC is running a promotion called "Super Stream Sunday" that will let all U.S.-based users watch 11 continuous hours of NBC content through the NBC Sports Live Extra app on the iPad or iPod touch.

The app normally requires a cable subscription and authentication to log in, but beginning at noon Eastern Time on February 1, the login requirements will be eliminated. NBC's Super Stream Sunday will include the full game, the halftime show with Katy Perry, and pre- and post-game shows.

Apple TV users can use AirPlay mirroring to watch content from their iPads on their televisions.

The NBC Sports Live Extra app Continue Reading

Posted by | January 27, 2015.

Earlier this month, we shared an iPhone case called the Reach79, which debuted at CES. The Reach79 case claimed to boost the signal strength and performance of the iPhone, improving battery life, reducing dropped calls, and improving download speeds, statements that were quite controversial in our forums.

Readers were understandably skeptical of the Reach79's promise that it could deliver up to 2x stronger signal strength, so MacRumors decided to go hands-on with the Reach79 case to see if we could prove the company's claims.

We've been extensively testing the Reach79 case on an iPhone 6 Plus for more than a week in various areas around the San Francisco Bay Area, but after several days of use, it remains difficult to conclusively say that the case improves signal in a meaningful way due to mixed test results. For a quick summary of what we found, scroll down to the "Bottom Line" section, or read on for our full results.

Our Testing

We used the Reach79 case on an iPhone 6 Plus connected to the AT&T network on multiple days, at multiple times, and in multiple locations, both indoor and outdoor. The phone was put into Continue Reading

Posted by | January 27, 2015.

Apple has issued iOS 8.1.3, and update for its mobile devices that fixes a number of bugs, and makes it so that iOS requires less free storage space on your hardware (this update itself comes in at 247 MB) to actually perform an update. Especially with iOS 8's launch, users without much free space on their device had difficulty updating because of the size of the software download itself. Read More
Continue Reading

Posted by | January 27, 2015.

Apple today released OS X Yosemite 10.10.2, marking the second update the operating system has received since its October release. Testing for OS X 10.10.2 began in late November, with Apple seeding six betas to developers before releasing the update to the public.

The OS X 10.10.2 update can be downloaded through the Software Update mechanism in the Mac App Store.

According to the release notes, OS X 10.10.2 solves lingering issues with Wi-Fi, fixes issues with Safari web pages loading slowly, improves VoiceOver, improves audio and video syncing when using Bluetooth headphones, and adds the ability to browse through iCloud Drive in Time Machine.

The update also fixes several notable security flaws, including an issue that caused Spotlight to load remote email content even when the Mail preference was disabled, vulnerabilities detected by Google's Project Zero, and the "Thunderstrike" hardware exploit affecting Thunderbolt-equipped Macs.

Posted by | January 27, 2015.

Apple today released iOS 8.1.3 to the public, with a range of bug fixes including a fix for an issue that prevented some users from entering their Apple ID passwords for Messages and FaceTime, a bug that caused Spotlight to stop displaying app results, and a problem that prevented multitasking gestures from working on the iPad.

iOS 8.1.3 also reduces the amount of storage space required to perform an iOS update and adds new configuration options for education standardized testing.

iOS 8.1.3, much like iOS 8.1.2, was a minor release that was not seeded to developers before being released to the public. The software is available immediately as an over-the-air download.

The first hints of iOS 8.1.3 first appeared in early December after devices running the updated operating system began visiting the MacRumors website, and usage picked up last week after iOS 8.1.3 was seeded to Apple retail employees for testing purposes. Apple appears to be expanding its OS X employee testing program to iOS, and iOS 8.1.3 marks the first iOS beta that's been tested by retail workers.

iOS 8.1.3 is a minor update that includes only under-the-hood bug fixes, but Apple Continue Reading

Posted by | January 27, 2015.

Apple is set to report its financial results this afternoon for Q1 2015, a three-month period spanning October through December that directly followed the launch of the highly-anticipated iPhone 6 and iPhone 6 Plus. Despite offering guidance of between $63.5 to $66.5 billion in total sales, many analysts are predicting that Apple outpaced those numbers in what could amount to a record-breaking quarter.

Fortune has averaged the estimates of 35 analysts, including 20 professionals and 15 amateurs, and determined that expectations are for Apple to report earnings of $2.68 per share, a nearly 30% year-over-year increase, and revenue of $68.7 billion, about a 20% increase from the year-ago quarter and $2.2 billion higher than Apple's high-end forecast.

The first quarter has historically been the most lucrative for Apple, as the company typically launches new or refreshed products in the fall ahead of the busy holiday shopping season. Apple has posted record-breaking first quarter earnings results for over a decade, a span in which it announced several iconic products such as the iPod, iPhone, iPad, MacBook Pro and MacBook Air.

Analysts believe that Q1 2015 will be a home run for Apple on the strength of the iPhone Continue Reading

Posted by | January 27, 2015.

Running with Crayons today announced Alfred Remote, an iOS app that turns an iPhone or iPad into a remote control for various tasks on a user's Mac, from controlling a screensaver to launching apps (via The Verge).

Designed with parity of the Alfred app on the Mac App Store in mind, Alfred for iOS also allows users to expand into systemwide interactions with their desktop computers. Users with a Powerpack addition to their Alfred 2 experience, which costs about $25, can then use the Remote to control Powerpack-exclusive features via iOS.

These include iTunes playback, copying and pasting from iOS to OS X, running user-defined scripts, AppleScripts, and terminal commands, and creating and controlling custom Workflows for enhanced productivity. Normal features like opening websites and setting a screensaver are available to all users.


With a single touch on your iOS device, you can control many Alfred 2 actions on your Mac, including:
– Show Alfred 2 on your Mac
– System Commands: Lock, restart, shut down, log out or sleep your Mac, eject all devices, quit all apps and empty trash
– Launch Applications and System Preferences on your Mac
– Continue Reading

Posted by | January 27, 2015.

Lockitron today announced a new product in its lineup of smart keyless home locking system devices, the $99 Bolt. Lockitron previously entered the market a few years back with the somewhat rocky launch of an earlier smartphone-enabled deadbolt lock, and the company is now shifting gears to focus on Bolt.

The basics of the device allow users with the free-to-download app to unlock and lock their home deadbolts via Bluetooth Low Energy, meaning a user must be near the lock to interact with it, but the lock will keep working in event of a power outage.

As reported by TechCrunch, Lockitron co-founder Cameron Robertson assures customers the company has learned a lot from the problems faced with its last product. The team simplified component costs by sourcing high quality parts elsewhere, and subsequently got both the lock's price and size reduced.

Bolt is smaller, more elegant and more robust than the crowdfunded Lockitron. It has a better battery life, more fault tolerant embedded architecture and includes Lockitron's most popular features like sharing access, activity logging and Sense. Most importantly, however, Lockitron Bolt has been designed with mass manufacturing in mind from day one.

The Continue Reading