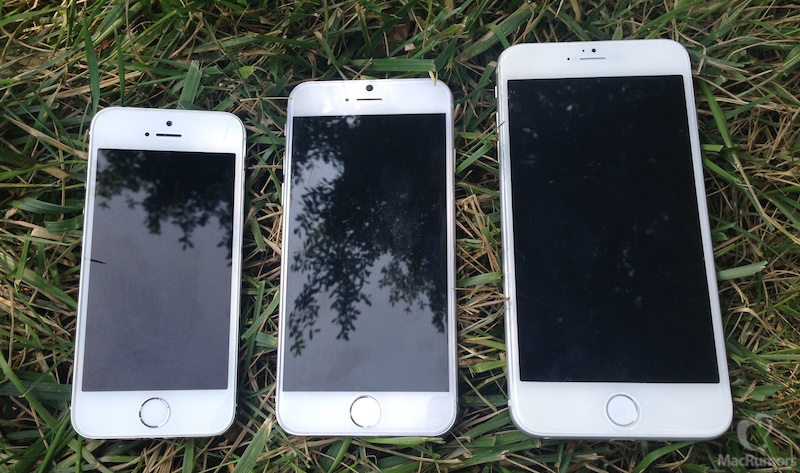 Chinese carrier China Mobile has begun taking preorders for the upcoming iPhone 6 ahead of the device's official launch, reports China Daily. Available at China Mobile Beijing, the preorder campaign appears to be aimed at drumming up interest for Apple's new devices.
On a website, China Mobile Beijing allows users to choose between the 4.7 and 5.5-inch iPhone 6, but the carrier does not offer images of the device or a potential release date. A China Daily source has suggested Chinese customers may receive the iPhone 6 as early as mid-month, however, which would be in line with previous rumors and past device release timelines.
Mockup of 4.7 and 5.5-inch iPhone 6 depicted with iPhone 5s

China Mobile's preorder campaign also confirmed rumors that Apple will release larger screens for the device as buyers are asked to choose either a 4.7-inch version or a 5.5-inch one. The iPhone 5S has a 4-inch screen.

The program is available only in Beijing and, as of Tuesday evening, had attracted more than 33,000 orders. It remains unclear when the buyers can get the device. A person familiar with the matter told China Daily the first iPhone 6 could be Continue Reading

Earlier today, Apple issued a press release stating that an iCloud/Find My iPhone breach had not been responsible for the leak of several private celebrity photos over the weekend, instead pointing towards a "very targeted attack on user names, passwords, and security questions" hackers used to gain access to celebrity accounts.

The company did not divulge specific details on how hackers accessed the iCloud accounts, leading Wired writer Andy Greenberg to investigate the methods that hackers might possibly have used to acquire the stolen media.

Greenberg visited Anon-IB, a popular anonymous image board where some of the celebrity photos first originated, and discovered that hackers openly discuss exploiting software designed for law enforcement and government officials. Called ElcomSoft Phone Password Breaker (EPPB), the software in question lets hackers enter a stolen username and password to obtain a victim's full iPhone/iPad backup.


"Use the script to hack her passwd…use eppb to download the backup," wrote one anonymous user on Anon-IB explaining the process to a less-experienced hacker. "Post your wins here ;-)"

Acquiring just a user name and password allows hackers access to content on iCloud.com, but with the accompaniment of the ElcomSoft software, a complete backup can reportedly Continue Reading

Nordstrom may be one of Apple's first merchant partners when Apple launches its upcoming mobile payment initiative, reports Bank Innovation. Apple is said to be in talks with Nordstrom about its payments service, suggesting Nordstrom could be one of the first retailers to support payments via iPhone.


The "talks" Nordstrom and Apple have been engaged are related to payments — but the extent of those talks is unclear. Apple was looking for a clothing brand with a large physical reach, our source said, but also with an established and high-end brand. With a strong brick-and-mortar presence, but with a focus on digital innovation as well, our source said Nordstrom was a "great" pick for Apple.

Nordstrom is a logical partner for Apple, as its retail stores already use Apple's iPhones and iPads as point-of-sale systems. According to Nordstrom employees, Apple's mobile point-of-sale systems are purchased directly from Apple and were updated to work with 'the most recent iPhones" just a few weeks ago. Bank Innovation suggests that Nordstrom's current point-of-sale systems, which are said to be the same as Apple's own in-store EasyPay systems, may possibly be compatible with Apple's upcoming mobile payment service.

Earlier this year, a report <a target=_blank rel="nofollow" Continue Reading

Adoption of OS X Yosemite is steadily increasing ahead of its fall launch, due to both a system-wide redesign and the introduction of a public beta for the first time. As of August, Yosemite was installed on approximately 2.6 million machines or 3.3 percent of all Macs, according to new numbers from Net Applications (via Computerworld).

For August, Yosemite powered 3.3% of all Macs, according to metrics vendor Net Applications. That was 33 times the user share of its predecessor, OS X Mavericks, in September 2013, one month before its official launch, and nearly one-third of Mavericks' share the following month, when it was first made available to all customers.

In June, adoption rates were at 0.9 percent, jumping up to 1.2 percent in July. The 3.3 percent number comes after the introduction of the public Yosemite beta in late July, which saw as many as 1 million registered beta program members receiving access to the software. Following the launch of the beta, Yosemite's share of global Mac traffic nearly doubled.

Though the public beta has bolstered Yosemite's adoption numbers much higher than Mavericks adoption rates during a similar time frame last year, developer interest in Yosemite Continue Reading

Apple today began sending out invitations to AppleSeed members, inviting them to test the iCloud for Windows beta, which includes access to iCloud Drive. An iOS 8/Yosemite feature, iCloud Drive allows users to store any document in iCloud.

Content stored in iCloud Drive can be accessed from any iOS device, Mac, or PC, via the new iCloud for Windows beta. AppleSeed testers receiving invites to the iCloud for Windows beta must be running Windows 7 or later, and Apple does not recommend installing the pre-release software on "personal-critical and/or business-critical systems."

Ahead of offering an iCloud for Windows beta to AppleSeed members, Apple released a beta version of the software to developers. The latest version of that beta, launched on July 21, noted that iCloud Drive functionality was only available on on OS X Yosemite and iOS 8, so it appears that Windows users may be getting their first functional look at iCloud Drive with the launch of the AppleSeed beta.

iCloud Drive is expected to be officially available with the launch of iOS 8 and OS X Yosemite. While iOS 8 will likely be released to the public in September following Apple's iPhone event, OS X Continue Reading

A breach of Apple's iCloud and Find My iPhone services was not involved in the recent hacking incident that saw the private photos and videos of several celebrities leaked onto the Internet, according to a press release just issued by Apple.

Instead, celebrity iCloud accounts were compromised by targeted attack on user names, passwords, and security questions.


We wanted to provide an update to our investigation into the theft of photos of certain celebrities. When we learned of the theft, we were outraged and immediately mobilized Apple's engineers to discover the source. Our customers' privacy and security are of utmost importance to us. After more than 40 hours of investigation, we have discovered that certain celebrity accounts were compromised by a very targeted attack on user names, passwords and security questions, a practice that has become all too common on the Internet. None of the cases we have investigated has resulted from any breach in any of Apple's systems including iCloud(R) or Find my iPhone. We are continuing to work with law enforcement to help identify the criminals involved.

Over the weekend, hundreds of nude photos of celebrities were leaked on 4chan before spreading to multiple Internet sites, with Continue Reading

Georgia is set to gain its sixth Apple retail location this Saturday, with the grand opening of the new Apple Store at Atlanta's Cumberland Mall. Located in the Cumberland district of Atlanta, the two-story mall houses more than 100 retail stores and restaurants.

The new Cumberland Mall location is the third Apple Store in Atlanta, joining two other retail stores at Lenox Square and Perimeter Mall. There are also stores in Augusta, Buford, and Alpharetta.

Apple's Cumberland Mall store will open at 10 a.m. local time on Saturday, September 6. As is common with new store openings, employees will likely hand out T-shirts to the first customers to visit the new location. The store has already begun accepting reservations for workshops and Genius Bar appointments.

Apple today released a new version of OS X Yosemite to developers, two weeks after releasing the sixth Developer Preview and three months after unveiling the new desktop operating system at its annual Worldwide Developers Conference.

The update can be downloaded from the Mac App Store and through the Mac Developer Center. There's also a new version of Xcode 7.

OS X Yosemite brings a flatter, more modern look to OS X, with an emphasis on translucency and redesigned dock, windows, and more. It also includes a multitude of new features, such as improved integration with iOS 8 through Continuity, a new "Today" view in Notification Center that offers integration with third-party apps, a retooled Spotlight search with new data sources, and several new features for apps like Mail, Safari, and Messages.

Over the course of the beta testing period, each Developer Preview has added new features and refined the look and performance of OS X Yosemite. DP 4, for example, added a revamped version of iTunes with a streamlined design and support for Family Sharing, while an earlier beta introduced a new Dark Mode. Developer Preview 6 added several new icons, a new look for Continue Reading

Microsoft today [Direct Link]
– Microsoft Excel for iPad [Direct Link]
– Microsoft PowerPoint for iPad [Direct Link]

New photos shared by Nowhereelse.fr [Google Translate] once again claim to show a 2,915 mAh capacity battery from the 5.5-inch model of the iPhone 6. These details follow an earlier Nowhereelse.fr report that showcased a claimed rear shell from the larger 5.5-inch iPhone 6 model.

The battery in these latest photos appears identical to one detailed in a leak last month from Chinese site Apple Daily, down to the March 2014 manufacturing date. The authenticity of either part is unconfirmed, but both batteries have markings similar to other Apple batteries and appear to be sized for a larger iPhone model. Both are also still from the prototype stage, with placeholder text used in several locations on the batteries.

If legitimate, this 2,915 mAh capacity is a significant jump from the 1,560 mAh battery included in the iPhone 5s and the 1,810 mAh rumored for the 4.7-inch iPhone 6. It also places the iPhone 6 on par with other larger-sized phones such as the Samsung Galaxy S5 and the HTC One M8. A significantly larger battery for the 5.5-inch model compared to the 4.7-inch would be possible to the much larger volume available inside Continue Reading

Apple's iWatch has reached the "engineering verification test" (EVT) stage of development and will likely beginning shipping in 2015, according to a new report from Digitimes. While components for the device are said to be in production, source close to the matter stated that the device must also head to production verification testing (PVT) before entering mass production.

Digitimes also claims that Apple is "unlikely" to unveil the iWatch during its upcoming September 9 media event, which contrasts reports from the likes of Re/code and Bloomberg last week stating that the device would be introduced alongside the iPhone 6. A previous report suggested that Apple would be debuting the device at an October event, but Re/code noted that the company later ended up changing its plans.

However, reports of an early 2015 launch for the iWatch has been suggested by a number of sources, as part leaks for the device have also been non-existent to this point. Recent rumors have suggested the device will include an array of sensors to track health and fitness-related metrics, and will be positioned as an iPhone accessory that tightly integrates with iOS 8.