China media sources (via GforGames) report that mass production of Apple's 4.7-inch iPhone is underway ahead of the phone's expected fall launch. These same sources claim the 5.5-inch version of the iPhone 6 has not entered mass production, further suggesting that the launch timeframe for this larger iPhone model is still uncertain.
Besides the iPhone 6, Apple also is preparing the next-generation iPad Air and Retina iPad mini for mass production starting in September. Apple is expected to unveil its new iPads, possibly alongside the iWatch, at an October event that also will likely be used to announce the public release of OS X Yosemite.
As Apple prepares to launch new iPhones and iPads later this year, the company's Asian suppliers are gearing up to boost production by as much as 85 percent by Q4 2014. Some of this increased production may be handled by Foxconn robots, "Foxbots", with the company reportedly deploying as many as 10,000 robots at a cost of up to $25,000 each.
Anticipation for Apple's fall lineup of devices is high, fueled by comments from Apple executives that suggest the company will enter new product categories with a device Continue Reading
Hello Inc's new Kickstarter project Sense is an iOS-compatible sleep tracking system that allows users to monitor their sleep patterns and bedroom environments without the need for intrusive hardware.
The primary Sense device is a glow-in-the-dark polycarbonate orb that derives data from factors such as noise, light, temperature, humidity, and air particles to measure sleep quality. Sense also comes with the Sleep Pill, which is a small sensor that clips onto a pillow to track movement with a 6-axis accelerometer and gyroscope.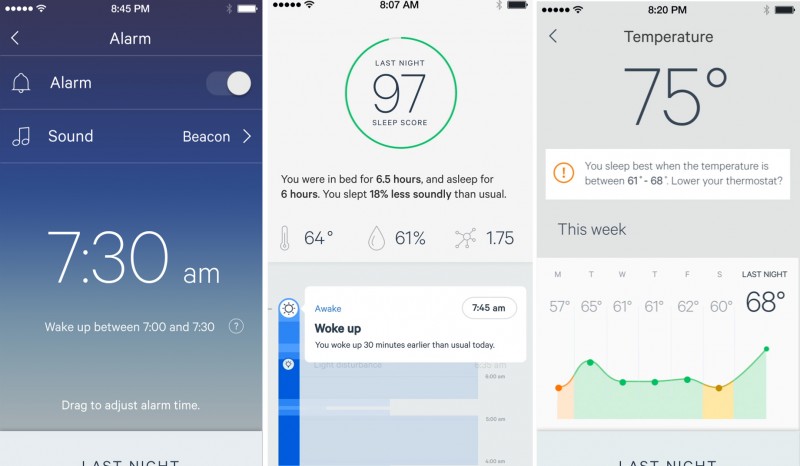 Sense works with its own companion app for iOS to provide users a snapshot of their last night's sleep, offering an overall sleep score in addition a timeline of events throughout the night that triggered movement. The app can even play back noises that were captured by Sense, allowing users to listen to sound disturbances that may have led to an interruption in sleep.
The app also includes a Smart Alarm feature, which works with the Sense monitor and Sleep Pill to wake a user up at the right time. For instance, if a user begins to move more frequently after an extended period of rest, the app's Smart Continue Reading
Today marked the first day of Apple's public beta testing program for OS X Yosemite, letting thousands of non-developers download the software for the first time. With so many new users, new issues and bugs in the beta are coming to light and being catalogued in our Yosemite forum.
We've pulled out some user reactions from the forums to share, along with some tips on troubleshooting possible issues. For users having problems with the beta, the Yosemite forums can be an invaluable resource, and for users still debating whether or not to install the beta software, make sure to check out this post and our forums before taking the plunge as Yosemite is still somewhat unstable.
First Impressions
A lot of new Yosemite users think that the operating system looks great. According to one user, it makes Windows and Mavericks look antiquated in comparison with its new focus on translucency and clean lines. A "Yosemite is Beautiful" thread is full of praise, with users calling it "stunning" and "the best OS X has ever looked."
While there are a lot of Yosemite users who like the changes Apple's brought with Yosemite, Continue Reading
We've seen several different parts for the 4.7-inch iPhone 6, but parts for the larger 5.5-inch version have thus far been in short supply. Apple.club.tw [Google Translation] has shared some new images of what might be the first leaked internal parts for the 5.5-inch iPhone 6, offering up pictures of power/volume flex cables and SIM trays said to be for the device.
The two flex cables that separately house the left side volume buttons/mute switch and the top power button are similar in design to an earlier set of leaked flex cables said to be for one of the iPhone 6 models. There are, however, some design differences that suggest there are two distinct sets of flex cables designed for two different devices floating around the Asian supply chain. For example, the new set of flex cables depicts less space between the volume buttons and the mute buttons and the two flex cables for the power button have different shapes.
iPhone 6 volume/mute flex cable on top, power button flex cable on bottom
Like the earlier cables, the flex cables in the new images resemble parts from other devices and have an Apple-style part Continue Reading
Apple's recent earnings call revealed that iPad sales continue to decline, with the company shipping only 13.3 million iPads during the third fiscal quarter of 2014 (second calendar quarter), compared to 14.6 million in the year-ago quarter.
Despite the sales drop, Apple continues to be the world's leading tablet vendor, with a total 26.9 percent of the market, according to new numbers from research firm IDC. Samsung retains its number two spot with 8.5 million shipments and a 17.2 percent share, but both major companies have been losing significant ground to companies putting out more affordable tablet devices.
Lenovo, for example, saw its share of the tablet market rise from 3.3 percent to 4.9 percent, a 64.7 percent jump. ASUS saw 13.1 percent growth, and the "Others" category, which is comprised of vendors not quite in the top five list, has jumped from a 37 percent share to a 44.4 percent share, an increase of 33.4 percent.
Overall, the worldwide tablet market has grown 11 percent year-over-year, with total tablet shipments of 49.3 million, up from 44.4 million in 2013.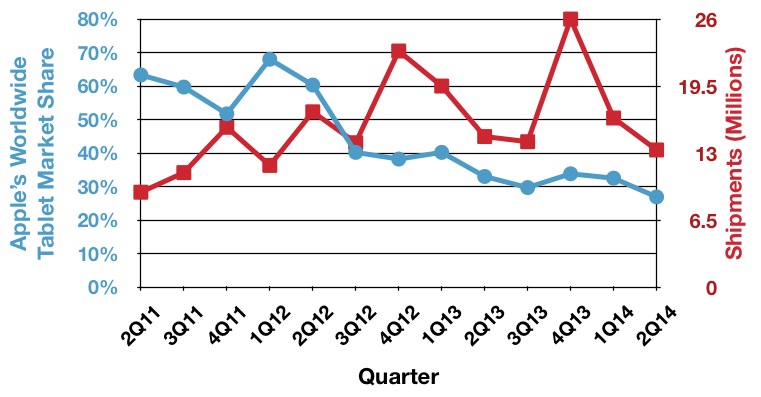 As we indicated last quarter, the market is still being impacted Continue Reading

Google today updated its Gmail for iOS app to version 3.14159, adding improved integration with its Google Drive storage solution.

It's now possible to save email attachments directly to Google Drive, making them accessible everywhere and saving storage space. Users are also able to insert Google Drive files directly into messages. Google has also included new account management options and the ability to change a profile picture in the Settings menu.


- Save attachments directly to Google Drive so you can access them anywhere while saving space and bandwidth on your device
– Insert Google Drive files directly into messages
– New account management options to choose which accounts you want to have visible in Gmail without removing accounts from your device.
– Change your profile picture (in Settings)

Gmail is a universal app that can be downloaded from the App Store for free. [Direct Link]

Late night talk show host Jimmy Kimmel covered Apple's upcoming smart watch on last night's show, airing a humorous segment that featured the team showing pedestrians on Hollywood Boulevard a $20 Casio watch with an Apple sticker on the back.

The people were told the cheap watch was Apple's new smart watch and predictably, Kimmel's team received some hilarious reactions. "It's very lightweight and it's kind of like old school, but still in style, you know?" said one woman, and a man complimented its rubber wrist band and the big numbers, which are "easy to see."

Featured interviewees were all impressed with the watch's ability to show the time and the date, and several noted that they were willing to purchase anything Apple made. "I just like that it has an Apple insignia on the back," said one commenter. "If it's Apple it's good, right?" said another.

Kimmel also had some quips to share about the upcoming larger-screened iPhone 6, claiming Apple was introducing the larger device so it could debut a smaller "iPhone mini" in the future. "They make the bigger phones, and then in two years they'll release the iPhone mini, which is Continue Reading

In line with yesterday's announcement, Apple today made available a pre-release version of OS X Yosemite to consumers who signed up for the company's OS X public beta program. Public beta program members are receiving promo codes via email that allow them to download Yosemite from the Mac App Store for free.

Early reviews of the pre-release build are favorable, with several reviewers noting improvements in Safari, Messaging and Notifications. Notably missing from the beta, however, are the highly anticipated Continuity features that allow for the integration of OS X with an iPhone or iPad running iOS 8, as only Yosemite is included in the program.

To sign up for the beta program, users must have a Mac running OS X Mavericks and need to register with an Apple ID on Apple's website. Apple cautions members to install the OS on a secondary Mac as it is beta software and may cause unexpected errors or other issues. Enrollment in the beta program is limited to the first one million registrants.

Apple is expected to release OS X Yosemite to the general public later this year, possibly following an October Continue Reading

While several high-profile smart deadbolt systems such as Lockitron and August have experienced significant delays, Kwikset has been shipping its Kevo Bluetooth deadbolt for some time now, and today the system is receiving a software update to provide new access options for users.

Similar in appearance to other electronic deadbolt locks with a relatively large housing on the inside of the door, the Kevo system allows users to lock and unlock their deadbolts with a simple touch, relying on a Kevo iPhone app or physical fob to determine whether access should be granted. After a simple set-up process, the Kevo deadbolt can determine relative positioning of the device or fob, only granting touch access when the user is outside the door. A standard key can also be used to operate the deadbolt.

Much of today's upgrade centers around the system's eKeys that allow users to unlock the door using the Kevo smartphone app. The new features include free and unlimited Guest eKeys that can be sent to guests to allow access for 24 hours, as well as a new Scheduled eKey type that allows to restrict the days and times a standard eKey Continue Reading

Swiss watchmaker Swatch Group today denied a recent report that it was working with Apple to develop a smartwatch product, reports Reuters. VentureBeat first reported this joint venture, citing an unnamed source with knowledge of Apple's plans.

A spokeswoman for Swatch told Reuters that the Apple rumor was "unfounded," adding that Swatch's only relationship with mobile phone manufacturers is as a supplier of integrated circuits and other electronic components. Swatch Chief Executive Nick Hayek reiterated in an interview with Reuters that "he was not interested in teaming up with a tech group to develop a smartwatch."

The original VentureBeat rumor claimed Swatch and possibly Timex would build a smartwatch based on Apple's iWatch specifications. These third-party manufacturers would release their watches alongside Apple's own iWatch, providing "a family of smart watches to suit all tastes "from geek to chic."

This type of agreement would be unusual for Swatch, whose CEO has publicly expressed skepticism about the future success of the iWatch, saying he doesn't believe "it's the next revolution." Earlier reports also indicate that Apple is working alone on the iWatch, hiring a variety of medical, fitness and fashion experts to help develop the wearable Continue Reading

Apple will launch the 5.5-inch iPhone 6 several months after the 4.7-inch version to avoid competition between the two models, according to a new report from DigiTimes citing supply chain sources.


The different timetables have been set as Apple does not want to repeat the mistake it made in 2013 when it launched the iPhone 5s and iPhone 5c simultaneously, said the sources.

Prior rumors have pointed out that production issues with the 5.5-inch iPhone 6 would cause Apple to delay its release a few months after 4.7-inch version, however this newest report claims that isn't the case for the launch delay. A report from Bloomberg last month suggested that Apple would be launching both versions of the iPhone 6 simultaneously, noting that the company had begun preparing the 4.7-inch model and 5.5-inch for manufacturing.

4.7 and 5.5-inch iPhone 6 mockups compared to iPhone 5s
Apple is expected to unveil the 4.7-inch iPhone 6 at a September event, although a report yesterday noted that the company is unsure as to whether it will show off the 5.5-inch version at the same time. The company is said to be Continue Reading

Apple has seeded developers with new versions of Safari 7.1 for OS X Mavericks and Safari 6.2 for OS X Mountain Lion as works continues on OS X Yosemite. In its release notes for both betas, Apple is asking developers to test AutoFill for passwords and credit cards as well as general website compatibility and extension compatibility.


Focus Areas
– Please focus testing on the following areas:
– Please test password and credit card AutoFill.
– Please test general website compatibility.
– Please test extension compatibility.

Apple also once again touts support for WebGL, which was included in prior seeds and allows users to view 3D content without the use of plug-ins. Safari 7.1 for OS X Mavericks and Safari 6.2 for for OS X Mountain Lion are expected to be released in the near future. Meanwhile, the company's public beta for OS X Yosemite launches tomorrow, July 24.

Apple has announced on its official Chinese website that it will open its new retail store in Wuxi, China at Wuxi Hang Lung Plaza, which is about an hour's train ride from Shanghai, on Saturday, August 2 at 10 AM.

Last week, Apple announced that its new Chongqing store is set to open this Saturday, July 26. New Apple retail chief Angela Ahrendts plans to have a focus on furthering Apple's business in China, expecting to oversee the opening of 20 stores in the country through 2016.

The moves are a part of Apple's larger effort to grow its presence in China, as the company started partnering with the country's biggest carrier China Mobile late last year and became China's fifth-largest smartphone vendor in Q4 2013. Apple is also working hard to attract Chinese app developers to iOS. Thanks Jacob!

Apple may be working with manufacturing partners like Swatch to create multiple versions of the iWatch that are available in a range of styles and price points, according to a questionable report from VentureBeat, citing a source with knowledge of Apple's plans.


While most Apple-watchers and media have been laser-focused on one or two "iWatches" from Apple itself, the Cupertino, Calif.-based electronics and media giant may actually be working a number of partners in the watch business.

Apple and its partners will offer a family of smartwatches to suit all tastes "from geek to chic," our source says.

VentureBeat suggests it is possible that Swatch may be involved in building one or more of Apple's smart watches, and the site's source also believes Apple may be teaming up with Timex as well. Watches from third-party manufacturers would likely accompany an iWatch of Apple's own branding, according to the source.

A possible partnership with Swatch or another watch maker would seemingly go against many of the existing iWatch rumors, which have indicated that Apple is building its own wrist worn device with multiple screen sizes up to 2.5 inches and an array of complicated health sensors.

Apple Continue Reading

Apple's talks with companies in the payment industry have been heating up in recent months, according to a new report from The Information. Apple executives have discussed launching a mobile payment solution as soon as this fall, allowing users to pay for physical goods with their iPhones.

Apple is currently speaking with credit card company Visa over a possible partnership, a move that would bypass third-party payment processors resulting in direct savings for retailers and customers.

Apple's payment solution is said to work with a "secured element" within the iPhone, safely storing payment credentials. This secured solution may involve the "Secure Enclave" built into Apple's A7 processor.


Apple has told some partners its system would involve a so-called secured element in the phones–a piece of hardware where sensitive information such as a phone owner's financial credentials can be stored. The company also aims to run the system without giving up any control to wireless carriers.

The Secure Enclave, which was designed for Touch ID, is a coprocessor within the A7 chip that uses a secure boot process to ensure that its separate software is both verified and signed by Apple. It functions independently even if a kernel is Continue Reading