Posted by | June 30, 2015.
Apple today released iTunes 12.2 for OS X Yosemite users, introducing desktop support for the new Apple Music service. Launched today as part of iOS 8.4, Apple Music lets iTunes users to listen to on-demand music, create playlists, find music suitable for every activity, and more. Apple Music is also accompanied by Apple Music Connect, Apple's new artist-centric social network, and the Beats 1 24/7 live worldwide radio station.
iTunes 12.2 can be downloaded immediately through the Software Update mechanism in the Mac App Store. Apple has also released a new version of iTunes 12.2 for Windows users.
iTunes 12.2 is the second major update to iTunes 12, which debuted alongside OS X Yosemite. iTunes 12.1, the previous major update, brought an iTunes widget for the Notification Center and performance improvements.
All iTunes users can access Apple Music for free for a three month trial period. After that time, an individual subscription can be purchased for $9.99 and a family subscription with support for up to 6 users can be purchased for $14.99. Beats 1 radio and existing iTunes Radio stations will continue to be available at no cost.
Posted by | June 30, 2015.
One of the upcoming segments on Beats 1 radio is called "Requests," and it appears this broadcast will feature songs that have been requested from Beats 1 listeners around the world. According to a tweet from the Beats 1 Twitter account, users can request a song by calling in to the station.
The Apple Music Tumblr site has a page that's dedicated to requests, listing phone numbers around the world for listeners to call to request a song. In the United States, the number for making a request is 1-310-299-8756, or 1-877-720-6293 for toll free.
Hi – In a few hours we turn the show over to you.
Hit us w/ your requests for @ilovetmills: http://t.co/9uRuyaRchl
#Beats1Requests

— Beats 1 (@Beats1) June 30, 2015
There are also phone numbers listed for Canada, the U.K., France, Japan, Germany, Brazil, Mexico, Dominican Republic, Australia, Italy, Ireland, and New Zealand.
"Requests" will play at 5:00 p.m. Pacific Time, and the segment will be hosted by Travis Mills, who is located in Los Angeles. Mills' show will come on following Ebro Darden, who goes live at 3 p.m. Pacific Time. It is not Continue Reading
Posted by | June 30, 2015.
The next-generation iPhone, often referred to as the "iPhone 6s," will likely retain the same exterior design as the iPhone 6, based on purported images of the device's rear shell obtained by 9to5Mac. The report claims the rear shell is identical to the iPhone 6 on the outside, including the same thickness and width, with only minor internal differences.
The leaked photos of the "iPhone 6s" reveal that the Lightning connector, speakers, microphones, headphone jack, volume rocker, mute button, sleep/wake button, SIM card slot, antenna lines and cutout for the rear-facing camera and LED flash are all identical to the iPhone 6, which is unsurprising given that "S" model iPhones have historically looked almost identical to the iPhone released one year prior.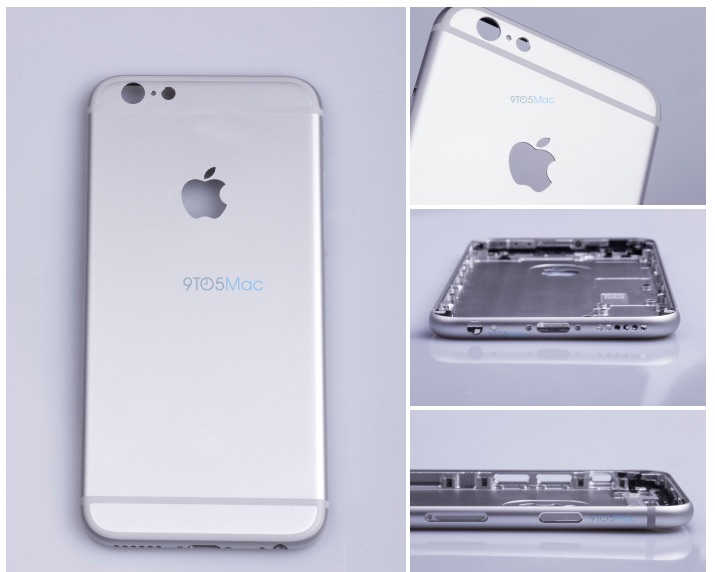 While the exterior design on the "iPhone 6s" looks unchanged, the rear shell has a notably different internal mounting structure that suggests a new logic board and other components are incoming. In particular, the next-generation iPhone is rumored to include an A9 processor with 2GB of RAM, Force Touch, 7000 Series aluminum and improved 12-megapixel camera, among other changes.
Posted by | June 30, 2015.
Following the launch of Apple Music, Apple today updated GarageBand for Mac to version 10.1, adding new features and a huge amount of new content for musicians and sound makers to work with. The update to GarageBand was first announced in mid-June.
The update brings 10 new Drummers with beats appropriate for electronic music and Hip Hop styles like House, Trap, Techno, and Dubstep, plus it adds more than 100 EDM and Hip Hop-inspired synth sounds, each of which includes Transform Pad Smart Control for tweaking sounds to each user's personal taste. There are also 1,000 new Apple Loops made from a wide variety of instruments.
Today's update brings support for the Force Touch trackpad when GarageBand is used with the MacBook or new MacBook Pros, and it includes a new feature that lets music be shared directly to Apple Music Connect, Apple's new social networking platform aimed at artists.

-10 new Drummers that produce beats in a variety of electronic music and Hip Hop styles including House, Trap, Techno, Dubstep and more
– Over 100 EDM and Hip Hop-inspired synthesizer Patches featuring the new Transform Pad Smart Control for sound morphing
– Record the Continue Reading

Posted by | June 30, 2015.

Apple has reached a partnership with mobile connectivity company GigSky to expand Apple SIM cellular data plans to over 90 countries and territories around the world. iPad Air 2 and iPad mini 3 users that have Apple SIM installed can now purchase short-term data plans while traveling in a long list of countries throughout Europe, Asia-Pacific, Africa, South America and other regions worldwide.

Apple SIM is now available for purchase at Apple Retail Stores in Australia, Canada, France, Germany, Italy, Netherlands, Spain, Sweden, Switzerland, Turkey, the United Kingdom and the United States. Apple SIM cellular data plans were previously limited to participating carriers in the United States and United Kingdom, including AT&T, Sprint and T-Mobile in the U.S. and EE in the U.K.


"With Apple SIM in iPad Air 2 and iPad mini 3 with Wi-Fi + Cellular models, you get the convenience of choosing a cellular data plan from select carrier partners right on your iPad. And when you travel abroad, Apple SIM gives you the added flexibility to stay connected in more than 90 countries and territories around the world. So when you reach your destination and want to check your email, find directions, or send Continue Reading

Posted by | June 30, 2015.

Following the launch of Apple Music alongside iOS 8.4, Apple's Beats 1 radio station led by Zane Lowe has begun broadcasting. Available in more than 100 countries, Beats 1 is a 24/7 radio station that will play music around the clock with live DJs and guests.

The inaugural song played on Beats 1 radio right when it kicked off at 9:00 a.m. was Spring King's "City," which was followed by Beck's "Dreams" and Jamie xx's "In Color." Spring King was picked by Lowe as a great upcoming band from Manchester.

Beats 1 features several shows by various on-air personalities, and a full lineup of what's going to be on can be found at the Beats 1 website, which forwards to Apple's new Tumblr page for Apple Music and Beats 1. The Tumblr page has a complete schedule that displays what's playing, and it adjusts to your time zone based on location.

Beats 1 will include exclusive interviews and news broadcasts, with the first interview taking place tomorrow with Eminem. According to Zane Low, today's focus is on the music, and several exclusive songs will be played over the course Continue Reading

Posted by | June 30, 2015.

Today marks the official worldwide launch of Apple Music, a subscription-based streaming music service and Spotify rival for iPhone, iPad, iPod touch, Mac, PC and, later this year, Apple TV and Android.

Apple Music, arguably the company's biggest music initiative since opening the iTunes Store in 2003, requires updating to iOS 8.4 on iPhone, iPad and iPod touch or downloading iTunes 12.2 for Mac and PC.

Apple Music

Apple Music is an all-in-one streaming music service, live global radio station and social platform for artists to connect with fans. The service costs $9.99 per month, the same price as virtually all streaming music competitors, although Apple is offering a free three-month trial period to encourage customers to try it out. Apple Music is available in over 100 countries, including the United States.

Apple Music provides unlimited streaming of almost the entire iTunes Store catalog of music without needing to purchase songs or albums individually. Instead of paying $1.29 per song download, for example, subscribers have millions of songs at their fingertips for essentially the cost of an album. A family plan through iTunes Sharing for up to six members is also available for $14.99 per month. Continue Reading

Posted by | June 30, 2015.

Apple today released OS X Yosemite 10.10.4, an under-the-hood update that introduces several bug fixes and performance improvements. Most notably, 10.10.4 includes the removal of the problematic Discoveryd process, which has caused multiple networking issues for some users in OS X Yosemite.

The OS X 10.10.4 update can be downloaded through the Software Update mechanism in the Mac App Store.

Unlike 10.10.3, which brought Yosemite's first outward-facing changes including the Photos for OS X app and new emoji features, OS X 10.10.4 is a behind-the-scenes update that focuses primarily on fixing bugs and introducing better performance through stability improvements.

The biggest change in OS X 10.10.4 is the elimination of the discoveryd process that's been accused of being responsible for some significant networking and WiFi bugs within Yosemite. Discoveryd is a networking process that was introduced in Yosemite to replace mDNSresponder, but it caused problems like slow wake from sleep, failures to resolve DNS names, duplicate machine names, WiFi disconnects, excessive CPU usage, battery drain, and more. In 10.10.4, discoveryd has been replaced with the older mDNSresponder process.

OS X 10.10.4 was in testing for approximately two months before seeing a public Continue Reading

Posted by | June 30, 2015.

The U.S. Court of Appeals for the Second Circuit today upheld a 2013 decision that found Apple guilty of conspiring with publishers to raise the prices of e-books, reports The Wall Street Journal. Apple is now expected to pay a $450 million fine originally set in July 2014 to settle the case, with a majority of that settlement earmarked for consumers as part of a class action lawsuit.

Apple filed the appeal in the antitrust case in December 2014, and the outcome was originally expected to favor the iPhone maker, although federal judge Debra Ann Livingston ultimately determined that the company colluded with publishers to fix the prices of e-books. The decision was finalized by a 2-1 ruling in the Second U.S. Circuit Court of Appeals in Manhattan on Tuesday.


"We conclude that the district court correctly decided that Apple orchestrated a conspiracy among the publishers to raise e-book prices," wrote Second Circuit Judge Debra Ann Livingston. The conspiracy "unreasonably restrained trade" in violation of the Sherman Act, the federal antitrust law, the judge wrote.

The Wall Street Journal has shared the full-length court document for the decision.

Posted by | June 30, 2015.

Apple today released iOS 8.4, the fourth major update to iOS 8. First seeded to developers in April, iOS 8.4 includes a newly revamped Music app and Apple's long-awaited on-demand streaming music service, Apple Music.

iOS 8.4 is available immediately as an over-the-air download, and the new Apple Music service is located within the Music app. Apple Music will be available immediately after iOS 8.4 is installed, while the Beats 1 radio service will kick off at 9:00 a.m. Pacific Time.

Introduced at the recent Worldwide Developers Conference, Apple Music is an on-demand streaming music service that's much like Apple's former Beats Music service. It allows users to listen to an unlimited amount of music for $9.99 per month or $14.99 for a family plan that supports up to 6 listeners.

Apple Music is accompanied by the Beats 1 radio station, which features 24-hour live human-curated music at no cost, and Apple Music Connect, a social networking platform that allows artists to interact with fans and share content like photos and videos. Apple Music includes millions of songs from iTunes and is launching simultaneously in more than 100 countries.

Posted by | June 30, 2015.

As Apple Music gears up to launch in the next few hours this morning — 9 AM Pacific mentioned three big positives for the new streaming service: the slick combination of old iTunes songs with new Apple Music songs, surprisingly accurate and enjoyable song curation, and the $15 per month family plan. The biggest issue however tied into one of the app's positives, with the wealth of content and exploration somewhat kneecapped by an overly "confusing" user interface experience, especially within the "New" tab, which "could be a streaming app all by itself."


I set out to gather some initial impressions of how it feels to use the product. And to answer the question: Would I pay $10 a month — $120 a year — to use it? My answer is a tentative yes, with some caveats. Apple has built a handsome, robust app and service that goes well beyond just offering a huge catalog of music by providing many ways to discover and group music for a very wide range of tastes and moods.

But it's also uncharacteristically complicated by Apple standards, with everything from a global terrestrial radio station to numerous suggested playlists for different purposes Continue Reading

Posted by | June 29, 2015.

Apple has opened registration for its annual Apple Camp three-day workshops where kids aged 8 to 12 can visit a retail store and learn how to make movies or create interactive books using software such as GarageBand, iBooks Author and iMovie on iPad and Mac. This year's two free workshops are called "Stories in Motion with iMovie" and "Interactive Storytelling with iBooks."

Apple's summer workshops will be hosted between 11 AM and 12:30 PM local time, on various dates from July 20 to August 7, in the United States, Canada, China, France, Germany, Hong Kong, Italy, Japan, Netherlands, Spain, Sweden, Switzerland and the United Kingdom. Parents are recommended to sign up early since space is limited and available on a first-come, first-served basis.

"Stories in Motion with iMovie" teaches kids how to create their own movies, ranging from storyboarding ideas and shooting video to creating an original soundtrack in GarageBand on an iPad and editing in iMovie on a Mac. "Interactive Storytelling with iBooks" shows kids how to create their own interactive books by drawing illustrations on an iPad and adding sound effects and Multi-Touch Continue Reading

Posted by | June 29, 2015.

Just a few days after updating the terms of its AppleCare+ Protection Plan for iPhone, iPad, iPod and Apple Watch to cover batteries that retain less than 80% of their original capacity within the extended warranty period, Apple has extended the same policy to the AppleCare Protection Plan for the MacBook, MacBook Air, MacBook Pro, iMac, Mac mini and Mac Pro.

Apple previously only replaced defective batteries under the old terms of the AppleCare Protection Plan for Mac, although a support page updated today now outlines that the company will replace a notebook's battery at no charge if it retains less than 80% of its original capacity. If the Mac is not covered by AppleCare, replacing the battery requires paying an out-of-warranty service charge ranging between $129 and $199.

The new battery terms of the AppleCare Protection Plan for Mac:


"Your Apple One Year Limited Warranty or AppleCare Protection Plan includes replacement coverage for a defective battery. If you purchased an AppleCare Protection Plan for your Mac notebook with a non-removable battery, Apple will replace the notebook battery at no charge if it retains less than 80 percent of its original capacity. If you don't have Continue Reading

Posted by | June 29, 2015.

Apple updated its investor relations page today to mention that it will announce its earnings for the third fiscal quarter (second calendar quarter) of 2015 on Tuesday, July 21. The quarterly earnings statement will be released around 1:30 PM Pacific / 4:30 PM Eastern while a conference call to discuss the earnings report will take place at 2:00 PM Pacific / 5:00 PM Eastern.

The earnings report will provide another look at iPhone 6 and iPhone 6 Plus sales during a period following another record-breaking quarter for the devices. It will also provide a look at both Mac sales, which were up last quarter from a year earlier, and iPad sales, which were down last quarter from a year earlier. In the second quarter of 2015, Apple announced revenue of $58 billion and a net quarterly profit of $13.6 billion on 61.2 million iPhone sales, 4.56 million Mac sales and 21.4 million iPad sales.

During its second quarter earnings report, Apple provided guidance for the third quarter of $46 – 48 billion in revenue and gross margin between 38.5 and 39.5 percent.

MacRumors will provide coverage of both the earnings report and conference call on July Continue Reading

Posted by | June 29, 2015.

One of the ways Apple will draw customers to Apple Music is through exclusive content that's unavailable on other music services. Pharrell will release his new single "Freedom" exclusively on the platform, Taylor Swift has already promised to make her 1989 album available on Apple Music, and now Apple has confirmed that Dr. Dre's album The Chronic will also make its streaming music debut on the service.

Released in 1992, The Chronic has never before been made available on any streaming music service, including the hip hop star's own Beats Music service.

As outlined by Rolling Stone, the site that first reported the news, the album had been the subject of an ongoing legal battle between Dr. Dre and his former label Death Row Records, which may be the reason why it's been previously unavailable. Dre received full digital rights to The Chronic in 2011 and is free to release the album on Apple Music.

Exclusive content will likely be an ongoing feature in Apple Music, with Apple working to secure deals with a number of artists. Ahead of Apple Music's debut, the company was rumored to be in talks with dozens Continue Reading