Speaking at this year's South by Southwest conference, Google executive Sundar Pichai announced today that the company will be releasing an Android software development kit (SDK) for wearable devices in two weeks, reports The Wall Street Journal.
The news comes ahead of Google's I/O developer's conference in June, where the company is likely to unveil its own smart watch developed in collaboration with electronics manufacturer LG.

Google executive Sundar Pichai told the South by Southwest conference Sunday that the company plans to release in two weeks a software development kit based on Android for makers of wearable devices, such as smartwatches.
Pichai stated that Google is releasing its Android SDK for wearables ahead of actual devices in order to gather "plenty of feedback," as the company's smartwatch will likely be the first device to run its new software. The Wall Street Journal also reported in February that the new mobile operating system will integrate the company's Google Now voice assistant and search feature.
Apple is widely rumored to be working on its own "iWatch" smart watch that could be revealed in the fall, which is said to carry a "full" version of iOS that Continue Reading
In preparation for this week's iTunes Festival at South by Southwest (SXSW) 2014, Apple has expanded its Apple TV lineup to include a revamped iTunes Festival channel that allows users to live stream the concert's shows as well as view lineups and artist information.
The channel showcases artists who will be performing at the festival such as Kendrick Lamar, Coldplay, and Keith Urban, complete with artist bios and concert showtimes. Direct iTunes links to artist albums are featured as well, along with full details on opening acts.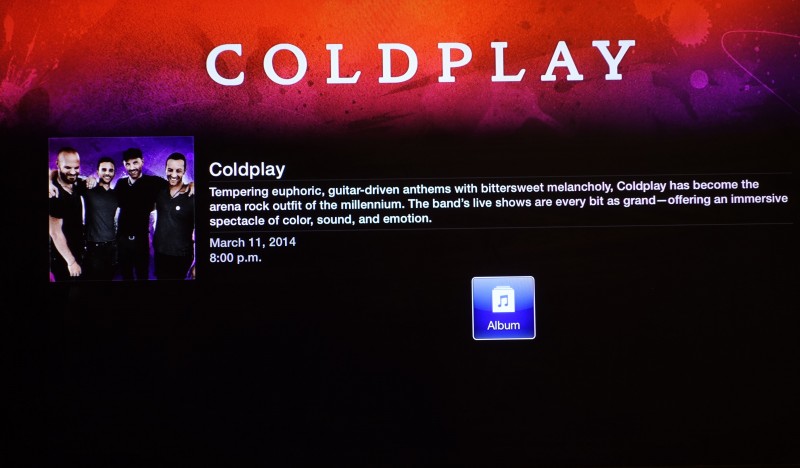 Apple also updated its iTunes Festival app for iOS last week, which introduced a new design and a revamped icon. Apple announced last month that it would be expanding its iTunes Festival to the U.S. for the first time, as five shows will be held from March 11-15 at the Moody Theater in Austin, Texas as a part of the film and music-focused SXSW event.
AT&T will launch a new single-line data plan for smartphone customers on Sunday, bringing it more in-line with the lower-cost family plans that launched at the beginning of February.
The new plan will give users 2GB of data, along with unlimited messaging and calling, for $65 per month, down $15 from the previous plan. Adding additional smartphones to the plan will cost $25 per line per month. AT&T slashed the prices of its Mobile Share family plans at the beginning of last month.
AT&T's new plans can also be combined with an existing promotion that offers a $100 bill credit to new and existing customers who add a new line of service. That promo runs through 3/31/2014. AT&T also introduced new messaging and calling rates to international countries late last month.
The move comes in the midst of a marketing war between U.S. cellular carriers, with AT&T, Verizon, T-Mobile and Sprint all introducing new deals and promotions to keep their current customers and snatch new ones.
Customers can learn more about the new plans on AT&T's website.
T-Mobile today announced that it was altering its existing Simple Choice plans, adding more data, a new pricing tier and no-added-cost international texting from the United States.

Simple Choice plans still start with one line at $50 per month for unlimited data, talk and text on the T-Mobile network. You only have to decide how much high speed 4G LTE data you want. And now on the core plan, you'll get a full 1GB of 4G LTE data and tethering – double the previous amounts. Additional lines continue to be $30 for the second line and $10 for up to three additional lines for unlimited data talk and text, and now 1GB of 4G LTE data.
Previously, T-Mobile's Simple Choice plans included 500MB of 4G LTE data in the base $50 per month plan, while users could get 2.5GB of 4G LTE data for an extra $10 per month and unlimited 4G LTE data and 2.5GB of tethering for an extra $20 per month.
Now, users will get 1GB of 4G LTE data in the base plan, 3GB of 4G LTE data for an extra $10, 5GB of 4G LTE data and 5GB of tethering Continue Reading
The SlatePro TechDesk is a new Kickstarter project featuring a desk that has been designed with built-in docks and cutouts to accommodate several different Apple devices. It comes with multiple display docks that are able to hold an iPad, iPhone, or other mobile device, and air vents in the middle of the desk offer continual cooling for MacBooks.
Designed to fit any size computer or laptop, from a MacBook to an iMac, the desk also comes equipped with a heavy duty mousepad, a filing rack, a pen dock, and a recessed cup holder. There are also built-in cutouts for cords to keep everything organized.
The SlatePro's surface is cut from pure, premium bamboo and protected by a sheet of clear acrylic. It's super strong, very light weight, and it will support your computer with ease. The desk's steel legs are completely hand-crafted. They create the perfect height and are made by some of the best metal workers in the USA.
Nathan Mummert, the SlatePro's creator, was also behind the Slate Mobile AirDesk, a successful Kickstarter project that featured a portable lap desk.
Some early pricing tiers of the SlatePro have already sold out, but interested backers Continue Reading
While earlier iWatch concepts were inspired by the wearable's health-tracking features, a new set of renderings from Argentine design student Tomas Moyano imagines the iWatch as a device that'll produce "a further and deeper interaction between human beings and technology."
Moyano pictures a perfectly round device, with grooves in the side that'll allow for multiple looks with different bands. Similar to the Shine from Misfit Wearables, the concept design features no buttons to catch on your sleeve and no holes to allow in water or dust. Submersible and resistant to dust, the watch lacks speakers and will rely on vibration notifications to alert you to an incoming message.

Wait a moment, no speakers? Think about it. A watch is almost always on your hand, pretty far from your ears. Imagine yourself walking on a noisy city: If you want to hear a notification sound from your smartwatch, it should be a loud sound, and to produce it, it would need a lot of energy and big components. Both things not easy to include on a such small device.

Besides that the iWatch will be constantly in contact with your skin and body, an Continue Reading

Apple retained its crown as the number one handset manufacturer among consumers in the U.S., while Google's Android operating system remained the number one platform, according to comScore's latest MobiLens and Mobile Metrix reports. These figures measure smartphone ownership and cover the three months ending January 2014.

Apple beat out rival Samsung with 41.6 percent market share as compared to Samsung's 26.7 percent. When comparing changes over the measured periods, Apple, Samsung and LG made small gains, while Motorola and HTC fell. Apple's market share continues to grow, but its rate of adoption is slowing.


Apple may be the top handset maker, but iOS is outnumbered by the volume of Android phones on the market. Apple's iOS platform was number two with 41.6 percent of the smartphone market, while Google's Android OS was number one with 51.7 percent market share in the recently ended period.


iOS was only the platform to gain ground in the three-month period, inching up from 40.6 percent in the period ending October 2013 to 41.6 percent in the most recent period. Android and BlackBerry lost ground, with each platform dropping 0.5 percentage Continue Reading

Just released earlier tonight, Apple's OS X Mavericks 10.9.3 beta appears to have built-in support that enables all compatible 4K displays to be set at a "Retina" resolution, with an option for 60Hz output. The compatibility was first discovered by Twitter user @KhaosT, and was tested with both the Late 2013 Retina MacBook Pro and redesigned Mac Pro in conjunction with Dell's UltraSharp 24 Ultra HD Monitor.

To this point, OS X compatibility with 4K displays has been known to be somewhat erratic, as AnandTech revealed in December that Sharp's 32" 4K display supported only one scaled resolution at 2560 x 1440. Furthermore, it was discovered that Apple had chosen to render text, menu and UI elements in the same manner as the Retina MacBook Pro, resulting in small and difficult to read on-screen elements on a 4K display. Various other 4K monitors were also found to be not properly supported.

Native support for 4K displays could also indicate that Apple is gearing up to release a higher-resolution Thunderbolt Display, as Apple last refreshed the monitor over two years ago. A number of other companies also introduced more affordable 4K Continue Reading

Jawbone today updated its UP app to version 3.1, adding several new features to improve its Jawbone UP fitness band. Multiple enhancements have been made to sleep tracking, with the app including more information on sound sleep and light sleep periods, plus sunrise and sunset visuals.

There's a new sleep recovery menu that can be accessed if a band was not put into sleep mode, a feature originally introduced with version 3.0 of the app. The app also encourages better sleep through new personalized goals, challenging users to go to bed at the same time each night.

Following the update, reminders can also be set using customizable alerts, allowing users to set alarms for various purposes such as working out and taking medications.


- Reminders: Set customizable alerts with band vibrations to remind you to workout, go to bed, take medication and more.
– Forgot to put your band in sleep mode? Now access sleep recovery from the home screen.
– Added sunrise and sunset visuals into sleep graphs
– Introducing new Today I Will insights
– Bug fixes and sync performance improvements

Jawbone has also introduced an entirely new app, called UP Coffee, which Continue Reading

Israeli Prime Minister Benjamin Netanyahu met with Apple CEO Tim Cook for lunch yesterday at Apple HQ in Cupertino, California.

Netanyahu is traveling through the United States for the American Israel Public Affairs Committee and also met the founders of popular messaging app WhatsApp as well as the president of Stanford University.

While it's not clear what Cook and Netanyahu could have talked about, video from the event has now emerged on the prime minister's YouTube channel (via 9to5Mac).

Cook has met with the leaders of nations before, as he met Turkish President Abdullah Gül in February prior to the opening of a new Istanbul Apple Store and has met President Obama on multiple occasions.

In recent years, Apple has seen its relationship with Israel grow as the company has acquired Israeli-based companies PrimeSense and Anobit in addition to hiring for a new research and development center in Haifa, Israel.

Apple today seeded the first test build of OS X 10.9.3 to registered Mac developers, just over a week after releasing OS X 10.9.2. The new beta, build number 13D12, is available through the Software Update mechanism in the Mac App Store as well as through the Mac Dev Center.

Apple is currently asking developers to focus on Graphics Drivers and Audio, but there is no word yet on specific fixes and changes included in the update.

Apple today updated its iTunes Festival app to version 5.0, ahead of next week's SXSW iTunes Festival, which kicks off on Tuesday, March 11. The iTunes Festival app [App Store Link] shows up in the iTunes Store with a revamped icon and is listed as having a "refreshed design" and support for SXSW, but the app isn't available for download in the U.S. just yet.

Clicking on the download link results in an error message that asks users to try again later, but it will presumably be downloadable shortly. Users in other countries have been able to download the app with iOS 7.0.6, suggesting SXSW streaming does not require iOS 7.1 as was reported earlier this week.

Apple's SXSW iTunes Festival is the first it has hosted in the United States, with previous iTunes Festivals occurring annually in London. The festival will offer five free nights of music, beginning on March 11 at Austin City Limits Live at the Moody Theater in Austin, Texas. Featured artists include Coldplay, Imagine Dragons, Kendrick Lamar, Soundgarden, Pitbull, Keith Urban, and more.

All of Apple's iTunes Festival concerts are presented for free, with tickets available via a Continue Reading

Apple's CarPlay feature, introduced earlier this week, may be able to be installed in older vehicles, according to new information from Mercedes-Benz. The car company has told 9to5Mac that it is working on "an after-market solution for previous cars," that would allow CarPlay to function in older models.


We've confirmed that at least Mercedes-Benz is looking into aftermarket installations of CarPlay that will allow older models of vehicles to access the feature. While the company confirmed that it is trying to get an "an after-market solution for previous cars" it couldn't confirm when the option might become available. While there is no info yet on how the aftermarket installation would work, we'd imagine it will be a dealer installed accessory for select older models like Honda and others already offer for Apple's Siri Eyes Free feature.

While it is unclear how an aftermarket solution might be implemented, information uncovered earlier this week indicates that CarPlay works in conjunction with BlackBerry's QNX car operating system. The QNX Car Platform is what powers many of the existing in-car infotainment systems installed in a wide variety of automobiles.

CarPlay can be likened to Apple's AirPlay, utilizing in-car infotainment systems to Continue Reading

Apple announced CarPlay earlier this week at the Geneva Auto Show, bringing Siri-powered messaging, voice calling and streaming music to the car dashboard. Brian Lakamp, president of Digital for Clear Channel Media and Entertainment, talked with Michael Grothaus of Fast Company about iHeartRadio's experience as an early adopter of Apple's new in-car technology.

iHeartRadio is an internet radio service that pulls music programming from 800 Clear Channel radio stations across the US along with other sources. It was one of only four streaming music products that Apple selected as a launch partner for its CarPlay service.


"Apple is pretty selective about how they disclose information," says Lakamp. "Apple made us aware of the opportunity. We were enthusiastic to participate and then worked closely with them to build the demo that they just demoed in Geneva."

iHeartRadio, along with the other launch partners, had early access to Apple's private CarPlay API. Lakamp didn't provide a timeframe for how long it took the company to add CarPlay integration to its app, but did confirm the process was "fairly quick." He also noted that it could add CarPlay to its existing iOS app without having to create a new app Continue Reading

Apple may be rushing to make changes to its App Store in order to comply with an earlier FTC agreement that requires it to modify its in-app billing system, reports ZDNet. Apple has until March 31 to make the changes required by the FTC and may be trying to roll them out in the company's forthcoming iOS 7.1 update.

As part of this FTC settlement, Apple must modify its billing practices to obtain consumers' express consent before billing them for an in-app purchase. Apple also must provide customers with a way to easily withdraw this consent for future purchases.


While it might sound trivial, changing the App Store to obtain "consumers' express, informed consent" before billing them is a significant change. It involves fundamental changes to the App Store order flow and there are a lot of dependencies involved.

One source I spoke to says that it's taking Apple longer than expected to make the required changes. In order to meet the government's second criteria (the option to withdraw their consent at any time) Apple must require a password for all IAPs by default, and perhaps make a no-password window an option via settings.

These requirements likely necessitate Continue Reading