Posted by | April 18, 2015.
The average phone case is basically a piece of plastic that protects your device when you drop it. But what if you could add modular features to your iPhone like a heart rate monitor, a grappling hook, or a backup battery? Now you can. Moscase comes to use from Hungary and is being crowdfunded to the tune of $150,000. The case protects your iPhone 6 or 6 Plus and has a removable back. You… Read More
Continue Reading
Posted by | April 17, 2015.
Earlier today the Apple Watch ). The colors include what appears to be two shades of blue, the custom red band seen earlier today and a range of "skin-tone" colors, going from darker browns to lighter tans and peaches. This marks the third time exclusive new Apple Watch band options have been seen in the wild, with the previous two being the custom red band and the custom gold link bracelet Karl Lagerfeld received.
Milan is known as one of the more important cities in the fashion world, and an important destination for Apple as it continues to court the fashion world to its brand new product. While it's unknown whether Apple will release these brand new and never-before-seen sport bands for the general public, it's been rumored that the Cupertino company is looking to introduce additional casing materials for the Apple Watch later this year, suggesting that new band options are also in the cards.
Posted by | April 17, 2015.
As we head further into April, deals have begun to dry up a bit. There are still discounts on a few select iPad models, and low prices on the iMac, older MacBook Air, and older MacBook Pro models. Deals on current products like the iPad Air 2 and the iPad mini 3 are unavailable this week, so if you're looking to buy a tablet, you might want to hold off for a bit.
We have several exclusive offers just for MacRumors readers this week, on games from GameAgent and products from Casetify, a site that offers custom iPhone, iPad, MacBook, and Apple Watch accessories. We've also rounded up some great apps you can get on the cheap this week.
iPad Air 2
Best Buy continues to offer the lowest prices we've seen on a single iPad Air 2: the for a complete list.
Pandemic: The Board Game is available for $4.99, down from $6.99. Beyond Gravity is available for free, down from $1.99. QUEST: Level up your life is available for free, down from $1.99. Hitman GO is available for $0.99, down from $4.99. My Om Nom is available for $0.99, down from Continue Reading
Posted by | April 17, 2015.
Developer demand for Apple's annual Worldwide Developers Conference always exceeds ticket supply, so Apple holds a lottery to determine which developers will win the chance to go to the conference. This year, Apple accepted lottery entries from April 14 until today, April 17, at 10 a.m. Pacific Time.
Now that the lottery has ended, Apple has begun sending out emails to developers who were selected and has charged their credit cards the $1,599 ticket price. Developers who won are currently sharing their good fortune on Twitter after receiving order confirmations.
I GOT A GOLDEN TICKET! #wwdc https://t.co/nv8J4IqHvX

— Julie Johnston (@Julia_JJ) April 17, 2015
This year's Worldwide Developers Conference starts on June 8 and will run through June 12 at Moscone West in San Francisco. More than 1,500 Apple engineers will be on hand to host over 100 technical sessions and hands-on labs. The event is also likely to include a keynote to unveil new products, and it will include the annual Apple Design Awards.
At WWDC this year, Apple is expected to unveil the newest versions of iOS and OS X — iOS 9 and OS X 10.11. There have also been rumors Continue Reading
Posted by | April 17, 2015.
Former Apple iOS chief turned Snapchat advisor Scott Forstall has taken on a new project, according to his first ever tweet on Twitter. Forstall is co-producing the upcoming Broadway musical Fun Home, a show that opens this Sunday.
I'm thrilled to be co-producing the Broadway musical Fun Home http://t.co/PqrKKZGcxY opening this Sunday. Bravo to the phenomenal team!

— Scott Forstall (@forstall) April 17, 2015
Forstall is listed as the producer of Fun Home along with his wife Molly on the Internet Broadway Database, and he and his wife also have a paragraph in the show's playbill.

The Forstalls (Producer). This is Scott and Molly Forstall's first foray on Broadway after years in Silicon Valley. They share their love of theatre with their children, Freya and Nils, both of whom are enthusiastic theatregoers and performers. Thanks to Carole for the magnificent journey.
Forstall's announcement of his position as Broadway producer comes just a day after leaked Sony emails suggested he'd received .11 percent of Snapchat's stock to serve as an advisor to the company. Since being ousted from Apple in 2012, Forstall has kept a very low profile, and this occasion marks his first Continue Reading
Posted by | April 17, 2015.
For this week's giveaway, we've teamed up with Casetify, a site that specializes in a whole range of custom-created iOS accessories, from iPhone and iPad cases to MacBook covers and Apple Watch straps.
Casetify lets users design their own cases using photos, text, and more, and it also offers hundreds of awesome community-created and curated designs that aren't quite like anything else on the market. You can add a collage of photos with dozens of layouts, select one photo, or customize an existing layout with the site's built-in tools or iPhone app. The base cases the company offers are nice quality and the printing comes out well.
Casetify is offering one lucky MacRumors reader the chance to win a massive bundle of accessories, worth over $500. It includes one of nearly all the accessories the company sells for the iPhone, iPad, MacBook, and Apple Watch.
The Casetify Prize Pack — cases are all customizable
The site has long offered iPhone cases in a variety of materials, including a simple polycarbonate snap-on case, a wood case, and the Metaluxe, a polycarbonate/aluminum combo case, featuring extra protection with an interchangeable backplate. Custom iPad Smart Covers are also Continue Reading
Posted by | April 17, 2015.
Apple Pay is planned to launch in Canada in November, according to The Wall Street Journal. The report claims Apple is in negotiations with six Canadian banks about launching the mobile payments service in the first country outside of the United States.
The six Canadian banks reportedly in talks with Apple include the Royal Bank of Canada, TD Canada Trust, Scotiabank, Bank of Montreal, CIBC and National Bank of Canada. The financial institutions, which together account for more than 90% of Canadian bank accounts, are open to supporting Apple Pay in Canada, although have expressed concern about fees and potential security issues.

"The banks are open to an agreement, but they aren't happy with Apple's fee proposals and are concerned about security vulnerabilities like the ones that U.S. banks experienced as they rolled out the service, the people said."
Developing…
Posted by | April 17, 2015.
After being announced to appear at Milan's Salone Del Mobile Design Fair earlier in the week, today the Apple Watch was displayed for the first time to the public, outside of a retail store or pop up shop, at the design fair (via Macitynet) [Google Translate].
The Apple Watch on display in the Carlo e Camilla restaurant
On display at the Carlo e Camilla restaurant in Segheria, the Watch is displayed in long rows of glass-topped tables, identical to its presentation in Apple's own retail locations. The fair is even allowing customers to experience the same try-on appointments happening in retail stores since pre-orders began one week ago.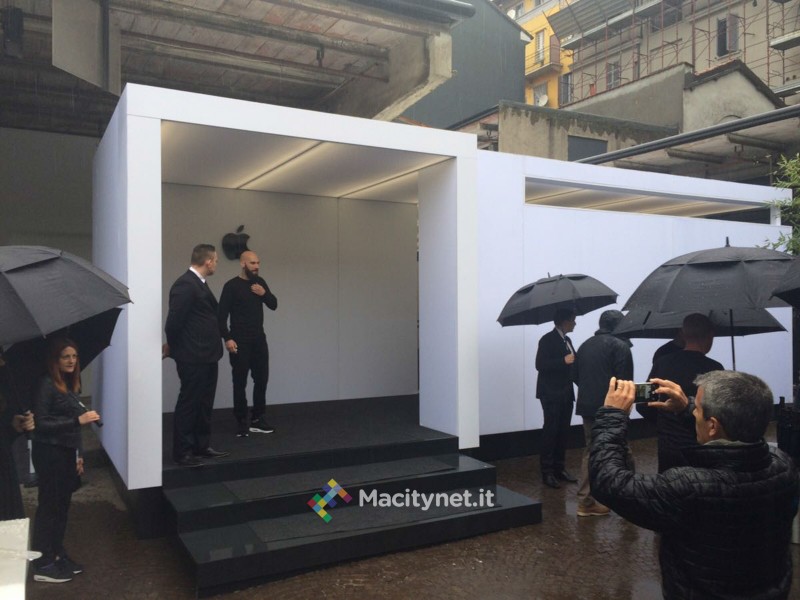 The entrance to the Apple Watch showcase at the fair
Interestingly, as the Watch is displayed at the Carlo e Camilla in Italy, pre-orders for the wearable aren't available to Italian customers due to Italy not being included in the first wave of launch countries for the Watch. There to experience the event is senior vice president of worldwide marketing at Apple, Phil Schiller, and Marc Newson, who works part time at Apple as a designer alongside Jony Ive.
<img src="http://cdn.macrumors.com/article-new/2015/04/Screenshot-258-800×599.png" Continue Reading
Posted by | April 17, 2015.
British cyclist and former professional rugby player Will Carling has shared a pair of new photos on Twitter that appear to reveal two unreleased Apple products. The first photo shows a stainless steel Apple Watch with what looks like a custom red sport band, while the second photo provides a side-by-side look at an Apple charger with a unique folding plug design for use in the United Kingdom.
Carling claims that Apple design chief Jony Ive provided him with the folding charger, which could be the official charger for the Apple Watch in the United Kingdom, and it is likely that is who gifted him the Apple Watch with a custom red sport band as well. Ive grew up in England and is known to be a rugby fan, and Carling was the former captain of England's national rugby team from 1988 to 1996.
It is possible that the photo is actually of an Apple Watch with the similar looking pink sport band, although the lighting in the shot gives the band more of a red appearance and Carling mentions that he prefers "the red band" on Twitter. Apple has given a custom watch to at Continue Reading
Posted by | April 16, 2015.
Apple Maps partner Yelp has today announced an update to its iOS app that will bring the service to Apple Watch. The announcement comes in the midst of more and more companies announcing their Apple Watch apps as the April 24 launch races forward.

The Yelp app for Apple Watch serves up nearby restaurants, bars, coffee shops, and new businesses along with their star rating, review count, business category, price range, distance from your exact position, and hours of operation. We've stylishly packed in millions of local reviews with petite precision so you have vast insider knowledge right at your fingertips. Now that's what we call a micro machine!
The app allows users to search for places of interest in addition to receiving recommendations nearby businesses and restaurants. It also comes with Handoff support, allowing users to jump from the Apple Watch to their iPhone to make a phone call, write a review, add photos or video, or check in for potential rewards. The Apple Watch app is live today.
Yelp can be downloaded from the App Store for free. [Direct Link]
Posted by | April 16, 2015.
Longtime Apple public relations veteran Steve Dowling was today added to Apple's executive page, marking his official promotion to Vice President of Communications.
The role has been open since Katie Cotton retired in 2014, but Steve Dowling has been serving as the interim head of public relations for several months now. His position was initially temporary as Apple searched for other high-profile external candidates, but it appears Apple could not find a suitable person to fill the role.
Following Katie Cotton's departure from Apple, Tim Cook was reportedly searching for a "friendlier" PR chief with a "more approachable face" to take over, to continue on with Apple's trend of being more open under Tim Cook's leadership.
Dowling has worked for Apple for twelve years and before taking over Cotton's former role, he served as the senior director of corporate public relations at the company. Before that he worked at CNBC's Washington Bureau for eight years.
Posted by | April 16, 2015.
After being forced out of Apple in 2012 following a major Maps debacle and clashes with other execs, former Apple Senior Vice President of iOS Software Scott
Forstall has kept a low profile, largely staying out of the public eye.
He hasn't taken on a major role at any company, but in late 2013, news surfaced suggesting he had been spending his time advising startups and becoming involved in philanthropical causes. As of today, news has leaked about one of the startups Scott Forstall is involved in — Snapchat.
A leaked email from the late 2014 Sony Pictures hack discovered by TechCrunch suggests that Scott Forstall has been serving as an advisor to popular ephemeral photo sharing app Snapchat, earning himself .11% of the company's stock. Forstall's shares in the company vest over the course of 24 months and could be worth approximately $16.5 million at Snapchat's current $15 billion valuation.
When TechCrunch questioned Snapchat about its relationship with Scott Forstall, the company did not deny that he was an advisor, stating "we have a number of advisors, but we don't comment on the specifics of their relationship with the company."
Posted by | April 16, 2015.
Apple today updated its iOS 8 Feature Availability page to note that CarPlay can now be used in five additional countries: Denmark, Netherlands, New Zealand, Russia, and Sweden. With the addition of these five countries, CarPlay is now available in a total of 25 countries around the world.
Apple's been expanding CarPlay support to additional countries rapidly in the month of April. On April 8, CarPlay support was added to Brazil, China, India, Thailand, and Turkey.
Due to the wide range of partners Apple has to work with and varying methods of implementing support, CarPlay has been slow to get off the ground. CarPlay continues to be primarily available through aftermarket in-dash systems from companies like Pioneer and Alpine, but several car manufacturers have pledged to release vehicles with support for CarPlay in 2015.
Posted by | April 16, 2015.
While the wait continues for Apple Watch pre-orders to be processed and prepared for shipment, it is worth a reminder that the wrist-worn device has the same standard 14-day return policy as other Apple products such as the iPhone, iPad and Mac. Apple Watch Edition models can only be returned if they are determined to be in original condition after passing inspection at an offsite Apple facility.
The 14-day return policy applies to the date that the customer receives the Apple Watch, meaning that those who pre-ordered the device can rest assured that they will have a full two weeks to test the smartwatch before having to return it. Apple Watch pre-orders made online can be shipped back to Apple or brought to an Apple Store in the same country of purchase for a refund in the original form of tender.
A growing number of users have turned to the MacRumors forums to discuss about their Apple Watch pre-orders, with the conversation divided into three threads based on shipping estimates of 4/24—5/8, 4-6 weeks or June. Given that Apple Watch supply appears to be limited, it remains unknown how many customers will have their pre-order fulfilled by Continue Reading
Posted by | April 16, 2015.
Apple today seeded the first beta of OS X 10.10.4 to developers, just over a week after releasing OS X 10.10.3 with the Photos for OS X app to the public.
The new beta can be downloaded through the Mac Developer Center.
It is not clear what's new in the beta, but it may include new features like OS X 10.10.3, or it may be a smaller update focused on bug fixes like OS X 10.10.1 and OS X 10.10.2, both of which introduced several fixes to improve performance.