With yesterday's launch of iOS 8, devices running the new operating system are now able to install third-party keyboards that work on a systemwide basis. Most of [Direct Link] is available for free from the iOS App Store, while Fleksy [Direct Link] costs $1.99 and Swype [Direct Link] is 99 cents.
Apple yesterday released iOS 8 to the public, opening the doors for iPhone, iPad and iPod touch owners to download and install Apple's latest version of iOS on their devices. According to The Guardian, this release caused internet traffic to surge in the UK by as much as 60 percent compared to the same time the previous day as millions of iOS users rushed to update their devices.
LONAP web traffic data from iOS launch timeframe (blue) vs. previous day (red)
Data from LONAP shows that web traffic surged just as iOS 8 was released at 6:00 PM UK time. Traffic remained strong for several hours, with a peak at 8:00 PM in the UK as more than 70 gigabits per second were being transferred through LONAP's exchange.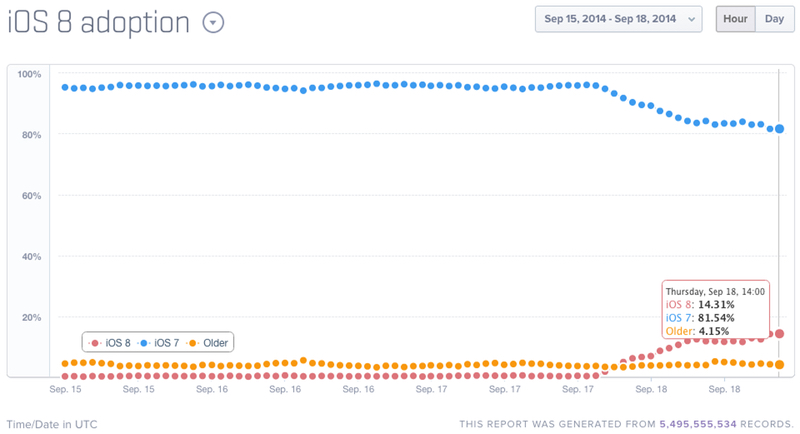 iOS 8 adoption from Mixpanel
iOS 8 may have caused web traffic to briefly increase, but the first-day adoption rate of the mobile operating system is relatively low when compared to previous iOS rollouts. According to analytics firm Mixpanel, only 14 percent of the iOS devices that it tracks are currently running iOS 8. Data from mobile marketing company Fiksu shows a Continue Reading
Apple and U2 have a long history of working together, producing a special edition U2 iPod in 2008 and more recently releasing the band's latest album, "Songs of Innocence," for free. According to Time, Apple and U2 now are collaborating on a new music format that will boost digital music sales.
Details on the music format or the secret project surrounding it were not revealed, but U2′s Bono says it will help musicians sell their music.

Bono tells TIME he hopes that a new digital music format in the works will prove so irresistibly exciting to music fans that it will tempt them again into buying music—whole albums as well as individual tracks. The point isn't just to help U2 but less well known artists and others in the industry who can't make money, as U2 does, from live performance. "Songwriters aren't touring people," says Bono. "Cole Porter wouldn't have sold T-shirts. Cole Porter wasn't coming to a stadium near you."
Digital music sales are declining as consumer interest in online streaming services such as Spotify and Pandora grows. According to Nielsen SoundScan data from the first half of 2014, digital album sales fell 15 percent Continue Reading
Apple has received one out of the two regulatory licenses it needs to sell the iPhone 6 in China, reports state-run news agency Xinhua (via Reuters). The handset is currently being reviewed by China's Ministry of Industry and Information Technology (MIIT), which also examined the the iPhone 5s and iPhone 5c before its launch in China last year. According to the news agency, Apple now needs a critical network access license before it can begin selling the device.
The news follows a report yesterday which stated that the launch of the iPhone 6 and iPhone 6 Plus in China may be pushed back to 2015 due to the need for regulatory licenses. Currently, it is unclear as to whether Apple will secure the licenses in time for a late 2014 launch, although talks are said to be ongoing. A delayed launch of the iPhone 6 and iPhone 6 Plus in China would hinder Apple's presence in the country, which has been expanding rapidly throughout the past few years.
Apple began iPhone sales on China Mobile last year, which is the country's biggest wireless service provider and the last major carrier in the region to Continue Reading
With Apple's new iPhone 6 and iPhone 6 Plus going on sale in the first group of launch countries beginning on Friday, September 19, long lines have already started to form across the world as many anticipate the release of both devices. Apple retail customers in Australia will have the first opportunity to purchase the new handsets at 8 AM on Friday, as some have already begun lining up outside of the company's various retail locations. Currently, it is 7:10 PM on Thursday, September 18 throughout many parts of Australia.
Image credit: @beth_blanchard
One photo taken by Guardian Australia writer Bethanie Blanchard shows many customers lining up outside the Apple Store Doncaster, as the line is said to have started at 6 AM and stretches around the entire length of the shopping center.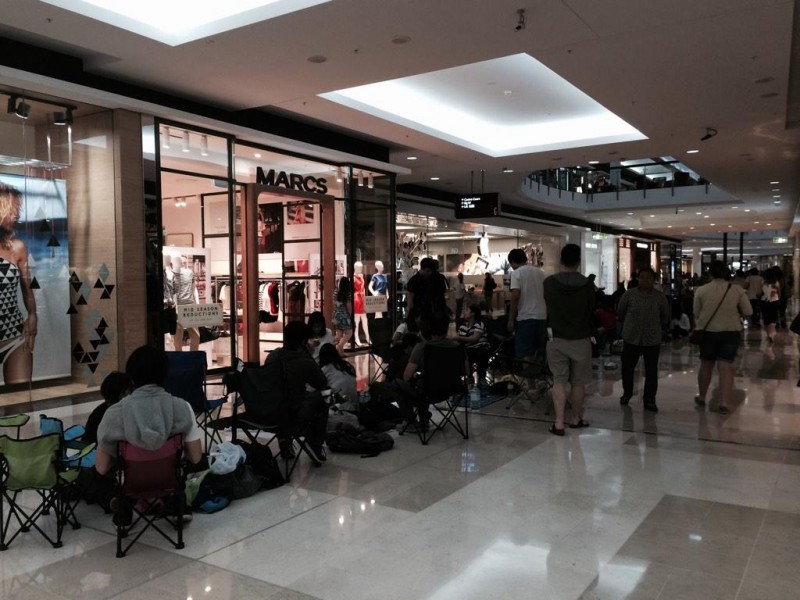 Image credit: @rodgerrodger
Meanwhile, a photo shared by Twitter user @rodgerodger shows the line surrounding an Apple Store in Brisbane. The image shows numerous customers setting up chairs and laying down supplies in preparation to stay the night ahead of the launch of the iPhone 6 Continue Reading
Apple today launched a new privacy site that outlines all of the privacy features of Apple's products and services, offers tips on managing privacy, details government information requests, and explicitly states Apple's Privacy Policy.
The site comes alongside a letter on privacy from Apple CEO Tim Cook, who says that the company respects user privacy and protects it with "strong encryption." Privacy and security are of the utmost importance to Apple, according to Cook, and the company designs all of its hardware, software, and services with privacy in mind.
In the letter, Tim Cook says that Apple is aiming to be more transparent about what happens with personal information, detailing how and why it is used by the company. Cook also states plainly that Apple aims to sell great products, not collect user information.

We're publishing this website to explain how we handle your personal information, what we do and don't collect, and why. We're going to make sure you get updates here about privacy at Apple at least once a year and whenever there are significant changes to our policies.

A few years ago, users of Internet services began to realize that Continue Reading

Apple has begun updating its own apps for iOS 8, with is a universal app that's available for $4.99 [Direct Link]

Numbers is a universal app that's available for $9.99 [Direct Link]

Apple today released OS X 10.9.5, after approximately a month of testing and two months after the release of OS X 10.9.4.

The update, which is recommended for all Mavericks users, improves the reliability of VPN connections that use USB smart cards for authentication and it improves the reliability of accessing files located on an SMB server. Also included with OS X 10.9.5 is Safari 7.0.6.

OS X 10.9.5 will likely be the final update to Mavericks ahead of the release of OS X Yosemite, which is expected in October. OS X Yosemite brings several improvements to the operating system, including a revamped look and several new features that improve integration with iOS.

iOS 8, released to the public earlier today, included a slew of new APIs for developers. One of those APIs opened up Touch ID to third-party apps, letting developers use the fingerprint scanner for authentication purposes within apps.

Quite a few apps have been updated to take advantage of Touch ID integration, replacing passwords and PIN codes. We've gathered up a comprehensive list of the most popular apps that have integrated Touch ID support below.

– 1Password (Free) [Direct Link] – Password management app 1Password allows Touch ID to replace a Master Password, providing access to the app.

– LastPass (Free) [Direct Link] – Like 1Password, LastPass uses Touch ID to protect a user's LastPass vault. It replaces the Master Password.

– Amazon App (Free) [Direct Link] – The newly updated Amazon app for iOS 8 allows users to sign into their Amazon accounts using Touch ID instead of a password.

– Discover Mobile (Free) [Direct Link] – Banking app Discover Mobile lets users log into their accounts using Touch ID instead of a password.

– Evernote (Free) [Direct Link] – Evernote allows Evernote Continue Reading

iOS 8 was released today, which means hundreds of app developers are releasing newly updated apps that take advantage of all the APIs introduced with the operating system upgrade. Those include third-party keyboards, which we covered earlier today, and (Free) [Direct Link] – Duolingo displays how close a user is to reaching their daily language learning goals. Tapping on the widget in the Notification Center opens the Duolingo app and lets users continue with their current language lesson.

Evernote (Free) [Direct Link] – Evernote's Notification Center widget is especially useful, including five different icons that let users create a document, reminder, or list, as well as snap a photo or access photos stored in the app. Tapping one of the icons opens the Evernote app and begins the task immediately.


Clear ($2.99) [Direct Link] – Clear's Notification Center widget includes a handy list of upcoming reminders. Tapping on one of the reminders will open the Clear app for direct access.

iTranslate (Free) [Direct Link] – iTranslate's Notification Center widget is a nifty tool that will let users one-tap translate whatever happens to be copied to the clipboard to Continue Reading

At its Worldwide Developers Conference in June, Apple unveiled Metal, an API designed to improve game performance on iOS. Epic Games took the stage during the event to show off Epic Zen Garden, a game built using the Unreal 4 Engine and the Metal API.

The game, which was designed to show off the impressive graphic enhancement features possible with Metal, demonstrated an expansive world with a fully interactive environment. Users could touch a tree to send a cascade of leaves and cherry blossoms swirling to the ground or interact with a group of koi fish.

As of today, Epic Zen Garden is available for download, letting users see some of the things that will be possible in iOS games in the near future. The game supports a resolution of 1440 x 1080 at 30fps, and can display 3,500 butterflies at once. One of the major features of Metal is that it allows for more draw calls, letting a huge number of objects be displayed on the screen.


Epic Zen Garden is a beautiful graphical environment showcasing the power of iOS 8, developed by Epic Games with Unreal Engine 4. Tap to navigate this interactive oasis brimming unmatched Continue Reading

Just before the public launch of iOS 8 earlier today, we noted that Apple had begun pulling HealthKit-related apps from the App Store, apparently due to a last-minute issue that cropped up in the new operating system. The issue has put a significant dent in the usefulness of the Health app that was to be a key feature of iOS 8, while also subjecting a number of third-party developers to uncertainty about the fate of their apps.

While details on the issue are still unknown, Apple has confirmed to Tim Bradshaw of Financial Times that it has discovered a "bug" in HealthKit that will require a software update to fix. Unfortunately, Apple is not necessarily promising an immediate turnaround on the fix, saying only that the company is aiming to "have HealthKit apps available by the end of the month".

iOS 8 is available now to owners of recent-generation iOS devices, and will be included on the iPhone 6 and 6 Plus when they officially launch on Friday. Aside from Health, iOS 8 includes a number of other features such as a new QuickType keyboard with word suggestions, support for systemwide third-party keyboards and Touch Continue Reading

Storehouse, the 2014 Apple Design Award winning long-form photo-sharing service from former Apple designer Mark Kawano, has launched its app for the iPhone. This comes almost four months after the startup raised $7 million in A-series funding from SherpaVentures and seed investors True Ventures, Lerer Ventures and Designer Fund in order to expand their reach beyond the iPad. Read More
Continue Reading

iOS 8, released to the public today, includes an API that allows developers to create system-wide third-party keyboards for the first time, which will let users select from a range of different keyboards with unique functions.

We've rounded up a list of the best third-party keyboards currently available to you find the keyboard best suited to you. Some of these keyboards are in the App Store now, while others will begin rolling out today following the launch of iOS 8.

SwiftKey (Free) – SwiftKey is a gesture-based keyboard that allows users to type by dragging their fingers from key to key. Along with offering predictive suggestions, SwiftKey integrates with SwiftKey Cloud to let a user's preferences be backed up and synced across all devices.

Swype ($0.99) [Direct Link]- Like SwiftKey, Swype is a gesture-based keyboard that allows users to drag their fingers from key to key in order to create words. Swype's built-in predictive text engine determines what was being typed, and it offers predictive punctuation to speed up typing. Swype also includes several different themes for custom looks. SwiftKey and Swype are fairly similar, and Re/code has done a review comparing Continue Reading

Apple released iOS 8 to the public today, giving millions of users their first look at the new operating system. Along with all of the major features, like Continuity, Notification improvements, Messages upgrades, and the introduction of third-party keyboard/Touch ID access, there are also dozens of other minor tweaks and changes that have been introduced in iOS 8, both ahead of the OS's initial launch to developers and across the beta testing period.

Outlined in the video below are some of the most interesting and handy tweaks in iOS 8, including automatic credit card scanning, expanded weather options, quick access to contacts, a hands-free mode for Siri, hidden photos, and more.

We've been collecting and cataloguing minor feature changes to iOS 8 since the first beta was released, documenting the development of new features and providing a one-stop location for all the changes that have largely gone under the radar.

A complete list of all of the hidden features in iOS 8 can be found in our dedicated Hidden Features Roundup, which also serves as a way to see the progress iOS 8 made over the course of the beta testing period.

For Continue Reading