Posted by | February 26, 2015.
Ahead of the Apple Watch's launch, accessory makers are already hoping to create solutions that will allow the device to be used with a wide array of existing watch bands. Click, for example, is an upcoming watchband adapter that will slide into the band slots of the Apple Watch, allowing the Apple Watch casing to be used with any existing 24mm watchband.
According to Click's creators, the adapter is a spring bar that will attach to a watchband, which will then fit into the Apple Watch's grooves, much like one of Apple's own watch bands. It appears to use the pin that comes with an existing watchband rather than shipping with one of its own.
Click takes advantage of the sliding and locking mechanism on both sides of the watch to hold the adapter in place just like one of Apple's watchbands. Click allows customers to truly personalize the Apple Watch to match their style and at a fraction of the cost of Apple's Watchbands.
Click is currently in the prototype stage with only 3D printed versions of the adapter available to show off, but the team behind Click is planning to introduce it via a crowdfunding campaign on Continue Reading
Posted by | February 26, 2015.
The U.S. Federal Communications Commission on Thursday voted in favor by a 3-to-2 decision to enforce net neutrality rules that it claims will help protect freedom of expression and innovation on the Internet, reports Ars Technica. The FCC ruling classifies broadband service as a utility and prevents Internet providers from blocking or throttling traffic or offering prioritized service through so-called Internet "fast lanes" for payment.

"The Internet is the most powerful and pervasive platform on the planet. It is simply too important to be left without rules and without a referee on the field," said FCC chairman Tom Wheeler. "Think about it. The Internet has replaced the functions of the telephone and the post office. The Internet has redefined commerce, and as the outpouring from four million Americans has demonstrated, the Internet is the ultimate vehicle for free expression. The Internet is simply too important to allow broadband providers to be the ones making the rules."
The ruling will reclassify fixed and mobile broadband as a telecommunications service, and Internet providers will be regulated under Title II of the Communications Act. The decision was heavily contested by Internet service providers such as AT&T, Comcast and Verizon, which could sue the Continue Reading
Posted by | February 26, 2015.
Following a short beta testing period, Apple's iCloud.com website has been updated to make its iWork suite of apps accessible to all users, even those without an Apple device.
As of today, anyone can sign up for an Apple ID to access Pages, Numbers, and Keynote for free. The software suite lets users create and edit text documents, presentations, and spreadsheets from their browsers. Signing up for a free Apple ID account entitles users to 1GB of complimentary iCloud storage to be used with the apps for storing documents.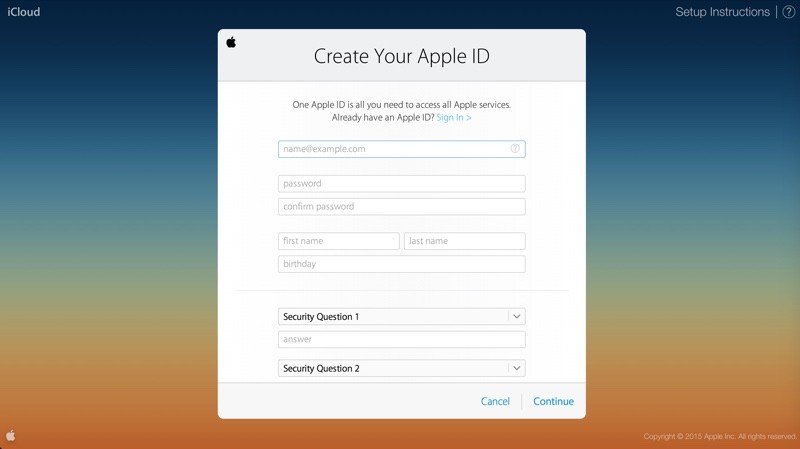 Previously, access to Apple's iWork suite of apps was limited to users who owned an iOS device or a Mac, but with Apple's new web-only iCloud access, the company can draw new users to its platform and compete with more universal software offerings like Microsoft's Office Suite.
iCloud.com's web-only apps can be accessed from recent versions of Safari, Firefox, Chrome, and Internet Explorer. Free accounts are limited to 1GB of storage and users will need an iOS device or Mac to acquire more storage or access iCloud's full set of features.
Posted by | February 26, 2015.
Apple has not provided details on when the Apple Watch might begin shipping to customers beyond the broad "April" launch date shared by CEO Tim Cook, but new information provided to MacRumors suggests the Apple Watch could see a release more towards the beginning of April rather than the end of the month.
According to a reliable source that spoke with MacRumors, Apple is planning to begin moving Apple Watches to centralized distribution points in the U.S. during the first few days of the month, with an Apple Watch release possibly coming during the first full week of April, between April 6 and April 10.
A launch date around this time would see the Apple Watch shipping approximately one month after the company's planned March 9 media event, where it is expected to unveil new details about the Apple Watch. There are many details about the device that the company has kept under wraps, including its prospective battery life and full pricing details on the middle tier Apple Watch and higher-end Apple Watch Edition.
Apple will likely share a specific Apple Watch release date during the March 9 event, and we're also likely to find Continue Reading
Posted by | February 26, 2015.
Just one day after Apple was ordered to pay a $532.9 million settlement to Smartflash LLC for infringing upon its patented technologies, the Texas-based patent licensing firm has sued the Cupertino-based company a second time over the same patents (via Reuters). The new lawsuit covers Apple products that were introduced after the original case was filed, including the iPhone 6, iPhone 6 Plus and iPad Air 2.

"Smartflash filed the complaint to address products that came out too far into the last proceedings to have been included," Smartflash's attorney, Brad Caldwell, told Reuters on Thursday. "Apple cannot claim they don't know about these patents or understand that they are infringing. A diligent jury has already rejected those arguments."
The new lawsuit was filed in the same Tyler, Texas district court on Wednesday night, only hours after a federal jury found Apple guilty in the original trial. Apple plans to appeal the decision in the original lawsuit under the belief that the patents are invalid. The patented technologies relate to digital rights management for downloaded songs, videos and games.

"Smartflash makes no products, has no employees, creates no jobs, has no U.S. Continue Reading

Posted by | February 26, 2015.

Apple today updated its website to notify users that it plans to live stream its Monday, March 9 media event that will take place at the Yerba Buena Center for the Arts in San Francisco.

The event will be broadcast on Apple's Live website and it will also likely be available on the Apple TV via a dedicated channel. MacRumors will be providing live coverage of the event as well, both on MacRumors.com and on the MacRumorsLive Twitter account for those unable to watch Apple's live stream.

The March 9 event, which kicks off at 10 a.m. Pacific Time, is expected to focus on the Apple Watch. Apple will likely unveil new details about the device that have been previously kept under wraps, including information on pricing, battery life, and accessory options. We may also get a concrete release date. Apple may also debut other products at the event, like the rumored 12-inch Retina MacBook Air.

Posted by | February 26, 2015.

Avatron, the company behind popular secondary display app Air Display 2 today launched an updated version of the software, Air Display 3. Like Air Display 2, Air Display 3 allows users to turn their iPads, iPhones, or iPod touches into secondary displays for their computers, but Air Display 3 has an important new feature — an option to connect an iOS device to a computer over USB.

Previous iterations of AirDisplay have been forced to work over WiFi (which made using AirDisplay laggy and unreliable) because for a long time, Apple rejected apps that used a USB connection. Apple relaxed its policies on apps accessing USB earlier this year when it approved Duet Display, paving the way for apps like AirDisplay to incorporate the same technology for more solid connections that cut down on lag.

In our limited testing, AirDisplay 3 used over USB worked well, with little lag, and its performance was comparable to Duet Display. There's still an option to connect over WiFi if USB is not available, but using WiFi was considerably more unreliable with a lot more of a delay when attempting to perform tasks.

In addition to USB support, Air Continue Reading

Posted by | February 26, 2015.

Apple today sent out invites for a media event that will be held on March 9, 2015 at the Yerba Buena Center for the Arts in San Francisco, reports The Loop. The event will kick off at 10 a.m. Pacific Time.

The event is believed to be focused on the Apple Watch, with Apple unveiling details that are still under wraps, such as price, battery life, and accessory options. The event could also see the launch of other products, such as the 12-inch Retina MacBook Air.

Posted by | February 26, 2015.

Google's Sundar Pichai, senior vice president of Android, Chrome and Google Apps, recently spoke about his company's relationship with Apple in an in-depth interview with Forbes. The executive discussed a few topics related to Apple, including the impact of the iPhone 6 and iPhone 6 Plus on the high-end smartphone market and Google's long-standing search partnership with Apple that is rumored to be up in the air.

Questioned about the possibility of Apple ditching Google as the default search engine on iOS, Pichai did not appear worried and remains committed to building a product that users need. Google renewed its search partnership with Apple in 2010, although the contract is reportedly set to expire this year and there has been increasing speculation that Apple is considering a number of options. Both Microsoft and Yahoo have reportedly courted Apple to become the default search engine for Safari in the past.


Q: Your relationship with Apple is complicated. How concerned are you that you may lose them as a search partner on iOS?

A: There are areas with Apple in which we have always collaborated. We have had a long term search partnership. We work closely with them in Continue Reading

Posted by | February 26, 2015.

Apple yesterday updated its 3D "Flyover" map of London, adding animated images onto popular London-based attractions that result in real-time moving pictures right inside of the Maps app (via The Daily Mail).

The update causes the current time to be showcased on the face of Big Ben's clock tower, and the popular giant London Eye to constantly rotate when users find each structure in the London Flyover map. The feature, according to The Daily Mail, is expected to hit other big cities "within weeks."

Though a straightforward and purely aesthetic update, the addition of real-time animated effects in the Maps app brings a more immersive experience to Apple's mobile map service and could give it a slight edge on competing map apps.

Thanks to hefty amount of criticism following the rocky launch of Maps, even resulting in a public letter of apology by Tim Cook, Apple has been steadily attempting to straighten the app's course and win back the users that migrated to services like Google Maps in the intervening years.

Apple has steadily improved the accuracy of its maps, increased the number of points of interest Continue Reading

Posted by | February 26, 2015.

The latest numbers from Strategy Analytics reveal that Apple continued to dominate in global smartphone profit during the fourth quarter of 2014, capturing a record-high 88.7% share of profit during the three-month period ending December. Apple earned quarterly operating profit of $18.8 billion on iPhone sales, up from $11.4 billion during the fourth quarter of 2013.


"Global smartphone operating profit grew 31 percent annually from US$16.2 billion in Q4 2013 to US$21.2 billion in Q4 2014. Android hardware vendors combined took a record-low 11 percent global smartphone profit share, down from 29 percent one year ago. In contrast, Apple iOS captured a record-high 89 percent profit share, up from 71 percent in Q4 2013."

Overshadowed by the success of the iPhone 6 and iPhone 6 Plus, Android suffered a sharp decline in smartphone profit compared to its 29.5% share in the year-ago quarter. Android accounted for a record-low 11.3% share of global profit during the fourth quarter based on $2.4 billion in operating profit. Android had operating profit of $4.8 billion in the year-ago quarter. BlackBerry, Windows Phone and other mobile platforms recorded zero operating profit during the quarter.


These numbers Continue Reading

Posted by | February 26, 2015.

While the Apple Watch is not expected to be released until April, luxury and couture product design company Brikk today announced a line of 30 luxury models for the upcoming smartwatch that they claim, "will afford unmatched opulence to an exclusive clientele worldwide."

Similar to the Apple Watch in terms of sizes, the line of Lux Watches will be available in 38mm and 42mm, with color options of 24-karat yellow gold, 18-karat pink gold, and 950 platinum alongside varying band options. There are also three editions to the line: Standard, Deluxe, and Omni. All versions of the Lux Watch are prepared through disassembling Apple Watches that the company then repurposes with their luxury materials in a "state-of-the-art laboratory."

The basic Standard edition offers a single row of diamonds (.50 carats) and a leather strap, while the mid-tier Deluxe has multiple rows of diamonds (2.3 carats), diamond encrusted buttons, and a diamond studded clasp on its leather strap.

The Lux Watch Omni edition in 24k yellow gold with 12.3 carats of diamonds
"For the ultimate in exclusivity," Brikk offers the Lux Watch Omni edition with a fully diamond-emblazoned case resulting in Continue Reading

Posted by | February 26, 2015.

Following Apple CEO Tim Cook's visit to Israel this week, the company's increasing interest in the country is said to relate to chip design, according to The Wall Street Journal. Apple recently opened new research and development offices in Israel north of Tel Aviv, with the facilities serving as the iPhone maker's second-largest R&D operations outside of the United States.


"Apple's Israeli acquisitions and its expanding local workforce show that the company is becoming more and more independent on the chip level, where it once had to rely on external suppliers," said Shlomo Gradman, chairman of the Israeli Semiconductor Club.

Apple may be looking to increase development of chips internally to shoulder the costs associated with relying on third-party suppliers, although it still relies heavily on vendors such as Samsung to produce chips for iPhones. Apple has acquired two Israel-based microprocessor chip design firms in Anobit Technologies and PrimeSense in recent years, and also hired several Texas Instrument engineers in Israel after the company announced some 250 job cuts at its Ra'anana offices.

Apple vice president of hardware technologies Johny Srouji is an Israeli Continue Reading

Posted by | February 26, 2015.

The latest Mobility Index Report from Good Technology reveals that iOS increased its lead over Android in the enterprise market during the fourth quarter on the strength of the iPhone 6 and iPhone 6 Plus. iOS accounted for 73% of total activations during the three-month period ending December, up from 69% in the previous quarter and equal to the year-ago quarter.

Specifically, the iPhone 6 and iPhone 6 Plus made up 30% of all activations during the fourth quarter, with the iPhone 6 to iPhone 6 Plus split being 77% and 23% respectively. Android activations dropped from 29% during the third quarter to 25% in the fourth quarter, while both Windows Phone and all other mobile platforms each represented a 1% share of activations.

Posted by | February 25, 2015.

Apple CEO Tim Cook will give the keynote address to graduates at George Washington University this May, the university announced today. Cook will speak on May 17 on the National Mall and was nominated for the honor by students earlier this year. The university also plans to give Cook an honorary doctorate of public service.

"I am delighted that Tim Cook has accepted our invitation to give this year's commencement address on the National Mall," George Washington President Steven Knapp said. "I know our graduating students will be inspired and enlightened by his reflections on the lessons he has garnered from his distinguished career as a highly effective leader at the forefront of technological innovation."

Cook's last commencement speech took place in 2010, at his alma mater Auburn University. At the time, Cook was Apple's Chief Operating Officer, and he took the opportunity to call working at Apple "the best decision I ever made." He gave a moving speech that emphasized the importance of intuition and how it led him to Apple.

Previous commencement speakers at George Washington University have included actress Kerry Washington, former New York City Mayor Michael Bloomberg, First Lady Michelle Obama, former President Continue Reading