Posted by | April 26, 2015.
With the launch of the Apple Watch on Friday, the first wave of consumers have received their Apple Watches. Our forums are abuzz with activity surrounding Apple's newest device. While there were initial concerns about the Apple Watch's battery life, reports seem to indicate that the Apple Watch, itself, has no problem lasting a full day.
However, there have been mixed reports about the impact the Apple Watch has on iPhone battery life. The Apple Watch needs to be paired to an iPhone for full functionality. The iPhone connects to the Apple Watch via bluetooth and Wi-Fi to feed it data and notifications throughout the day.
Some users have found a notable improvement in iPhone battery life with the addition of an Apple Watch. This suggests the act of offloading notifications and quick interactions to your Apple Watch, could make your iPhone battery last much longer.
The best unexpected but /now/ obvious surprise to having the Apple Watch is plenty of battery life on the iPhone after a full day out!

— Dan James (@Daniel277) April 26, 2015
However, several other users have noticed a significant drain on their iPhone Continue Reading
Posted by | April 26, 2015.
Apple today rolled out a feature through the iTunes Store that allows users to contribute to the American Red Cross in support of relief efforts following the Nepal earthquake that has killed over 2,400 people.
The feature leverages the hundreds of millions of credit cards already on file to allow iTunes users to easily donate $5, $10, $25, $50, $100, or $200 to the relief efforts. Apple will be passing along 100 percent of the donations to the Red Cross.
Aid Nepal
Donate in iTunes
#iTunes #Nepal #NepalEarthquake pic.twitter.com/s9seJp8RZV

— Philip Schiller (@pschiller) April 26, 2015
This is not the first time Apple has used to iTunes Store to raise money for charity, with the company most recently raising money for City of Hope last October. Other previous relief effort fundraising campaigns have included the 2013 Philippine typhoon, the 2011 Japanese earthquake and tsunami, and the 2010 Haitian earthquake.
Posted by | April 25, 2015.
I'm a lucky lad. Every so often the creators of a really cool, really revolutionary cooking devices come to my house and make me food and this time it was Cinder. Think of Cinder as a George Foreman Grill that went to MIT. Designed to cook everything perfectly, the system can cook, sear, and grill automatically, allowing you to place food in the machine and have it cooked to perfection… Read More
Continue Reading
Posted by | April 25, 2015.
A CNet video shows the new Apple Watch Sport undergoing a variety of torture tests in a kitchen setting to see how well it holds up to a variety of abuse.
Previously, video bloggers have subjected the Sport's Ion-X screen and the Sapphire screen to a variety of scratch tests.
The video shows the Apple Watch Sport holds up remarkably well in various scenarios. The watch is washed, submerged in water for 10 minutes, boiled, grated, spilled on, dropped and finally smashed with cast iron skillet. The Apple Watch Sport screen did shatter with the skillet impact, but seemed to remain perfectly functional until that point.
The Apple Watch was officially launched today with pre-order deliveries arriving for the first customers.
Posted by | April 24, 2015.
If you are one of the lucky few to receive your Apple Watch on launch day, you are probably excitedly going through the steps to setting up and customizing your device. With a completely new operating system to get used to, we've got a couple of tips for getting your Apple Watch ready for daily use.
Apple Watch Overview
Apple yesterday released a user guide for its wrist-worn device that provides a detailed overview of the case for those who aren't yet familiar with various features. For starters, you can easily identify the Digital Crown/Home button on the side of the watch case. Press it to go to the Home screen while viewing an app, or to display the watch face.
You can also double-click the Digital Crown to access your most recently used app. To activate Siri, press and hold it. Zoom in and out or scroll by turning the crown.
The side button, which sits just below the Digital Crown is used to show or hide friends, turn on or off Apple Watch, and access Apple Pay (with a double-click).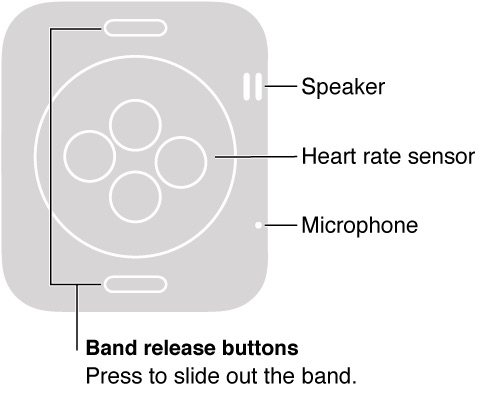 The back side of Continue Reading
Posted by | April 24, 2015.
For our next giveaway here at MacRumors, we've again partnered with Pad & Quill, the maker of premium MacBook, iPhone, and iPad cases and other accessories. Pad & Quill is graciously offering a package of two prizes for this giveaway – the winner will be able to choose one leather Valet Luxury Sleeve (for the 11-inch Macbook Air, 12-inch MacBook, or 13-inch MacBook Pro, or the 15-inch MacBook Pro) plus any one of the company's Apple Watch Accessories.
The Valet Luxury Sleeves are made of full-grain leather and have hand-pounded copper rivet closures, and also feature extra pockets to carry an iPad and other accessories. The version for the 15-inch MacBook Pro retails for $149.99 while the version for the smaller MacBook models retails for $119.99.
Pad & Quill has a number of accessories for the Apple Watch, including the Timber Catchall that was announced earlier this week, and the Luxury Pocket Stand that was revealed last month. All of Pad & Quill's Apple Watch accessories can be seen on this page and they range in value from $49.99 to $119.99.
<img src="http://cdn.macrumors.com/article-new/2015/04/Apple-watch-with-Grandpa-pocket-800×561.jpg" alt="Apple watch with Grandpa Continue Reading
Posted by | April 24, 2015.
Today is Apple Watch launch day in the United States and eight other first wave launch countries, and many customers around the world are busy setting up their new smartwatch or anxiously waiting for their package to be delivered. Meanwhile, the teardown team at repair website iFixit flew to Melbourne, Australia to get their hands on the Apple Watch and take it apart to see what's inside.
iFixit started by prying open the display and disconnecting the display and digitizer cables underneath, getting a first look at the Taptic Engine, inside of the Digital Crown and internal 205 mAh battery. Digging further into the Apple Watch, the team got a closer look at various components for haptic feedback, an ambient light sensor and S1 integrated processor. Overall, the Apple Watch received a 5 out of 10 repairability score.
Back in Los Angeles, several thousands of miles away from the teardown, KTLA reporter Rich DeMuro was on site at Maxfield in West Hollywood to interview various people Continue Reading
Posted by | April 24, 2015.
Alternative insurance protection plan service SquareTrade today confirmed support for both the Apple Watch Sport and mid-tier Apple Watch models. The plans sit near the cost of AppleCare+ for the Watch, but cover accidental damage done to the device, unlike the additional charge required in AppleCare+.
The SquareTrade Apple Watch plans offer customers options with and without deductibles. So, for example, the Apple Watch Sport plan ranges from $59 to $69 (with deductible) and $129 to $159 (with no deductible). Similarly, the mid-tier Apple Watch models stretch from $79 to $149 (with deductible) and $169 to $239 (without deductible).
Both Watch tiers are 2-year plans covering malfunctions as well as accidental damage. The company believes that one of the most likely points of risk for the Watch will be "among others, drops and falls from nightly charging stations." But it assure customers that anything beyond intentional damage, loss, or theft will be covered by the plan.

"We don't mean to dampen all the excitement about the Apple Watch, but inevitably the klutz in us will come out. Just like smartphones, the Apple Watch accompanies us everywhere and is susceptible to the wear and tear of Continue Reading

Posted by | April 24, 2015.

Apple has outlined that the Apple Watch battery is designed to retain up to 80% of its original capacity at 1000 complete charge cycles, which gives the watch's battery a lifespan of about two-and-a-half to three years based on fully charging the wrist-worn device once per day.

Comparatively, the MacBook and iPad can receive up to 1000 complete charge cycles while retaining up to 80% of original battery capacity. iPhones receive up to 500 complete charge cycles, and iPods receive up to 400 complete charge cycles.

A teardown of the Apple Watch earlier today revealed a small 205 mAh battery inside the device, which lasts up to 18 hours based on mixed usage and up to 72 hours in Power Reserve mode. The battery is covered under Apple's limited 1-year hardware warranty, while out-of-warranty battery service is also available for $79 plus an applicable $6.95 shipping charge if required for the Sport, Watch and Edition models.

Posted by | April 24, 2015.

MacRumors has obtained official Visual Mechanical Inspection information for the Apple Watch that reveals what type of damage is eligible for warranty service, out-of-warranty service or no service at all. These guidelines are adhered to by Apple authorized service providers and are based upon Apple's standard 1-year limited hardware warranty for the Apple Watch.

Apple Watch damage that is eligible for warranty service includes user claimed debris under the display glass or pixel anomaly, a back cover removed with no damage, and any condensation in the heart rate windows. In particular, the document states that a removed back cover is only covered when not accompanied by enclosure damage or evidence of prying.

Apple Watch damage that is eligible for out-of-warranty service includes a cracked, missing, removed or damaged Digital Crown cap, extreme abrasion, puncture holes, missing buttons resulting from a drop, any chips or multiple cracks in the display glass, a removed back cover with evidence of enclosure damage or prying, a bent or split band enclosure, a missing or removed band release button, or cracks in the back cover.


Apple Watch damage considered nonreturnable and ineligible for warranty Continue Reading

Posted by | April 24, 2015.

Thanks to the time difference, a few Australian Apple Watch customers began receiving their orders as early as yesterday afternoon here in the United States. Because of this, smartphone website FoneFox decided to put the Apple Watch through a variety of waterproof tests to measure just how much moisture the Watch could take before failing to function.

The first test is a basic splash test followed by a five minute simulated shower complete with shampoo and soap, at the end of which the Apple Watch comes out noticeably unscathed and completely responsive to FoneFox's inputs on both its touch interface and digital crown. It should be pointed out that all of FoneFox's tests were completed with a 38mm Apple Watch Sport. Although it's hard to tell how different models of the Watch will size up to similar testing, it's clear after today's tests that most models in the Sport range should see similar results as FoneFox's.

After finding "absolutely no issues whatsoever" with the Watch after the shower test, FoneFox decided to place the Apple Watch Sport completely submerged in a bucket for another five minutes. After the Watch produced similarly impressive results, the website took Continue Reading

Posted by | April 24, 2015.

Amid the fanfare of the Apple Watch launch, a few eagle eyed employees at Team Android today points out, whether Google is even aware it exists at all at this time. While the two companies have been known to be rivals in the past, especially concerning their own individual Apple Maps and Google Maps services, today's development is an interesting new addition to their long history.

Posted by | April 24, 2015.

Apple has introduced a new 5W USB power charger with folding pins for use in a handful of countries in Europe and Asia. The new adapter is available now for £25 on the Apple Online Store in the United Kingdom, and is designed for use in Ireland, Hong Kong, Singapore and Malaysia as well. The charger is also included in the box with the Apple Watch in those countries.

British former professional rugby player Will Carling shared photos of the new folding charger on Twitter earlier this month after claiming to have received the adapter from Apple design chief Jony Ive, but it was unknown at the time if Apple would ever release the product. The adapter can also be used to charge an iPhone, iPod touch and several other iPod models.

Posted by | April 24, 2015.

Hours before the Apple Watch is set to officially launch, Apple has debuted three new ads called "Rise", "Up" and "Us". The three ads focus on the three aspects of the device CEO Tim Cook highlighted when the Apple Watch was first introduced: a device that helps you with time, a comprehensive health and fitness device and an intimate communication device.

The first ad, "Rise", shows people using the Apple Watch to help them spend their time. People are seen using the Apple Watch as an alarm clock, seeing incoming messages, using it on their commute, using it as a ticket at an airport, getting around with the Maps app and more.

The second ad, "Up", features users using the Apple Watch's health and fitness features. People can be seen setting up their fitness goals on the Watch in addition to using it while both exercising and doing various activities, both intensive and casual. It also features moments where users are alerted to stand while working or commuting.

The final ad, "Us", has people using the Watches' communication features, Continue Reading

Posted by | April 24, 2015.

As many users in the United States slept Thursday night, Apple began slowly emailing Apple Watch pre-order customers with a confirmed April 24 delivery date about a "Personal Setup" program designed around the Watch.

Aimed to visually guide new users through the Apple Watch's setup process and beyond, the Personal Setup program is a video session with an Apple employee where the company does its best to answer every question a user has about the wrist-worn device.

As with in-store try-on appointments, the Personal Setup video session requires a scheduled appointment, with dates as of writing ranging from early Friday morning all the way through the evening on May 7.


Your Apple Watch will be in your hands shortly. Once it is, we can help you get started right in the comfort of your own home with online Personal Setup. It's a video session* where we show you how to set up Apple Watch with your iPhone, walk you through some key features, and answer your questions. We'll also point out some great apps, and help you personalize your device.

Of course, you can always visit an Apple Store and request a Personal Setup session with Continue Reading