The Apple TV may gain a new FXNOW channel that includes Simpsons World content, according to TV writer Jason Lynch who tweeted the news yesterday (via iLounge). Lynch said the FXNOW channel will come to the Apple TV, Roku, and other devices within the next 12 months.
FXNOW is the on-demand portion of the FX, FXX, and FXM television channels, all of which are owned by the Fox Entertainment Group. The FXNOW Apple TV channel will reportedly include content from The Simpsons, branded Simpsons World, which offers all 552 episodes of The Simpsons along with additional content. Simpsons World, debuting in October, will allow fans to search for and watch any episode or clip of The Simpsons on demand on FXNOW.
According to reports, Simpsons World will also allow users to create playlists of episodes and share favorite scenes, features that will likely make their way to the Apple TV version of the channel. FXNOW with Simpsons World currently requires cable authentication and is limited to FXX subscribers, and the Apple TV version will require a cable subscription as well.
Currently, supported cable providers for the existing FXNOW channel include AT&T, Cablevision, Comcast, Cox, Continue Reading
Apple today announced financial results for the second calendar quarter and third fiscal quarter of 2014. For the quarter, Apple posted revenue of $37.4 billion and net quarterly profit of $7.7 billion, or $1.28 per diluted share, compared to revenue of $35.3 billion and net quarterly profit of $6.9 billion, or $1.07 per diluted share in the year-ago quarter.
Gross margin for the quarter was 39.4 percent compared to 36.9 percent in the year-ago quarter, with international sales accounting for 59 percent of revenue. Apple also declared an upcoming dividend payment of $0.47 per share, payable on August 14 to shareholders of record as of August 11. The company currently holds $164.5 billion in cash and marketable securities.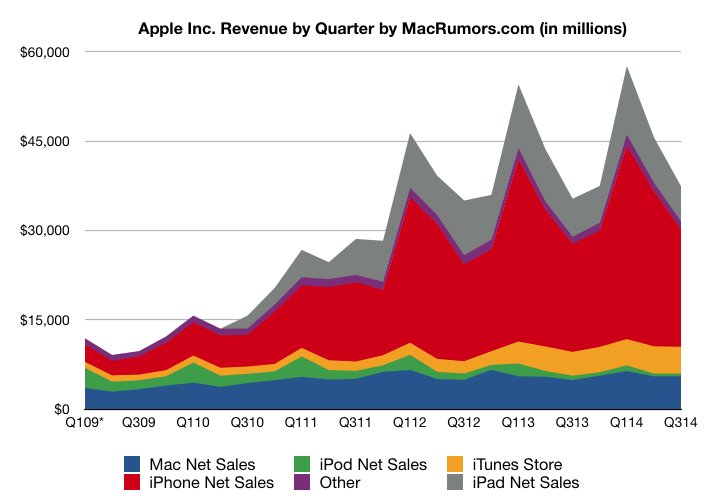 Quarterly iPhone unit sales reached 35.2 million, up from 31.2 million in the year-ago quarter, and the company sold 13.3 million iPads, down from 14.6 million in the year-ago quarter. Apple sold 4.4 million Macs, up from 3.8 million in the year-ago period.

"Our record June quarter revenue was fueled by strong sales of iPhone and Mac and the continued growth of revenue from the Apple ecosystem, driving our highest EPS growth rate in seven Continue Reading

Apple has released its latest quarterly earnings report, and the hardware story is one that you might have heard before: For the most part, the company sold more devices year-over-year, with the notable exception of the iPad, which continues to see slight declines as it did last quarter. By the numbers, Apple sold 35.20 million iPhones, 13.27 million iPads, 4.41 million Macs and 2.96… Read More
Continue Reading

With the 4.7-inch iPhone entering mass production this month, part leaks and rumors surrounding the device are beginning to pick up. Several different internal and external parts said to be destined for the iPhone 6 have surfaced and today, Apple.club.tw [Google Translate] has shared images depicting the flex cable for the Lightning and headphone parts along with another image of the iPhone 6 rear shell.

The flex cable said to be for the iPhone 6 includes the headphone jack on the far left, a microphone next to that, and the Lightning port located on the middle of the part. It looks very similar to the Lightning/headphone flex cable designed for the iPhone 5s, but the headphone jack has dual screw holes towards the top of the part, a variation from the iPhone 5s design.

These two holes appear to accurately line up with the dual holes in the bottom left of the rear shell of the device, suggesting the headphone jack would fit correctly into the iPhone 6 rear shell and lending credence to the authenticity of the part.

As for the rear shell, it appears very similar to previously shared images of Continue Reading

Kenu's Airframe smartphone car mount has proven popular with MacRumors readers, and with Apple all but certain to release larger iPhone models later this year Kenu has just released a new Airframe+ mount that accommodates thicker cases and devices with screen sizes up to six inches.

Airframe+ with iPhone 5s in Apple case
Like the original Airframe, much of the appeal of the Airframe+ comes from its simplicity and light weight, consisting of a simple spring-loaded clip to grip the device on the sides and a cone-shaped clip to attach to louvers of car vents. Weighing under an ounce and easily slipping into a pocket or remaining inconspicuously attached to the car vent when not in use, the Airframe+ is a remarkable change from the Garmin Active Mount I normally use, although the Airframe+ would need to be paired with a Lightning cable for charging purposes.

Airframe+
While the new Airframe+ accommodates devices with screens up to six inches, body size is really the determining factor and the device grip expands to approximately 3.25 inches. Apple's rumored 4.7-inch and 5.5-inch iPhone 6 models should, however, fit comfortably even with most Continue Reading

Curse of Naxxramas, the first expansion for Blizzard's popular Hearthstone: Heroes of Warcraft collectible card game, is now available for download on PCs, Macs, and iPads.

Like Naxxramas in World of Warcraft, Curse of Naxxramas in Hearthstone is a floating necropolis organized into five different wings, including the Arachnid Quarter, Plague Quarter, Military Quarter, Construct Quarter, and Frostwyrm Lair.

Blizzard's Curse of Naxxramas launch event will see one new wing opening each week for approximately a month, beginning with the Arachnid Quarter. Every wing contains enemies and bosses that must be eliminated, and successfully defeating bosses will add new cards to a user's collection. Naxxramas introduces 30 new cards to Hearthstone.


The ancient necropolis Naxxramas, a base of operations for the powerful archlich Kel'Thuzad and his plague-bearing undead host, comes to Hearthstone in a single-player Adventure that anyone can undertake.

Progress through each of the five unique wings of the dungeon and gain new cards for your Hearthstone collection by defeating the iconic bosses you'll face along the way: the oversized arachnid Maexxna, the fungal horror Loatheb, and the shambling abomination Patchwerk are just a few of the horrors awaiting you. Each boss has its own unique Continue Reading

If you ever wanted to experience how the Predator sees the world, now's your chance, and all you'll need is an iPhone and the FLIR ONE case. The FLIR ONE case packs a full thermal imaging camera that sees variances in temperature on the infrared spectrum, and works with either the iPhone 5 or iPhone 5s, along with the FLIR ONE companion app. It can show you a live view of the… Read More
Continue Reading

According to a new report from Taiwan's Economic Daily News, Apple's third-generation iPad mini will be an "Air"-like model, featuring a design that shaves 30 percent off the thickness of the device. This thinness along with a powerful new A8 processor will be among the main selling points for the next generation iPad mini, claims the Asian sources (via GforGames).

Mockups of the next generation iPhone, iPad Mini, and iPad Air from Apple.club.tw

While the sources of the rumor are given only as from the supply chain, the claim of a 30 percent thinner iPad mini seems to be an overly optimistic one. The original iPad mini measured 7.2 mm thick, and the device saw a slight increase to 7.5 mm with the move to a Retina display last year. The larger iPad Air moved in the opposite direction last year, slimming down from 9.4 mm in the fourth-generation iPad to match the Retina iPad mini at 7.5 mm.

A 30 percent reduction in thickness for the iPad mini would put it in the range of 5.25 mm, and how Apple would achieve such a reduction is unclear, especially given the increase in horsepower Continue Reading

The U.S. Patent and Trademark Office today granted Apple a patent that describes a wrist-worn device containing sensors and wireless radios that allow it to communicate with other devices such as the iPhone, iPad or Mac (Via AppleInsider). It is a comprehensive patent that describes some of the core features of Apple's rumored iWatch device.

Front view of a device similar to a sixth-generation iPod nano docked into wristband
The invention details a modular device, identified in the patent as the "iTime", that features a wrist-worn, sensor-laden strap and potentially removable modules. The modules, such as a media player, can snap into a wristband, which contains add-ons like GPS and a Wi-Fi radio that increase the functionality of the device. The system is reminiscent of the sixth-generation iPod nano, which fits a wristband to become a wearable media player.


The invention pertains to an electronic wristwatch. According to one embodiment, an electronic wristband can provide additional electrical circuitry or devices that can be made available for use as or with an electronic device. In one embodiment, the electronic device can be a mobile electronic device that can be removably coupled to the electronic wristband which provides the Continue Reading

Apple has made its largest-yet initial order for iPhones, according to a new report from the Wall Street Journal. The order encompasses devices with both 4.7- and 5.5-inch displays, echoing rumors we've been hearing for a while now, but the WSJ's sources say that Apple has ordered between 70 million and 80 million units combined across the two styles, which is increased well above… Read More
Continue Reading

Fast growing Chinese Android smartphone startup Xiaomi, which earlier this month reported that it had shifted ~26 million handsets in the first half of this year, has unveiled a new flagship device which it will be hoping powers it over its sales target of 60 million smartphones in full year 2014. It's also taken the wraps off its first wearable: the Mi Band. Read More
Continue Reading

iOS 8 beta 4, released earlier today, included a new app called Tips, which is designed to offer iOS 8 users information about all of the new features in the operating system.

Tips was first hinted at during Apple's Worldwide Developers Conference, shown briefly on a display that rounded up dozens of unmentioned iOS 8 features, but it was missing from the iOS 8 betas until today.

It was unclear what would be included in the Tips app, but it turns out Tips is a simple tutorial-style app that gives users a look at some of the various features in iOS 8, using text, images, and brief animations.

As detailed in the above video, the Tips app has the following sections: Quickly respond to a notification, Notify me when there's a reply (in Mail), Hey Siri (on hands-free Siri operation), Send a spoken message (in Messages), Quickly manage your mail (using gestures), and Be in the shot (camera timer mode).

Tips has a simple interface that opens directly into the first tip, using swipe gestures to navigate through available content. There's a menu button on the bottom of the screen that gives a Continue Reading

Apple is asking its suppliers to manufacture a massive number of 4.7 and 5.5-inch iPhones in anticipation of high consumer demand, reports The Wall Street Journal. The company is seeking between 70 and 80 million units combined of the 4.7 and 5.5-inch iPhone 6 by December, its largest order to date and a major jump from last year, where it ordered between 50 and 60 million iPhone 5s and 5c models.


Its forecast for what is commonly called the iPhone 6 is significantly larger than the initial order last year of between 50 million and 60 million versions of the iPhone 5S and 5C–which had a display measuring 4-inches diagonally, these people said. Both of the coming models are expected to feature metal cases similar to the iPhone 5S and likely come in multiple colors, these people said.

With high iPhone 6 numbers, Apple is likely hoping to avoid the supply/demand crisis it saw last year with the iPhone 5s. After the iPhone 5s launched in September of 2013, Apple saw unexpectedly high demand for the flagship device, likely due to its new Touch ID fingerprint sensor. The phone was in short supply for much of 2013, and Tim Cook <a target=_blank rel="nofollow" Continue Reading

Apple has launched a new television ad for the MacBook Air, showing off an array of customizable decals placed over the Apple symbol on the back of the notebook.

Decals shown include various sunglasses, hats, and headphones, along with nods to Breaking Bad, Peanuts, Ice Age, Snow White, Pac Man, Chi the Cat, The Simpsons, Batman, Wonder Woman, the Tasmanian Devil, Hello Kitty, Catwoman, and Mickey Mouse.

There are also cameras, record players, trees, faces, cityscapes, planets, scuba divers, 8-bit games, a variety of abstract designs and patterns, and more, plus a Beats logo. The new ad, first noticed by 9to5Mac has not yet been uploaded by Apple, so there is no official video as of yet.

The new spot ends with a side view of the MacBook Air and the tagline "The notebook people love."

Apple's MacBook Air, last refreshed in April of 2014, is known for its portability and ultrathin size, weighing in at 2.38 pounds for the 11-inch model and 2.96 pounds for the 13-inch model. The MacBook Air is also Apple's most affordable notebook, with prices beginning at $899.

Intel yesterday launched new Haswell processors designed for high-end notebooks, which could be slated for use in an upcoming refresh of the 13 and 15-inch Retina MacBook Pro models.

As detailed by CPU World, Intel has released three new Core i5 chips and three new Core i7 chips that are all successors to the chips currently used in the 13 and 15-inch Retina MacBook Pros. The new processors provide a modest 200 MHz speed boost over existing Haswell chips.

The Core i7-4770HQ chip at 2.2 GHz is a direct replacement for the Core i7-4750 used in the lower-end 2.0 GHz 15-inch Retina MacBook Pro, while the Core i7-4870HQ chip at 2.5 GHz is a direct replacement for the high-end 15-inch Retina MacBook Pro's existing Core i7-4850 chip at 2.3 GHz. The Core i7-4980HQ chip at 2.8 GHz replaces the high-end build-to-order Core-i7 4960 processor at 2.6 GHz.

As for the 13-inch Retina MacBook Pros, the Core-i5 4278U, the Core i5-4308U, and the Core i7-4578U all offer the same 200 MHz jump over the existing Core i5-4258, Core i5-4288, and Core i7-4558 used in the three processors available for the 13-inch Retina MacBook Pro, bringing the low-end Continue Reading