Apple is close to acquiring talk radio curation service Swell for about $30 million, reports Re/code. Swell's iOS app launched last year and allows users to listen to streaming audio from iTunes, NPR, ABC, ESPN and others through a design that emphasizes simplicity.
As a part of the acquisition, Swell will shut down its iOS app this week as its CEO Ram Ramkumar and other members of its development team will join Apple. Apple will likely look to use Swell's technology to improve its own Podcasts app, which holds a 1.5 star rating and has been widely criticized for performance issues. Users of Podcasts also experienced an outage last month, as the app constantly crashed upon opening.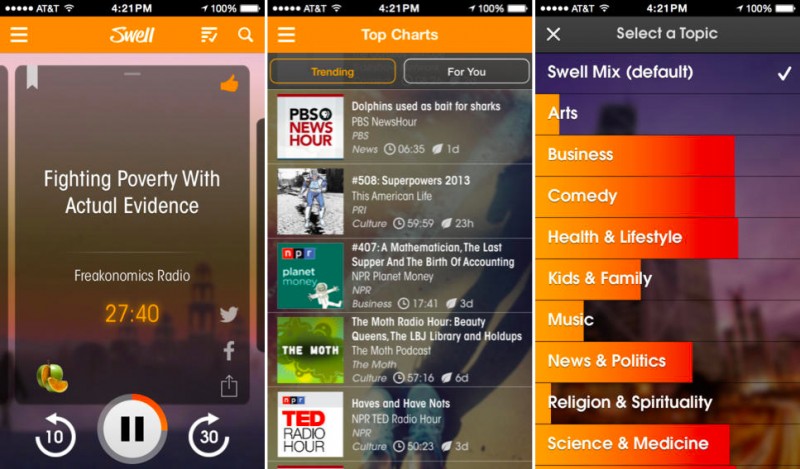 Apple's purchase of Swell follows the acquisition of "Pandora for Books" startup BookLamp in April for a reported sum between $10 million and $15 million, as the company also acquired Beats Electronics this past May for $3 billion. It was revealed in the company's Q3 2014 results earnings call that it had acquired 29 companies since beginning of 2013, with 5 coming from beginning of March quarter, not Continue Reading
Apple Retail Stores will soon allow customers to purchase an iPhone through U.S. carrier early upgrade programs including AT&T Next, Verizon Edge, and T-Mobile Jump, reports 9to5Mac. Apple is aiming to implement the new initiative right before the launch of the iPhone 6 this fall, as both Genius Bar workers and store employees will receive training on the program from Sunday, August 10 to Thursday, August 28.
Currently, Apple Store customers are only limited to purchasing an iPhone through a regular two-year contract at subsidized pricing or unlocked at full-price. All three early upgrade programs allow customers to upgrade their phones more frequently as the complete cost of a device is split into monthly payments which are rolled into the standard bill each month. Verizon and T-Mobile allow customers to upgrade their phones twice every year after six months of payments, while AT&T customers can upgrade once every 12 months after a year of payments.
The move also comes after Apple Stores began allowing customers to add pre-paid or month-to-month plans when purchasing full-priced, unlocked iPhones in June. Apple CEO Tim Cook noted last year that 80 percent of Continue Reading
Apple may be planning to launch a slightly refreshed line of 15-inch Retina MacBook Pros complete with faster Haswell processors and 16GB of RAM standard, according to a photo said to have come from the company's Chongqing, China store (via BBS Feng, Google Translate).
The purported pricing chart shows two standard configurations priced at 14,288 yuan and 18,688 yuan, which is the same as Apple's current pricing for its 15-inch notebook line in China. If real, this pricing chart would likely indicate that Apple would keep its current pricing instead of offering each new model for less as done for the MacBook Air earlier this year.
The first configuration comes with a faster Intel Core i7 2.2 GHz processor and 16GB of RAM standard compared to the current 2.0 GHz Intel Core i7 and 8GB of RAM found on the current base model 15-inch Retina MacBook Pro. Meanwhile, the second configuration features a 2.5 GHz Intel Core i7 processor and the same 16GB of RAM, up from the current 2.3 GHz Intel Core i7 processor. Both models feature the same graphics, with the first configuration coming with Intel's Iris Pro graphics and the Continue Reading
Apple is planning to make a number of changes at its retail stores ahead of the upcoming holiday season, which include adjustments to Genius Bar appointments and training for its employees on a new initiative, according to 9to5Mac.
The report notes that Apple will do away with the suggested 15 minute time limit for Genius Bar appointments in favor of a system that allows customers to book sessions with time limits based on how many issues they have. A few Apple Retail Stores have already started training for the new measures, as a full rollout of the new policy is expected to take place in the near future.
The company will also reportedly be training its employees on a significant new initiative from Sunday, August 10 to Thursday, August 28, which may pertain to in-store iPhone activations. During the aforementioned time period, Genius Bar employees will receive three hours of training while sales employees will receive five hours or training.
Lastly, Apple will be standardizing its attire for all of its U.S. retail employees, as those on the Apple Store Business Team will switch from their black polo shirts to the blue T-shirts worn by other Continue Reading
Claimed internal components for the iPhone 6 are beginning to surface with increasing frequency as it is now likely less than two months until launch. In line with those developments, a Annotation of likely iPhone 6 logic board component locations
(Click for larger)
With the photos showing only the bare printed board and no chips or other components installed, it is difficult to tell much new information from the part, although the locations of some components can be identified based on their similarities to other iPhone logic boards.
The iPhone 6 is expected to see a similar launch timeframe as in recent years, with a September media event introduction followed by a launch shortly after. While the 4.7-inch model is expected to follow this timeline, an even larger 5.5-inch model is said to still be in flux and may not debut until several months later.
Apple has acquired BookLamp, a "Pandora for books" startup that aimed to provide personalized book recommendations to readers via specialized algorithms, reports TechCrunch. BookLamp first shut down in April.
BookLamp was known for its Book Genome project, a book discovery engine that analyzed the text of books to break them down by various themes and variables to let readers search for books similar to books they liked.
For example, analyzing The Da Vinci Code, the search engine would break it down to elements of 18.6% Religion and Religions Institutions, 9.4% Police & Murder Investigation, 8.2% Art and Art Galleries, and 6.7% Secret Societies and Communities, and then it would be able to recommend a book similar to The Da Vinci Code based on that data.
BookLamp screenshot via Mashable
This type of analytics service could be directly used to improve recommendations and search in iBooks, and as noted by TechCrunch, BookLamp's technology could be used to create a competitor to Amazon X-Ray, which lets readers see where in the book certain terms or characters appear.
BookLamp also provided content analysis services to a number of e-book distributors like Amazon, Apple, and Continue Reading
We're one step closer to being able to legally unlock smartphones again, as the United States House of Representatives today passed legislation that legalizes cell phone unlocking, unanimously voting in favor of the Unlocking Consumer Choice and Wireless Competition Act.
The Act was approved by the Senate last week, which means the final step is presidential approval. Obama has long supported making cell phone locking legal again, and today pledged to sign the bill into law.
I applaud Members of Congress for passing the Unlocking Consumer Choice and Wireless Competition Act. Last year, in response to a "We the People" petition from consumers across our country, my Administration called for allowing Americans to use their phones or mobile devices on any network they choose. We laid out steps the FCC, industry, and Congress should take to ensure copyright law does not undermine wireless competition, and worked with wireless carriers to reach a voluntary agreement that helps restore this basic consumer freedom.

The bill Congress passed today is another step toward giving ordinary Americans more flexibility and choice, so that they can find a cell phone carrier that meets their needs and their budget. I commend Continue Reading

This week's Buyer's Guide includes deals on the MacBook Air, the Retina MacBook Pro, and AppleCare, as well as an array of Apple-related accessories that are currently on sale.

MacBook Air

Apple's MacBook Air is currently available for up to $150 off at Best Buy, with Adorama, Amazon, and B&H Photo offering similar deals on some models.

The entry-level 11-inch MacBook Air with 128 GB of storage can be purchased for $799 from Best Buy, Adorama, or B&H Photo. The higher-end 11-inch MacBook Air with increased storage is available for $949 from Best Buy and Amazon.

The entry-level 13-inch MacBook Air with 128 GB of storage is available for $849 from Best Buy and the higher-end model with more storage can be purchased for $1,099 from Best Buy, Adorama, or B&H Photo.

Best Buy's MacBook Air discount is only available until July 26, but it can be combined with the site's educational deal that offers $100 off all Macs, making it a solid choice for students. Buying from Adorama and B&H Photo gives the benefit of no sales tax in many states, as these two Continue Reading

Following a report by Droid Life yesterday, Verizon has now confirmed to Gigaom that starting October 1 the carrier will begin spot throttling of certain high-usage customers connecting to carrier's LTE network. The policy affects users on grandfathered unlimited data plans that are no longer offered and who rank in the top five percent of data users at Verizon.

While Verizon has had a similar policy in place for its 3G network for several years, the extension of it to the LTE network that now handles 76 percent of the carrier's data traffic will be noticeable for a number of users.


On October 1, Verizon will start throttling back LTE speeds on its heaviest unlimited-plan subscribers when they move into congested cells on its networks. What that means is that when the network gets crowded, Verizon will prioritize 4G customers who buy their data by the gigabyte over unlimited plan customers who fall into the top fifth percentile of monthly data usage.

As of today, the top five percent consists of customers who use 4.7GB or more of data each month, though that number will fluctuate month-to-month as traffic patterns change.

Rather than blanket throttling of users speeds Continue Reading

Bose today filed a lawsuit against Beats Electronics, accusing Beats of infringing on a number of patents related to noise cancellation and other audio technologies (via – "Method and apparatus for minimizing latency in digital signal processing systems"
No. 8,073,150 – "Dynamically configurable ANR signal processing topology"
No. 8,073,151 – "Dynamically configurable ANR filter block topology"
No. 8,054,992 – "High frequency compensating"
No. 8,345,888 – "Digital high frequency phase compensation"

The lawsuit asks for an injunction that prevents Beats from continuing to produce products that infringe on Bose patents and it requests a damages award for using the company's technology. Bose has also filed a complaint with the International Trade Commission, seeking a sales ban on the Beats products that violate its patents.

Bose's infringement lawsuit against Beats is set to become Apple's problem as the company's purchase of Beats is expected to close this quarter. Apple initially announced its $3 billion acquisition of the headphone manufacturer in May. Apple is currently embroiled in a number of lawsuits, including an ongoing dispute with Samsung Electronics and several class action suits brought against it by former employees.

Following the launch of yesterday's public beta for OS X Yosemite, the operating system's share of global Mac traffic has nearly doubled according to installation numbers from GoSquared.

The site has been tracking the usage of OS X Yosemite in real time since its initial developer launch on June 2. Yesterday, ahead of the beta launch, Yosemite accounted for 0.26 percent of all Mac traffic globally and as of today, that number has crept up to 0.49 percent.

In just over 24 hours, the number of Yosemite users has doubled, and those numbers will likely grow even further today and over the weekend as additional testers download the beta OS. Many users are still having issues downloading the software, which is preventing Yosemite from reaching all prospective beta testers.

Earlier this month, analytics from Chitika suggested developer interest in Yosemite was higher than usual, with early adoption rates outpacing Mavericks adoption rates by a significant margin. High interest in OS X Yosemite can be attributed to both the operating system's redesign with a focus on simplicity and translucency and its new features that offer deep integration with iOS 8, including Continuity. Continue Reading

After announcing its OS X beta program at WWDC in June, Apple yesterday released the first beta version of the operating system to the public amid favorable reviews. For a growing number of people, the early impressions of OS X have not been positive due to a downloading issue that has prevented the installation of the OS.

Users in MacRumors forums, Apple support forums and on Reddit have complained about not being able to download OS X Yosemite from the Mac App Store. These users have successfully redeemed a promo code and initiated the installation, only to have it fail during the download process. This issue has persisted more than 24 hours after the beta was released, suggesting it is not a problem with server overload.


Can't get OS X Yosemite to download properly. Maybe it's the limit I can download per month or something. Gonna go to Starbucks and try it.

— Micah (Trivol) (@TheMajesticW0lf) July 25, 2014

All Apple's online services are fully operational, and Apple support has not mentioned any potential issues that could interfere with OS X downloads. Several users have reported that using a VPN and selecting Continue Reading

Looking at Apple's quarterly SEC quarterly filing, Katy Huberty of Morgan Stanley believes Apple's revenue is poised to explode in the coming quarters. Huberty based her prediction on increases in Apple's off-balance sheet commitments, which have a historical correlation with revenue growth.

Off-balance sheet commitments are those investments in components and services that are involved in the mass production and launch of new devices. These line items include component purchases, manufacturing process equipment investments, advertising, and other services. Huberty notes that Apple's total spending in these areas has climbed 46 percent yearly and 36 percent quarterly in fiscal Q3 2014, making last quarter's jump the largest spending increase since Apple first launched the iPhone in 2007.

Huberty, not surprisingly, attributes this spending increase to Apple's iPhone 6 and iWatch wearable, both of which are expected to launch later this year. These new products, along with services such as mobile payments, could accelerate growth and boost margins.


Apple has the opportunity to take share in slower growth smartphone and tablet markets with larger screens and new services. New product categories like iWatch, and services like payments could further boost growth.

Apple is rumored to be launching its next-generation Continue Reading

China media sources (via GforGames) report that mass production of Apple's 4.7-inch iPhone is underway ahead of the phone's expected fall launch. These same sources claim the 5.5-inch version of the iPhone 6 has not entered mass production, further suggesting that the launch timeframe for this larger iPhone model is still uncertain.

Besides the iPhone 6, Apple also is preparing the next-generation iPad Air and Retina iPad mini for mass production starting in September. Apple is expected to unveil its new iPads, possibly alongside the iWatch, at an October event that also will likely be used to announce the public release of OS X Yosemite.

As Apple prepares to launch new iPhones and iPads later this year, the company's Asian suppliers are gearing up to boost production by as much as 85 percent by Q4 2014. Some of this increased production may be handled by Foxconn robots, "Foxbots", with the company reportedly deploying as many as 10,000 robots at a cost of up to $25,000 each.

Anticipation for Apple's fall lineup of devices is high, fueled by comments from Apple executives that suggest the company will enter new product categories with a device Continue Reading

Hello Inc's new Kickstarter project Sense is an iOS-compatible sleep tracking system that allows users to monitor their sleep patterns and bedroom environments without the need for intrusive hardware.

The primary Sense device is a glow-in-the-dark polycarbonate orb that derives data from factors such as noise, light, temperature, humidity, and air particles to measure sleep quality. Sense also comes with the Sleep Pill, which is a small sensor that clips onto a pillow to track movement with a 6-axis accelerometer and gyroscope.


Sense works with its own companion app for iOS to provide users a snapshot of their last night's sleep, offering an overall sleep score in addition a timeline of events throughout the night that triggered movement. The app can even play back noises that were captured by Sense, allowing users to listen to sound disturbances that may have led to an interruption in sleep.

The app also includes a Smart Alarm feature, which works with the Sense monitor and Sleep Pill to wake a user up at the right time. For instance, if a user begins to move more frequently after an extended period of rest, the app's Smart Continue Reading