Posted by | December 19, 2014.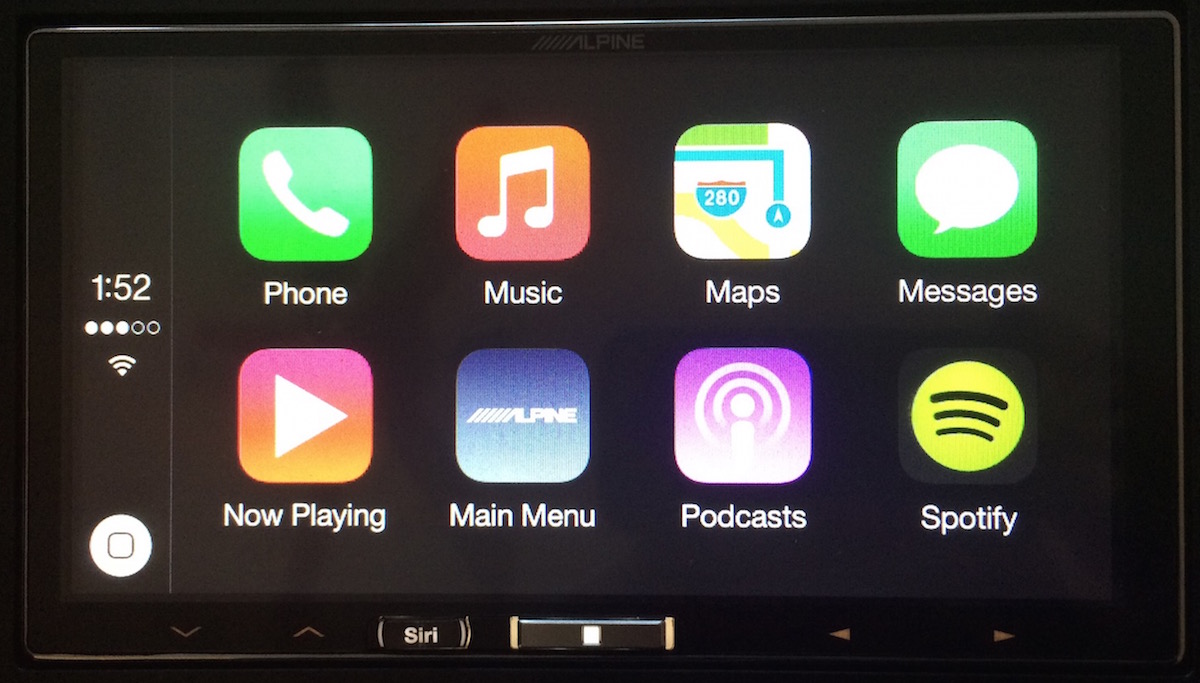 While car manufacturers have been slower than anticipated to roll out support for Apple's in-vehicle CarPlay system, Pioneer and Alpine have delivered aftermarket options in the form of in-dash systems with CarPlay compatibility and large touch screens.
MacRumors has had a chance to spend some time with Alpine's iLX-007, which carries a suggested retail price of $800 but commonly sells for $600 and offers a 7-inch capacitive touch screen that dominates the unit's front. The only other physical features come as a thin row of buttons along the bottom edge, including a pair for controlling volume, one for activating Siri, one for returning to the Alpine home screen, and another pair serving varying functions such as changing tracks, depending on the app currently in use.
The basic Alpine home screen offers access to only a handful of functions including traditional radio, any peripheral devices connected to the system's auxiliary input including support for a rear back-up camera, and CarPlay devices. Upon connecting the unit's Lightning cable to an iPhone, the CarPlay interface automatically launches, allowing access to the standard Phone, Music, Apps, Messages, and Now Playing apps, as well as any CarPlay-compatible third-party apps the user Continue Reading
Posted by | December 19, 2014.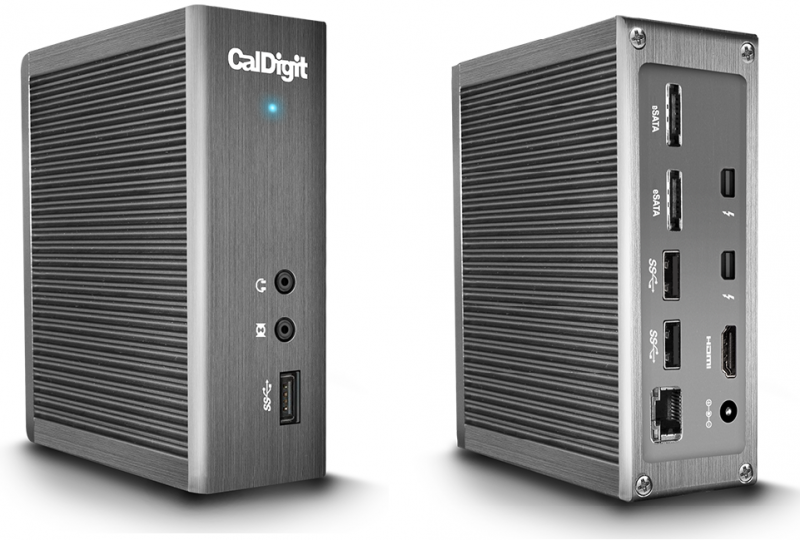 CalDigit today announced that the follow-up to its popular original Thunderbolt Station, the Thunderbolt Station 2, is now available for pre-order with an expected ship date of January 26, 2015.
The new dock will retail for $199.99, but CalDigit is offering a limited pre-order price of $169.99 that runs all the way up to the day before release, January 25. The new station keeps the same functionality of connecting multiple devices with one Thunderbolt cable, but updates it with new Thunderbolt 2 and dual eSATA 6G ports. The Thunderbolt Station 2 also allows users a vertical orientation option the original lacked.
The Thunderbolt Station 2 also comes with HDMI, three USB 3.0 ports, Gigabit Ethernet, audio in/out ports, the ability to connect high-resolution 4K displays to its HDMI port, and two Thunderbolt 2 ports.

The Thunderbolt™ Station 2 allows users to connect all their devices through a single Thunderbolt™ cable. Featuring dual Thunderbolt™ 2 ports for integrating a 4K workflow, the Thunderbolt™ Station 2 allows users to connect a high-resolution 4K monitor to the HDMI port. This is ideal for professional users who need to connect modern 4K displays to their computers.

"The power of Continue Reading

Posted by | December 19, 2014.

Apple CEO Tim Cook said he is deeply offended by allegations that Apple permits the mistreatment of workers in its supplier factories and mines, reports . Cook and Williams both stated they were "deeply offended by the suggestion that Apple would break a promise to the workers in our supply chain or mislead our customers in any way."


"Panorama's report implied that Apple isn't improving working conditions," he continued. "Let me tell you, nothing could be further from the truth."

Williams also implied in the email that Apple provided the BBC with pertinent facts regarding the company's commitment to its workers worldwide, but that information was not included in the documentary.

The BBC report claims that Chinese workers were forced to work long hours assembling Apple devices and denied requests for a day off, even after working 18 days in a row. The BBC also uncovered issues with off-hour work meetings, underage workers and other violations with dormitories and ID cards.

The BBC also investigated tin mines in Indonesia, where it found children mining the ore in dangerous conditions. The BBC claims this tin makes its way into Apple's supply chain without the company's knowledge.

<iframe width="640" height="360" src="//www.youtube.com/embed/AVaTl2kW6YU" Continue Reading

Posted by | December 18, 2014.

ABC has updated its Watch ABC Apple TV app to allow all Apple TV users to watch full episodes of ABC shows a week after they air without having to verify their TV provider. Previously, users had to sign in via their TV provider to watch any full episodes.


All Apple TV viewers can now access full episodes a week after they air. Like WATCH ABC for mobile devices and desktop, viewers can now watch such shows as Scandal, How to Get Away With Murder, Modern Family, black-ish, Once Upon A Time and Castle, among others, a week after they air. Sign in is required for ABC's live network feed and its most current episodes

However, users are only allowed to watch the five TV show episodes prior to the most current one. Users who sign in to the app with their TV provider gain the ability to watch full episodes of the last five episodes of any TV show the day after they air and live TV.

The app was also updated with a brand new look and a continuous play mode that automatically starts the next episode for the viewer, similar to the system Netflix uses Continue Reading

Posted by | December 18, 2014.

Popular photo editing app Brushstroke has been named Apple's App of the Week, and as a result, it is available to download for free for the first time since its March 2014 launch. Normally, the app is priced at $2.99, prior to today, it's lowest price was $0.99.

Brushstroke, as the name implies, is designed to transform photographs into paintings using a variety of photo filters. There are dozens of different brush options that produce different paint effects, and each brush option can be customized using on-screen touch gestures to enhance the effect.

There are also various color filters to apply that will change the final look of the photo painting, and various textures like paper, canvas, wood, rock, and stone allow for even more customization. Controls for standard photo editing features like saturation, contrast, brightness, exposure, and more, are also available, and each photo work of art is finished off with a signature.

Edited photos can be shared on various social networks like Twitter, Instagram, and Facebook, and the developers behind Brushstroke have partnered with CanvasPop to let users order physical prints, posters, and canvases of their edited photos at prices starting at $10. There is Continue Reading

Posted by | December 18, 2014.

As the Christmas holiday approaches, Apple Store shipping estimates for both the iPhone 6 and the iPhone 6 Plus from all carriers in all colors and in 16 and 64GB capacities have now improved to just 1 business day in the United States, bringing the company close to reaching a supply/demand balance on those devices.

The larger-capacity 128GB devices remain somewhat more constrained than the lower-capacity models, and ship in 3 to 5 business days.

Shipping estimates are similarly improved in many other countries, including Australia, New Zealand, Canada, the United Kingdom, Mexico, Thailand, Philippines, and more.

Throughout the month of December, shipping estimates have been slowly improving as Apple has catches up with demand, and in early December, estimates had improved to 3 to 5 days for 16/64GB models and 7 to 10 days for 128GB models. Last week, estimates for the 16and 64GB models improved further, reaching 1 to 3 day estimates before jumping up again this week to just 1 day.

The iPhone 6 and 6 Plus have been severely constrained since their September debut, but Apple has worked hard to improve available supply, going so far as to reportedly delay Continue Reading

Posted by | December 18, 2014.

Earlier this week, BBC One announced plans to air a documentary called Apple's Broken Promises, detailing the factory conditions of the overseas workers who are creating components and assembling the company's iPhones.

Apple's Broken Promises is set to air tonight, but ahead of the documentary's launch, BBC News has published a story outlining what they discovered when they visited Pegatron factories in China and mines in Indonesia.

During the visit, the BBC found that workers at Pegatron factories were forced to put in long hours assembling Apple devices, and that there were violations with ID cards, dormitories, work meetings, and juvenile workers.

Multiple reporters went undercover at the factory as part of the documentary, and one did not receive a day off after working 18 days in a row while another was exhausted by the long hours. There were also workers who were filmed falling asleep during 12-hour shifts.


One undercover reporter, working in a factory making parts for Apple computers, had to work 18 days in a row despite repeated requests for a day off.

Another reporter, whose longest shift was 16 hours, said: "Every time I got back to the dormitories, I wouldn't Continue Reading

Posted by | December 18, 2014.

Bank of America this week released a new advertisement promoting Apple Pay, joining a growing number of financial institutions including Chase and Wells Fargo that are advertising Apple's recently launched mobile payments service.

The thirty-second video follows a businesswoman as she shops for her family and herself, buying a shirt, a dog bone, and some lipstick all with her iPhone. She then is seen leaving the store via an elevator, winking as the camera fades away.

Similar to previous commercials, the Bank of America ad focuses on the convenience of using Apple Pay to make payments with a Bank of America credit card. The narrator ends the ad by promoting Apple Pay as "the new, easy, secure, smart way to pay with a simple touch."

Interest in Apple Pay is increasing as additional banks and retailers start adopting the payment option. One of the newest retailers is the Amway Center in Orlando, Florida, which is the the home of the Orlando Magic basketball team, with Apple Pay support launching at concession stands and other retail locations within the arena tomorrow. Apple recently confirmed that its Continue Reading

Posted by | December 18, 2014.

In a newly published Apple patent application credited to Dale Setlak, co-founder of AuthenTec, the company reveals its interest in enhanced security capabilities for the iPhone home button and Touch ID. The patent application describes how the Touch ID sensor could be paired with an on-screen combination lock or other secondary security feature, requiring the user to move his or her finger in certain directions to fully unlock a device.

As noted by Patently Apple, the June 2013 application shows off a few possibilities for the new technology, including a traditional combination lock-style system that has the user rotating his or her finger on the Touch ID sensor to input a security code.

Another potential implementation would require the user to swipe through a collection of circles by subtly shifting his or her finger in a specific pattern to unlock the phone. Both rely on the same technology created by AuthenTec that uses simultaneous security of a user's unique fingerprint and secure combinations to gain access to a device. AuthenTec has of course played an important role since its acquisition by Apple back in 2012, with the company's "Smart Sensor" technology serving as the basis Continue Reading

Posted by | December 18, 2014.

Apple today seeded the third beta of iOS 8.2 to developers, just over a week after seeding the second beta and one month after releasing the first iOS 8.2 beta.

The beta, Build 12D5452a, is available immediately to registered developers as an over-the-air update and it can also be downloaded from the iOS Developer Center. Today's update also includes Xcode 6.2 beta 3 with WatchKit.

iOS 8.2 includes the WatchKit SDK, allowing developers to create apps, Glances, and notifications for Apple's upcoming wearable device ahead of its 2015 launch. The first iOS 8.2 beta, with WatchKit SDK and developer documentation, revealed several new details about the Apple Watch, including its heavy reliance on the iPhone and the different types of content developers can create for the device.

Posted by | December 18, 2014.

While there are several apps designed to turn the iPad or iPhone into a secondary display for a Mac, the most popular options use Wi-Fi, which can render them all but unusable at times due to unavoidable lag. A new app from developer and former Apple Engineer Rahul Dewan aims to solve these lag problems with a tethered solution that turns an iOS device into a more reliable secondary display.

Duet Display, which is launching today, is the one of the first apps that transforms the iPad and the iPhone into an extra display for the Mac using a Lightning or 30-pin cable. By sending data over a cable instead of Wi-Fi, Duet Display is able to greatly improve on the lag is typically present when an iOS device is used as a secondary display.

Duet Display offers both a Retina mode and a non-Retina mode, along with options for 30 or 60 frames per second, and it's easy to install and setup, requiring just the Mac app, the iOS app, and a cable to connect the two devices.

The Duet Display app is inarguably an improvement over other options today, but it is not a Continue Reading

Posted by | December 18, 2014.

Audience members at the taping of Wednesday night's The Tonight Show Starring Jimmy Fallon episode were treated to an early Christmas present in the form of a free iPad Air 2 for each member of the studio audience.

"I'm in the spirit of giving," Fallon remarked before revealing the giveaway in last night's version of the "Tonight Show Stocking Stuffers" segment Fallon has been running all week. On Monday, Fallon gave away Bose Soundlink Mini-Bluetooth Speakers, and Tuesday saw the gifting of a Vitamix S30 personal blender.

Fallon is known to be an avid fan of tech and gaming and Apple in particular, repeatedly commenting on big releases of Apple products like the iPhone 6 Plus and Apple Watch. The talk show host has also partnered with good friend Justin Timberlake to voice a handful of ads focusing on the iPhone 6 and iPhone 6 Plus.

Posted by | December 18, 2014.

Algoriddim has long been known for its popular DJ app djay, which began life on the Mac before moving to the iPad, iPhone and most recently Android, with the various versions winning a number of awards and contributing to making djay the world's best-selling DJ app with over 15 million downloads.

With djay having proven popular among both amateur and professional DJs, users have been asking for more from the software, and Algoriddim is delivering that today with the release of djay Pro for Mac. Going well beyond the previous version of djay for Mac, djay Pro takes advantage of Apple's latest hardware and software improvements to support 64-bit processing, 60 frames-per-second graphics rendering, up to four decks, seamless integration with dozens of MIDI controllers, and a variety of audio effects.

On the library side, djay Pro offers an all-new music library with inline search, instant preview, and song recommendations powered by The Echo Nest, as well as easy integration of iTunes libraries and, for the first time on desktop, Spotify playlists. Users can easily drag and drop tracks from iTunes and Spotify libraries, Continue Reading

Posted by | December 18, 2014.

Hyundai today confirmed that it will showcase its new CarPlay-enabled Display Audio system next month at CES 2015. Display Audio is a dash-installed color touchscreen display that supports the latest in-car handsfree technology.

Hyundai's Display Audio forgoes built-in navigation and CD player features, instead including support for Apple's CarPlay and Android Auto to allow drivers to make phone calls, listen to music, send messages, and get directions using the car's in-dash display. The system also integrates with the voice command button on the steering wheel, providing drivers with an easy way to launch Siri Eyes Free commands.


"Hyundai will offer more technology than ever before inside affordable Hyundai models, allowing owners not only to text message through voice commands and stream their favorite music apps, but also to make calls in a safer way, and navigate using phone-based, off-board navigation through the car's screen and controls," said Cason Grover, senior group manager, cross-carline planning, Hyundai Motor America. "As affordable car buyers are often younger, Hyundai aims to provide what they want most in their car – all the latest smartphone-enabled technologies at a lower price."

Hyundai plans to roll out the Display Audio system with CarPlay support in select Continue Reading

Posted by | December 17, 2014.

For this year's World AIDS Day campaign, Apple ran several (Product) RED promotions, providing a (RED) section in the App Store and donating a portion of all retail and online sales from Friday, November 28 and Monday, December 1.

According to an email Apple CEO Tim Cook sent out to Apple employees (via Re/code), the campaign was a huge success, earning more than $20 million for the (Product) RED charity, which uses its funds to fight AIDS in Africa.

"I'm thrilled to announce that our total donation for this quarter will be more than $20 million — our biggest ever — bringing the total amount Apple has raised for (PRODUCT) RED to over $100 million," Cook wrote. "The money we've raised is saving lives and bringing hope to people in need. It's a cause we can all be proud to support."

During the campaign, Apple partnered with 25 app developers to offer a variety of (RED) themed apps in the App Store, with purchase proceeds going towards the charity. Apple's annual Black Friday event was also (RED) themed, and customers who purchased an iPhone, iPad, Mac, or qualifying Apple accessory received a (RED) iTunes gift card.