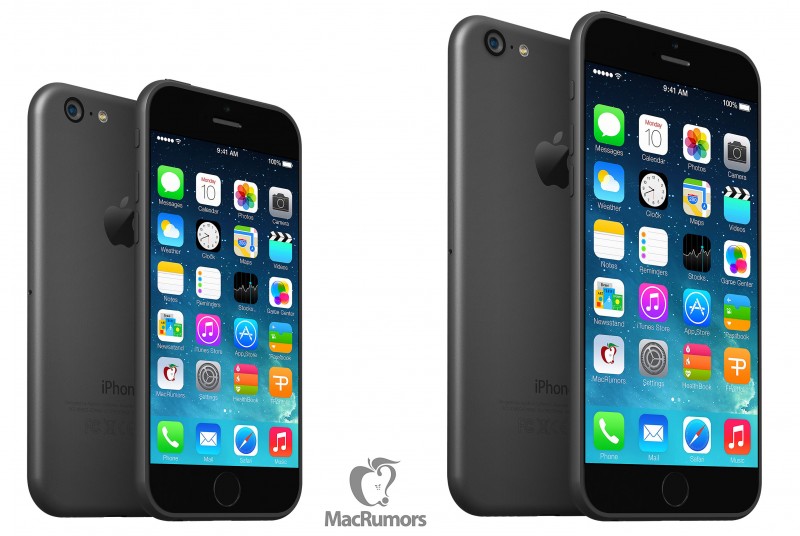 According to Chinese and Taiwanese media sources, Apple again is contracting with Catcher Technology to supply metal casings for the company's future smartphones, including the rumored iPhone 6. First noticed by GforGames, these reports were published this week in the Taipei Times and The China Post.
Most notably, Catcher is predicted to supply Apple with 10.5 million iPhone 6 casings and 20 million casings for other iPhone models in 2014. These figures are thought to represent 15 percent of the total casings needed for the iPhone 6, suggesting Apple could ship as many as 70 million iPhone 6 units by the end of the year.
Barclays Capital made a similar prediction, noting that Catcher is expected to boost its production between 20 and 40 percent to meet demand for the iPhone 6 in the midst of tight supply. Apple is one of Catcher's larger clients, contributing approximately 40 percent to the supplier's revenue.

Barclays said it expects Apple's next-generation smartphone to be launched in the second half of the year and that shipments of the new model will be 35 to 40 percent higher than the previous one.

Catcher is likely to receive Continue Reading

Apple today unveiled [iTunes], Instant Heart Rate [iTunes], Word Lens [iTunes], AmpliTube [iTunes], Luminair [iTunes] and Pacific Rim [iTunes].

The "Powerful" ad features "Gigantic" by the Pixies [iTunes] playing in the background while iPhone 5s owners use their iPhone to play music, create art and even launch amateur rockets. This new television advertisement follows the company's earlier "Your Verse" campaign that showcases how individuals are using the iPad in amazing ways.

Apple has a new ad out that you may have seen, featuring a track by The Pixies and a whole lot of iPhone users employing mobile software to cover the song. The ad harkens back to earlier Apple ads where people used a variety of software from the App Store to have fun with their devices, and as such represents a pretty strong return to form. I'll forgive them the obligatory… Read More
Continue Reading

Popular messaging service Viber today updated its iOS app to version 4.2, bringing a redesigned user interface for iOS 7 in addition to various new features. The app now includes multiple media sharing that allows users to send multiple photos and videos at once, in addition to the ability to block users and send longer video messages. A cross platform typing indicator has also been added.

– Completely redesigned for iOS 7! The new look and feel is consistent with the aesthetic of iOS 7 that iPhone users have grown accustomed to.
– Multiple media sharing in one flow. No more back and forth media sharing! Now you can send and edit up to 10 photos and videos at a time!
– Block list. Users can now block contacts they do not know and those that they do not wish to be contacted by. To learn more about managing your block list, click here.
– Send longer video messages. You can now send videos of up to three (3) minutes long.
– Typing indicator. Know when your contacts are typing a message to you on Android tablet, Linux, Mac, PC or Windows 8. Continue Reading

In an updated unlocking FAQ found on its website (via Android Police), Sprint has stated that it will make all of its devices released after February 11, 2015 unlockable for use on other domestic networks such as AT&T or T-Mobile.

The move is a part of the agreement that the five major U.S. wireless carriers and the Federal Communications Commission signed in December in order to allow customers to unlock their devices and switch carriers if they wish.


I've been told by another carrier that Sprint needs to unlock my SIM slot in order to use my phone on the other carrier's network.

For eligible devices, Sprint will unlock the SIM slot, to the extent that a device SIM slot is capable of being unlocked. It is important to note that not all devices are capable of being unlocked, often because of the manufacturers' device designs, and that even for those devices capable of being unlocked, not all device functionality may be capable of being unlocked. Specifically, devices manufactured with a SIM slot within the past three years (including, but not limited to, all Apple iPhone devices), cannot be unlocked to accept a different Continue Reading

Following a concept that showed off a possible look at the iPhone 6 based on recent leaked info, French website Nowhereelse.fr [Google Translate] and graphic designer Martin Hajek have once again teamed up to showcase renders for an "iPhone 6s" and "iPhone 6c", which are based off of Apple's current iPhones and alleged iPhone 6 design drawings posted by Japanese magazine MacFan.

The renderings show iPhone 6s devices in gold and space grey colors, which retain the same tint as seen in the corresponding iPhone 5s models but adopt the thin, rounded profile that has been rumored for the iPhone 6. Like the previous renders, the power button is located along the upper right side of the device, with the iPhone 6s sporting rectangular volume controls similar to that of the fifth-generation iPod touch.


Renders for an iPhone 6c concept are also shown, which depict the device in the same blue colorway adopted by the iPhone 5c. Like the iPhone 6s, the iPhone 6c appears to have the same rounded profile with similar button placements, but is shown with a glossy plastic enclosure instead of an aluminum one. Continue Reading

One day in the fall of 1990, or maybe it was '91, I discovered a box my cousin had left at our house. In the box was a black cassette tape with a grubby label. On one side, recorded in long play mode to fit it all, was the Beastie Boys 'License To Ill' and Concrete Blonde's 'Bloodletting'. Read More
Continue Reading

Apple tonight released an update for FaceTime on OS X [Direct Link], which resolves connections issues and is recommended for all FaceTime users currently running OS X 10.6 Snow Leopard. The connection issues are presumably related to the problems reported last week which affected both older versions of OS X and iOS 6 versions of FaceTime.

Apple, however, has not yet addressed the problems with FaceTime that are in iOS 6. While it is encouraging that Apple released an update for FaceTime for OS X 10.6, Apple support's recommendations for iOS 6 users has been to upgrade to iOS 7. One user has quoted Apple support as saying that the only fix for iOS 6 is to upgrade to the latest version of iOS 7, with no current plans to release a fix on iOS 6 or iOS 5.

According to Apple's updated FaceTime troubleshooting page, users who are still having trouble with the application are recommended to update to the latest version of iOS or OS X.

Apple has debuted a new TV ad alongside Marvel's Agents of SHIELD tonight on ABC called "Gigantic". The ad, which was first spotted by 9to5Mac, showcases iPhone 5s owners using the device to enhance their lives in multiple ways.

With "Gigantic" by the Pixies [iTunes] playing in the background, the app has users using the iPhone 5s to check their health, check for directions, create short monster movies, record videos, create art installations and more, including the Pixies preparing to play their song. The ad ends with the tagline "You're more powerful than you think".

Apple has not aired an iPhone 5s ad since the seasonal holiday ad "Misunderstood", which has since been removed from its YouTube channel. In the meantime, Apple has instead focusing its advertising efforts on the iPad's "Your Verse" ad campaign.

Steve Jobs was infamous for his temper, with a famous story about him , tells of Vorrath's displeasure when she found out a co-worker was leaving work early before the launch of the first iPhone in 2007.


Ms. Vorrath, who has worked on all seven iOS releases, generally operates by asking lots of questions of engineers, sticking to the facts and getting them to explain in plain English why a particular feature should be included in the operating system. She's easy to get along with, say former colleagues, who recall playfully mocking her 1990s feathered hairstyle and late 1980s fashion sense. But she isn't known for chitchat and has been known to "blow up" on occasion when people miss deadlines or make excuses, colleagues say.

During a tense time before the first release of iOS software in 2007, Ms. Vorrath grew irate when a colleague was heading home early before another marathon weekend meeting. She slammed her office door so hard that the door knob broke, and she locked herself in. Mr. Forstall grabbed a baseball bat to try to break her out, people who worked at Apple at the time recall.

The Information says Vorrath has been working at Apple since Continue Reading

A research note (via Barrons) from Christopher Caso, an analyst with Susquehanna Financial Group, reiterates previous analyst reporting about the iWatch, saying Apple is looking to enter production with a pair of screen sizes in the fourth quarter of 2014.

Caso says Apple has production targets of 5-6 million units, but believes the iWatch will "essentially replace the iPod in the consumer portion of AAPL's product lineup" and will see lowered iPod sales as a result of customers choosing the iWatch instead. The note says the iPod is not expected to be updated this year.

Apple CEO Tim Cook said earlier this year that the iPod "is a declining business", with sales dropping to under $5 billion in 2013, down from a peak of more than $8 billion in 2008. Apple's iPod lineup has not seen a significant update since Fall 2012, other than a minor color change to match the rest of Apple's portable offerings. The iPod Classic has not been updated in several years.

Apple has worked hard to have products at a variety of price points, from the $49 iPod Shuffle up to the 128GB iPad Air at $799, and then to the Continue Reading

Apple today released AirPort Extreme and AirPort Time Capsule Firmware Update 7.7.3 for AirPorts with 802.11ac. The update includes security improvements related to SSL/TLS.


AirPort Base Station Firmware Update 7.7.3
Available for: AirPort Extreme and AirPort Time Capsule base stations with 802.11ac

Impact: An attacker in a privileged network position may obtain memory contents

Description: An out-of-bounds read issue existed in the OpenSSL library when handling TLS heartbeat extension packets. An attacker in a privileged network position could obtain information from process memory. This issue was addressed through additional bounds checking. Only AirPort Extreme and AirPort Time Capsule base stations with 802.11ac are affected, and only if they have Back to My Mac or Send Diagnostics enabled. Other AirPort base stations are not impacted by this issue.

Earlier this month, an OpenSSL bug known as Heartbleed made headlines, with Apple releasing a statement noting that iOS, OS X, and its "key web services" were unaffected by the security flaw, but it appears that the company's AirPort Extreme and AirPort Time Capsule were vulnerable.

The 7.7.3 update is recommended for all models of the AirPort Extreme and Time Capsule that support 802.11ac Wi-Fi, other AirPort base Continue Reading

Google is covering lawyer fees and potential damage awards with regards to four patents in the ongoing Apple/Samsung patent case, according to a report from Re/code, quoting deposition testimony from a Google attorney that Apple introduced in court today.

Google's contractual obligations to defend Samsung relate to a "Mobile Application Distribution Agreement" between the two companies related to the distribution of Google applications, including Gmail on Samsung's Android devices. Samsung called several Google employees as witnesses as part of its defense.

The case between Apple and Samsung is seen by many as a proxy for the larger battle between Google and Apple over the company's respective mobile operating systems.

Apple played deposition testimony from Google lawyer James Mccoun, who verified e-mail in which Google agreed to provide partial or full indemnity with regards to four patents as well as to take over defense of those claims.

A Samsung representative said he could not immediately say which if any claims in the case for which Google is in fact providing the defense and indemnity.

Yesterday, Samsung argued that, if it lost at trial, it would only owe Apple $40 million in damages, substantially less than the $2 billion that Continue Reading

ElevationLab today launched a new Kickstarter project for the Elevation Stand, an aluminum stand designed for the iMac and Apple displays. Aimed at improving posture, the Elevation Stand is milled from a single piece of aluminum to match the seamless look of the iMac and Apple's displays.

According to ElevationLab, the Elevation Stand has the smallest footprint of available iMac stands, along with a minimalistic design that hides extras like hard drives, USB hubs, cables, and more. It raises the monitor by 68mm, encouraging users to sit up straighter.

The company is also debuting the Elevation Anchor, made to keep headphones out of sight but within reach. Constructed from medical-grade silicone, it mounts under a desk to hide headphones.

ElevationLab previously produced the Elevation Dock, an aluminum iPhone dock that raised more than 1.4 million dollars.

The Elevation Stand can be preordered via a Kickstarter pledge of $59, while the Elevation Anchor can be preordered for $25. A $79 pledge gets backers a Stand and two Anchors, while additional colors are available at $85 and $99 price points. All products are expected to ship in September of 2014.

Alongside iOS 7.1.1, Apple has introduced a new OS X beta program that will see non-developers given an opportunity to download OS X betas before they are released to the public. Previously, participating in OS X betas required a developer account, priced at $99 per year.

Join the OS X Beta Seed Program and accept the Beta Seed and Confidentiality Agreement. Apple will provide a Beta Access Utility for your Mac, which gives you access to pre-release versions of OS X in the Mac App Store Updates panel.

Users can apply to join the beta program on Apple's new Appleseed Beta website, which allows users to apply using an Apple ID.Apple requires everyone who signs up to sign a confidentiality agreement, which prevents users from disclosing, publishing, or disseminating confidential information to anyone not also enrolled in the Appleseed program.

After agreeing to keep beta information confidential, Apple asks users to make a backup on their Macs before downloading a special Beta Access Utility App which allows a Mac to be enrolled for beta software updates. All updates will be delivered via the Mac App Store, similar to standard OS X updates.