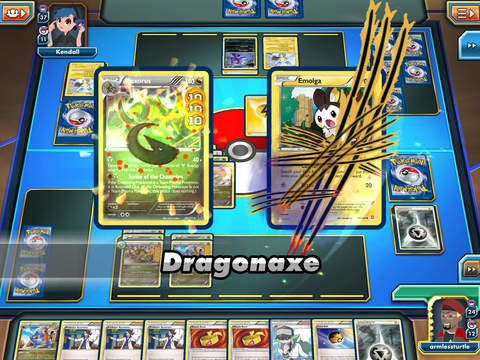 The Pokemon Trading Card Game (TCG) Online has officially launched for the iPad following its debut at the Pokemon World Championships in August.
The title is the first licensed Pokemon game to be released for iOS, and allows players to build a deck of Pokemon cards and battle against other players while obtaining booster packs. Users can also enter tournaments for prizes, and customize the look of their cards, deck boxes, and avatar.

PLAY, TRADE, AND CHALLENGE OTHER PLAYERS AROUND THE WORLD
Have fun learning and mastering the Pokémon Trading Card Game Online! Practice against the computer or go head to head with your friends or other players from around the world. Unlock cards and decks as you play to build up your collection and make truly unique decks. Your decks and card collection are stored as a part of your Pokémon Trainer Club account, allowing you to switch between iPad and desktop with ease.

EASY TO START: Choose from Grass, Fire, or Water decks, step right into a game, and learn as you go in an easy play experience.

EXPAND YOUR COLLECTION: Earn cards, open booster packs, trade with other players, and build the Continue Reading

Apple has launched a new page on its iTunes Store allowing users to donate to City of Hope, which is a non-profit charity focusing on medical research and treatment. The page can be accessed through the desktop iTunes Store as well as the iTunes and App Store apps on iOS, with options for $5, $10, $25, $50, $100, and $200 donations available.

Apple will transfer 100% of each donation to City of Hope, as all donations will be billed to an iTunes account. With Apple currently holding 800 million iTunes accounts, the company has a large customer base that can take part in the donation program.

Apple has conducted similar donation campaigns throughout the past few years, which include programs for Super Typhoon Haiyan relief efforts in 2013, Superstorm Sandy relief in 2012, Japanese earthquake and tsunami relief in 2011, and Haitian earthquake relief efforts in 2010.

Apple's iPhone 5 Battery Replacement Program now covers iPhone 5 models that had their displays replaced with third-party components, according to a new posting on Apple's GSX site for service providers that was brought to MacRumors' attention.

Previously, iPhone 5 models that had their displays replaced were barred from receiving a brand new battery replacement from Apple. The company generally did not replace batteries in devices that might have seen damage due to liability issues and required phones with damaged displays to correct that issue before progressing.

Additionally, Apple's refusal to replace batteries in phones with new displays likely saw some contention amongst those who purchased refurbished iPhone 5 models and had not personally had any work done on the device.

Hours after Apple released a candidate golden master version of OS X Yosemite to developers and members of the public beta, the Cupertino company has begun asking developers to begin submitting their Yosemite apps to the Mac App Store. Additionally, developers can now submit their apps written in Swift to the Mac App Store as well.

Make sure your apps take advantage of all the great new features in OS X Yosemite, which will be available to millions of customers around the world later this fall.

Add powerful new functionality throughout OS X Yosemite with app extensions, explore the innovative new Swift programming language, and take advantage of advances in game technologies, Safari, iCloud, and more. To prepare your apps for the Mac App Store, download and build with the OS X Yosemite GM candidate and Xcode 6.1 GM seed from the Mac Dev Center. With the latest releases, Swift is now final and you can submit your Mac apps written with Swift to the Mac App Store.

The public release of the new OS is expected in late October and will include a redesigned interface and new features like Continuity, iCloud Drive and more.

Thanks Justin!